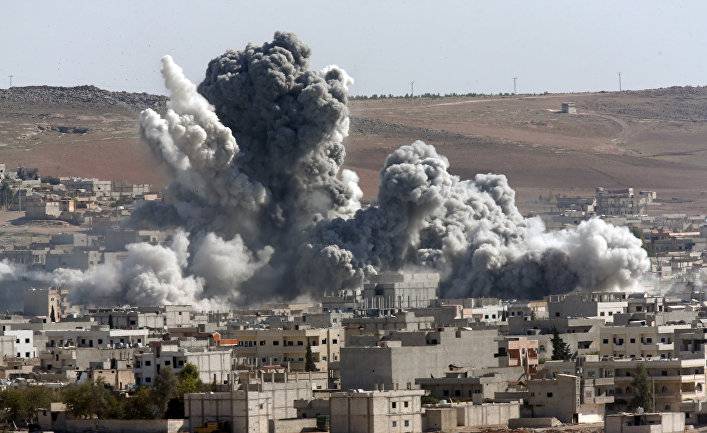 Roughly, the Department of State 50 employees signed a memo, urging President Obama to launch air and rocket attacks on Syria, which is under the control of Bashar Assad's regime.
"Reasonable use of air
weapons
and long-range weapons, they argue, would strengthen the US foreign policy, focusing and consolidating its efforts. "
In short, to support our diplomats and show that we are not joking, we should start bombing the Syrian army.
And this is despite the fact that Syria did not attack us at all. And the US Congress has not yet declared war on Damascus and did not approve of military actions. Why are these hawks sure that Obama will seek the authority to unleash the war in Syria?
A state that considers the Constitution, which endowed Congress with the exclusive right to declare wars, purely recommendatory? Wasn't the Nazis in Nuremberg condemned for starting a war?
If American bombs and rockets still hail down Damascus, to the great joy of the latter-day Washington Pattons, what will we do when Assad's allies Iran and Hezbollah decide to settle accounts with American diplomats, as it did in Benghazi? What will we do if Syrian rockets and Russian fighters start shooting down our planes?
(George Smith Patton - one of the main generals of the American headquarters of the Second World War, took an active part in the campaigns in France, North Africa, Sicily, France and Germany - approx. Lane.)
To declare war on Hezbollah, Iran and Russia?
Imagine that the American raids broke the Syrian regime and that Assad fled. Who will fill the power vacuum in Damascus, if not the most inveterate terrorists like "An-Nusra" or ISIS (terrorist organizations banned in the Russian Federation)?
And if the ISIL first come into Damascus and start cutting Alawite and Christians, will we have to send our army to help them?
According to the director of the CIA, John Brennan (John Brennan), ISIS is expanding its influence in Europe and America. How justified in such a situation is to attack from the air the Syrian regime and the Syrian army, which today remain the last line of defense between ISIS and Damascus?
Does anyone even imagine what this is fraught with?
Throughout the Middle East, wherever we got involved - in Afghanistan, Iraq, Libya, Yemen, Syria - people continue to suffer and die, and we ourselves inevitably fall into the trap.
Maybe already enough to fight in this godforsaken region?
Last week, Russian planes attacked the Syrian rebels, whom we trained and armed, targeting Assad.
And John Kerry (John Kerry) said: "Russia must understand that our patience is not unlimited." But why did we have to arm the bandits against Assad?
And who will come in his place? The alliance between Moscow and Damascus has decades. Syria provides Russia with a military base in the Mediterranean. Vladimir Putin supports the Syrian regime in a difficult moment of civil war, and this support is completely legal.
But our policy, by contrast, looks dubious.
Where is Obama got the right to arm the rebels to eliminate unwanted regimes? Maybe this is approved by Congress? Or is this another mission of the CIA in the framework of the "Democracy Project"?
Yes, why do we need to clean up Assad?
US foreign policy seems ill-conceived, reactionary, impulsive.
Last week, 31 000 NATO soldiers conducted exercises in Poland and the Baltic States, near the border with Russia.
German
Tanks
rolled to Poland for the first time since 1945.
In addition, we plan to deploy four NATO battalions there (American, British, German and, probably, Canadian, since the French and Italians have already refused to participate in our military games).
How would we have responded if 31, a thousand Russian, Chinese, Cuban, Iranian and North Korean soldiers, conducted an exercise near El Paso or Brownsville, Texas?
How would we react if each of these countries deployed a battalion in Mexico to prevent another American intervention, which General Pershing, nicknamed "Blackjack", had already rolled up in 1916 year?
Yes, the Americans would simply have enough apoplexy.
So some Europeans are not experiencing enthusiasm for confrontation with Moscow either.
German Foreign Minister Frank-Walter Steinmeier called the NATO exercises "incitement" and "saber rattling." "Anyone who believes that symbolic tank parades on the eastern border of the alliance strengthen security is wrong. Oh, and we shouldn't have come up with excuses for the new old confrontation, "he added.
Not only the Steinmeier Social Democratic Party has fears of a new cold war with Russia. The Left Party, too, and even the Euro-skeptic populists from Alternative for Germany, who generally want to be closer to Russia and away from the United States.
This month we sent the destroyer USS Porter to the Black Sea. And for what? Here, US Secretary of the Navy, Ray Mabus, said that in order to "prevent potential aggression."
NATO discusses the possibility of creating a joint
fleet
in the Black Sea, however, Bulgaria, one of the four member countries in the region, is not going to participate.
Meanwhile, the European Union recently decided to extend sanctions against Russia for annexing Crimea and supporting separatists in Ukraine.
Donald Trump (Donald Trump) said that NATO is a "scam", "a mine stretch for the Third World War", and the Alliance is "obsolete" in general. But Hillary Clinton (Hillary Clinton) compared the actions of Putin in Ukraine with the actions of Hitler in Germany, the beginning of 1930's.
Want four years of collisions with nuclear Russia?
Vote for Hillary!