Pardoned by Vladimir Putin, Nadezhda Savchenko gave another interview, which led to the present rabies of the Ukrainian radicals. While at the session of the Parliamentary Assembly of the Council of Europe, Savchenko answered questions from journalists about the statements supporting the idea of ​​a phased lifting of sanctions against Russia. Recall that earlier the initiative for the phased withdrawal of anti-Russian restrictive measures put forward by Austrian Foreign Minister Sebastian Kurtz.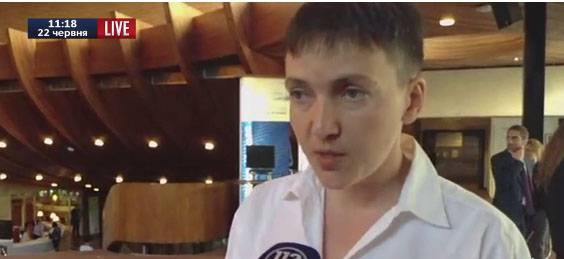 Nadezhda Savchenko, who answered a question from Ukrainian journalists about supporting the Austrian initiative, quotes the site of the TV channel 112 Ukraine:
Do you think the war should go on forever? No, it should not. I spoke from a very distant perspective. The world must go to peace, every war ends with reconciliation and peace. Of course, somewhere in the distant future, when Russia understands its mistake, asks for forgiveness from all those whom it offended, this is not only Ukraine ... They cannot (sanctions) continue forever. I really do not want the Russian people to suffer just like the Ukrainian. Ordinary people are not to blame for politics. I would suggest adding personal sanctions against the Kremlin, but pick up some sanctions that might harm the people. After Russia takes a place abroad in Ukraine, it will liberate the Donbass. After we have elections, it is possible that in a year it will be possible to lift some first sanctions regarding Donbass. Sanctions on Crimea can be lifted only after the issue of Crimea is resolved, but this does not mean that we need to be removed today.
In the Ukrainian segment of social networks, very strong words came to Savchenko. According to the recently established Ukrainian tradition, a People's Deputy of the Verkhovna Rada was accused of "working for the Kremlin and Russian special services". Apparently, the Ukrainian radicals seriously believe that the European Union will forever retain anti-Russian restrictive measures, while continuing to provide space for rampant to the Maidan authorities.