President of Ukraine Petro Poroshenko in an interview with the French TV channel
Itele
talked about when and under what conditions he is going to make real changes to the constitution. As it turns out, the fact of the necessary constitutional changes in Ukraine is also of interest to French journalists. According to Poroshenko, he is "at least now" ready to make constitutional changes, but he is hampered ... Russia.
From the statement of the Ukrainian president:
To amend the constitution there are initial conditions that must be fulfilled. First, it is a cease-fire. The next item is the withdrawal of Russian troops from the territory of Ukraine. Thirdly, the transition to the control of the OSCE of an uncontrolled segment of the Russian-Ukrainian border, as well as the front lines and those places from which the weapons are to be removed.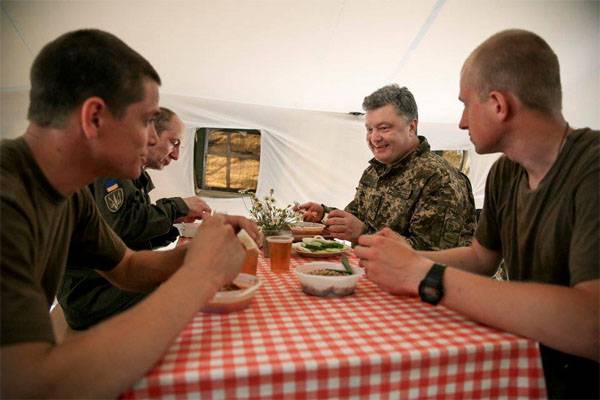 French journalists amused their heads, giving reason to doubt that they were acquainted with the text of the Minsk agreements, which were constantly mentioned during the interview with Petro Poroshenko. And Poroshenko's statement on the "need for a cease-fire" seems to hint that the constitutional changes in Ukraine will never be adopted (at least while Poroshenko himself is in power), because every time the cannonade subsides in the Donbass, the Ukrainian national battalions begin regular attempts to arrange provocations and move into the territory of the DPR. As a proof - the situation in the town of Shyrokyne, which came under the control of ukrosilovikov, which proves the violation of the Minsk agreements by Kiev.
It should be recalled that a few days ago, the President of Ukraine solemnly promised to convince the deputies of the Ukrainian Parliament to adopt a document on constitutional changes in terms of decentralization.