The stream of foreign preachers who rushed into Russia was headed by Western intelligence services.
Methods of "mass obscuration" are used more and more widely. But this threat is underestimated, says Andrei Khvylya-Olinter, a recognized expert on spiritual security.

- It's no secret that there is a perception among sectarian and security personnel that sectarians are innocuous people in the mass and it's not worth wasting your energy on fighting them. How do you assess the situation?

- I started working on the topic of information, as well as spiritual security, in the Ministry of Internal Affairs, where I served in a rather significant post - deputy chief of the Center for Criminal Information in the State information center of the Ministry of Internal Affairs of Russia. Taking into account the experience I gained in the Church, I believe that the opinion that sects are harmless is wrong. Destructive cults are more dangerous than the criminal world. First, the religious motivation as a whole is much stronger than the criminal motivation. There is no need to go far for examples. We see how often sectarians go to death, killing themselves, and sometimes others for the sake of pseudo-ideals. In the criminal world in the first place - self-interest, personal material gain, for which many representatives of the criminal world do not want to risk not only life but also freedom. A sectarian fanatic is more often ready to lose his life, which is typical of destructive sects, where he becomes a zombie. The criminal, going to the crime, can retreat from the conceived.
The second reason is the role of sects in the hybrid wars carried out by Western civilizations. This is the management of the masses, the manipulation of people, the fragmentation of powerful traditional creative currents and attitudes. By speculating with the concept of "freedom of conscience," one can endlessly dismember society, bring it to an atomized, disunited crowd. In the criminal world, at first glance, every man for himself, but there are cartels, clans, gangs, hierarchies are formed, linked together by oaths, corporate interests. But in destructive sects, everything is very streamlined, the adept does not know who really heads the structure, what goals are set for it. Often, such organizations are supranational in nature, which reveals their true interests, concealed by "patriotism". This also explains the fact that the sectarians unite with the forces of both the left and the very right wing, which is connected with the commonality of their goals - the destruction of the state and the traditional creative culture. We see this intricate link in Ukraine, where frantic nationalists, ultra-liberals and religious sectarians were in power together. Another example is the IS, a banned organization in our country that has gathered the full color of right-wing fundamentalists. She is sectarian with respect to traditional Islam. There are other no less paradoxical at first glance coalitions. Do you remember Kolomoisky's "Zhanobanderovtsy" in a T-shirt with the corresponding symbols on your chest?
What unites them? I stress: a common hatred of the rule of law and creative traditional religions. This speaks of the satanic, infernal origin of their ideology, that is, the ideas are prompted by global destructive forces, and therefore recharge and support to sectarians is more important than crime.
- Prohibited methods of influencing a person from the same source?

- For sectarianism is characterized by the use of psychotropic drugs and techniques that affect the mind and subconscious. Unlike the Church, which reveals the mystery of man, his uniqueness and inviolability as created in the image of God sectarians consider a person as a means of achieving their goals. Therefore, they, like thieves, are trying to get close to people with "master keys", from the back door, acting through deception and intimidation. Remember the eyes of his intoxicated Maidan defenders, they were regularly treated with some kind of drugs added to food.
There are known methods of manipulating mass consciousness, more precisely, mass obscuration, such as, for example, a flash mob campaign, when people obey the incoming team to gather in one place. And sometimes they do it, without realizing - why. It is clear that people are being treated in order to form the habit of turning off, losing self-control. Sectarian - a kind of addict with addictive behavior, whose will took possession of others. In Orthodoxy, this is impossible, although there are fanatics who, without thinking about the meaning, mechanically execute commands, it is easier for them.
The similarity of the drug addict and the sectarian is that both under the influence of the outside experience the "effect of joy", but then the breakdown is inevitable, and as a result, a bad death.
- Does the level of education affect suggestibility?

- It depends on what is meant by education. If the desire of a person to reveal in himself a better image of God, then this is a guarantee against zombies. In other cases, knowledge is not always protected. Among sectarians there are people even with several higher educations. In the "Right Sector" banned in Russia, a completely sectarian organization, there are many intellectuals and students.
- The state is trying to deal with destructive sects. In Russia, several such organizations are prohibited. But you can not calm down?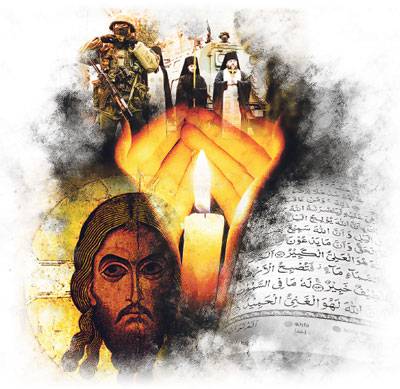 - Yes it is. With the collapse of the USSR, the communist ideology, a spiritual vacuum was formed in the hearts of our citizens. Knowing this, thousands of preachers rushed into Russia, mostly from sects. It would be naive to believe that it was a spontaneous process. By no means. He was controlled and directed by special services from Western countries, then solemnly announced by our partners. They acted openly, without hiding, and our competent authorities were disarmed and unable to effectively prevent. Unfortunately, the sectarians were promoted by some statesmen. The Church was the only social institution that beat the alarm and tried to fight this orgy. But she herself only received freedom and was weak.
Over time, from the beginning of 2000's, the situation in the country began to change for the better, but the sectarians changed their tactics and became more sophisticated. For example, they began to register their organizations not as religious, but as sports, educational, family, in order to attract into their ranks more supporters who did not even know where they were going. This danger has by no means diminished, there are still many victims of sectarians. And it is terrible that not just ordinary people get into the networks, but occupy significant positions in the power structures. They unite, constitute a kind of administrative resource, already affecting government policy. For example, in Russia it is not possible to ban Jehovah's witnesses, although its destructive nature is obvious. In some regions, their activities are outlawed, but it is not yet possible to declare this across the country. One of the reasons is the lobby of the Jehovists who crept into power.
There is a sectarian influence in toponymy, when the authorities refuse to change the names of people who were members of sects or other anti-state, including Masonic organizations, such as Voikov and Sverdlov, assigned to streets and other objects. This is a topic for a separate conversation, because Freemasonry is connected with occultism, esotericism, Satanism, Kabbalah, and they once penetrated deep into Russia.
- How do officials get into sects?

- The power of some acts like a drug. A passion for it is always accompanied by an appeal to some forces - to patrons not only in the highest echelons, but also in the spiritual world. Therefore, astrologers, soothsayers, soothsayers, esoterics are popular among the rulers. All of them somehow turned to the dark, otherworldly force known as demonic, satanic. However, as a clergyman, I would like to reassure impressionable readers: you should not attach importance to this, especially to those who are baptized, attend churches and participate in church sacraments. Confessions, communions are protected by the grace of God, and Russia is a country under the protection of the Mother of God.
- How should society respond to sectarian-demonic challenges?

- You can draw an analogy with a sick person. Society must be treated. As science has proven, disease bacteria are always present inside any healthy person and are neutralized by the immune system. There are many cells that are cancer-prone, but the person does not have cancer, because the body successfully fights against them. Similarly, society is obliged to do with destructive cults.
One of the manifestations of personality is freedom of conscience, that is, a person has the right to choose his own path in the spiritual space and no one should forbid him to do so. The role of the Church here is to suggest a proven, proven path to the Creator, and the state to support creative religious trends for the sake of public safety. The choice of a person is to consciously follow the suggested path or take another. Everything is built on respect for preference realized, but this step should be done freely. For this, a person is given a set of objective knowledge, including about God the Creator, otherwise the picture of the perception of the world will be flawed.
The right to choose is sacred and it remains so as long as the person does not violate the freedom of another or fair laws established by the state. Most sects do not meet this criterion. Hence, the task of society and the authorities is to track the emergence of such organizations, which, as I have already said, often mimic charity projects, in fact, destroying society itself, eating away at him, like a cancer, from the inside. Here, no compromise is possible, and ranting about "freedoms" is harmful. Such things, of course, should be understood by internal affairs officers.
- You are the author of books on sectology and spiritual security, occupied an important post in the Ministry of Internal Affairs. Is your experience in demand?

- I am periodically attracted to various sect examinations. By agreement with the leadership of the Academy of Management of the Ministry of Internal Affairs, I conduct regular classes there and lecture. Invite and in the regions. The overwhelming number of specialists, experts working in relevant fields, are familiar with my achievements and use them in their practice. Some of my works are interesting because I tried to improve the recognition of forensic objects. They have a lot of mathematical calculations, calculations. Based on these studies, I began to study and sect. For example, it was possible to prove that a modern, fully educated person, coming into contact with a sect, in a matter of hours can lose self-control and become zombie, completely disconnect from past life experience.
Therefore, it is necessary to carry out prevention more actively - to spiritually enlighten and arm people, not to wait for them to "self-identify" under the aggressive and unhindered influence of destructive sects. The task of the experts is to study destructive pseudo-religious communities and to analyze their activities in advance on the subject of extremism and terrorist threats. It is better to preempt than to deal with the consequences. But it is not always necessary to immediately prohibit, sometimes it is more correct to put sectarians in a legal framework and control the process, thereby creating the conditions in which they will be forced to either cease their activities or uncover a destructive essence.
Do not forget about foreign sponsors and curators of such organizations. We can observe the fruits of their works in Ukraine, where there was a split in society not only by language or ethnic-territorial principle, but religiously, spiritually - most anti-Russian or Uniates (Greek Catholics), or supporters of no one recognized by the local Autocephalous Church or "Kyiv Patriarchate". Or frank sectarians like Turchinov. It is no secret that such people were actively breeding just in the eastern regions of Ukraine, where pro-Russian sentiments are strong, in order to split the people on a spiritual basis, to tear them from their roots. Experts knew about this and "beat on all the bells", but were not heard.

- How do we protect ourselves from this scourge?
- Do not panic, stop looking for the extreme and the guilty, but take up the salvation of the Motherland, starting with yourself, with your own spiritual security. You need to look into the mirror of your soul and remember: who we are to use the freedom of conscience to choose a creative vector directed to your Creator.

Help "MIC"
Andrey Khvylya-Olinter. Colonel of the internal service in retirement, PhD in Law, Associate Professor of the Academy of Management of the Ministry of Interior. Archpriest, employee of the Synodal Department of the Russian Orthodox Church on interaction with the Armed Forces and law enforcement agencies.