President of Ukraine Petro Poroshenko today signed a law, which refers to the release from military conscription (mobilization) of relatives of soldiers killed during the so-called "anti-terrorist operation". Reported by the information service
UNIAN
.
Earlier, Ukrainian legislation actually ordered to attract to the mobilization waves literally all Ukrainian male citizens under the age of 60 years.
The new law appeared after discussion in the Verkhovna Rada of Ukraine 31 May. The law has the following name:
"On Amendments to Article 23 of the Law of Ukraine" On mobilization preparation and mobilization ".
The law addresses the issue of exemption from military conscription during the mobilization of close relatives of Ukrainian citizens who died during their direct participation in the antiterrorist operation.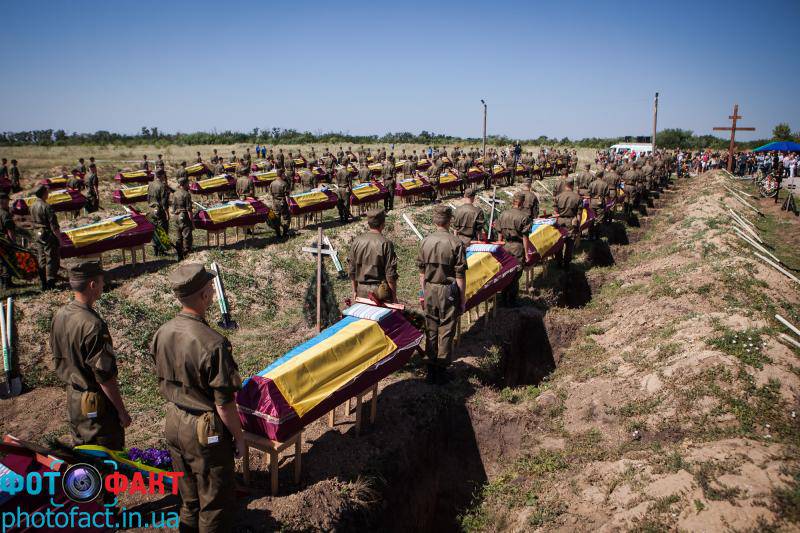 At the same time, in Kiev, they still cannot unequivocally determine what is considered "direct participation" in the "ATO". The situation is further complicated by the apparent corruption of the system, when the certificates of "ATO participants" are received by persons who have enough personal funds for this. In a number of cases, facts of the so-called fictitious wounds and even deaths among "close relatives" are found. These phony references allow representatives of certain layers of the Ukrainian youth to avoid mobilization waves that are still rolling around Ukraine.
Against this background, representatives of the Ukrainian General Staff reported that within a day in the ATO zone two more Ukrainian servicemen were killed.
Representatives of the command of the Armed Forces of the DPR disseminate information, which refers to new mass cases of shelling of the territory of a people's republic by Ukrainian security forces. Only in the past 24 hours from the positions of the Armed Forces of Ukraine and the National Guard under about 440 attacks. As a result of hitting one of the mines, a residential building on the outskirts of Donetsk completely burned down.