After conducting several "trial" appeals, the Lithuanian authorities made a final decision on the restoration of military service on a permanent basis. The decree on holding annual conscription campaigns was signed by Lithuanian President Dalia Grybauskaite. Reports about it
office
President of the Republic of Lithuania. Recall that a few months ago, conscription for Lithuanian young people between the ages of 19 and 26 years was announced as a temporary measure. And even before that, the Lithuanian authorities declared that the military conscription was "a relic of the totalitarian Soviet past," and that "only professional military men should serve in the army."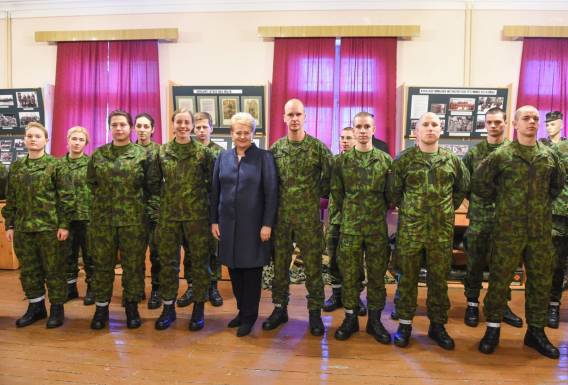 Now official Vilnius is motivating its decision with familiar slogans about the need to "resist Russian aggression."
The presidential office claims that up to 4 thousands of recruits will come to the troops every year as part of a recruiting campaign. Lifetime is defined at the level of 9 months.
Recall that Lithuania refused to military conscription in 2008 year. Now Vilnius declares the need to implement a mixed appeal-contract system.
If you believe the representatives of the main military department of the Baltic republic, now there are about 3,8 thousands of applications from "volunteers" in the military commissariats.
At the same time, Lithuanian draftees, who serve in modern conditions, constantly make complaints about the content. In the last couple of months alone, several recruits in Lithuania have died and suffered for various reasons: from the inept handling of
weapons
, to tick bites and severe pneumonia. A trial is still underway about the fact that the ordinary Lithuanian private with a pneumonia who had been ill with pneumonia for a long time did not receive the necessary medical aid, which led to his death in one of the Lithuanian hospitals.