The Russian Ministry of Defense responded to recent statements by the US Secretary of State that the patience of Washington in connection with Russia's actions in Syria, they say, is running out. John Kerry said that "the Syrian government forces against the conclusion of agreements on a truce continue to attempt to capture Aleppo." Apparently, the fact that government troops by definition cannot seize anything in their home country is not important for Kerry, but they can liberate towns and villages captured by assorted terrorist groups.
Valery Gerasimov, head of the General Staff of the RF Armed Forces, responded to Kerry's claims as follows:
Patience with respect to the situation in Syria ends with us, and not with the Americans. We fulfill our obligations and agreements on securing a cease-fire and national reconciliation in Syria fully. On the American side, all the time there are some "difficulties" with the controlled "opposition." Therefore, when we hear accusations from the leadership of the Pentagon that we are somehow "unprofessional" using the lines of communication, either they are not aware of the current channels of interaction, or they are given inaccurate information.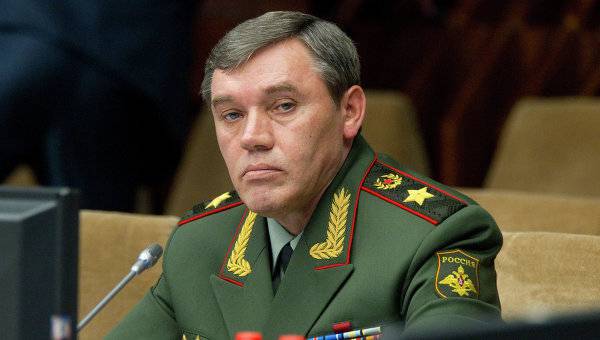 According to Valery Gerasimov, who leads
TASS
, in Geneva, a joint Russian-American rapid response center operates, as well as a special communication line, which are designed to prevent any incidents and which the US "partners" are practically not using.
Gerasimov, commenting on the actions of the United States, adds:
The American partners still cannot decide: where are their oppositionists, and where werewolves from international terrorist organizations. As a result, the terrorists in Syria are actively restoring their forces, and the situation is heating up again. But it cannot go on forever. In their opinion, the shelling of militants from the rocket artillery of the positions of the Syrian troops and settlements should all be considered "minor violations" of the cease-fire regime. But any proportionate responses to the militants by the Syrian military are immediately declared "disproportionate attacks" on the "opposition."
Recall that earlier in the Defense Ministry of the Russian Federation stated that they are ready at any time to continue the military operation against the groups in Syria, not connected to the ceasefire.