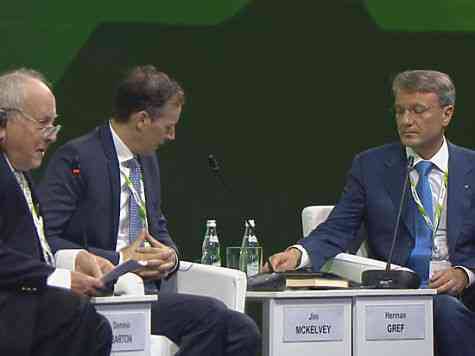 Mr. President, reading this letter, you will be delighted. Maybe even start applauding. The letter is remarkable, clever, completely accurate and very patriotic. The only pity is that we have nothing to do with it. This time we are just a pigeon: we bring you the words of others.
They were made by an American professor at an economic forum in St. Petersburg.
Lauren Grecham. Why did Russia get little benefit from the brilliant work of its scientists and engineers? Why does the gap between the states that reaped the fruits of the fourth industrial revolution and those who could not do it continues to grow?
The reality is that Russia is one of those countries that clearly could not reap the fruits of the fourth industrial revolution. Little Switzerland exports 3 – 4 more times more high-tech products every year than Russia. Why?
Russia has such talented creative scientists. Why with so many scientists Russia can not extract economic benefits from the results of their research?
There is a key difference between invention and innovation. Here you have invented something on the desktop or in the laboratory. There was nothing like this before. We congratulate you: if you could do it - you are an inventor! However, the innovator is quite another. Innovation means: take this invention and make it commercially successful. And successful not only for you, but also for the society where you implemented it.
The contradiction and strangeness is that Russians invent amazingly and are very bad at innovating.
Here are some examples. Russian scientists own two Nobel Prizes in the field of laser technology. But now there is not a single Russian company that would occupy any significant place in the market of laser products and technologies.
Light bulbs invented in Russia. In fact, Thomas Edison borrowed this idea from Yablochkov, a Russian scientist. But then American companies seized this market, and no Russian company competed with them.
Popov, a Russian scientist, broadcast information before Marconi. But today, Russia does not have any noticeable success in the international market of radio electronics.
Russia first launched an artificial satellite of the Earth. But today, Russia has less than 1% of the global telecommunications market.
Russia was the first to create with the hands of Sergei Lebedev an electronic digital computer in Europe. But who is buying Russian computers today?
Another example, he is little known. The oil industry in recent years has experienced a revolution in oil fracturing technology. But no one remembers that this process was invented by the Russians. I can show the scientific articles of the beginning of the 1950-'s, where they 100% justified the process of hydraulic fracturing of the oil reservoir. Nobody has done anything with this technology. I can go on and on this list.
An exceptionally important question: why are Russians so good at developing scientific technological ideas and so bad is it possible to extract economic benefits from them? The answer lies not in the absence of talent from Russian scientists and engineers, by no means. The answer is that in Russia it was not possible to build a society where the brilliant achievements of citizens would turn into the economic development of the country. All the leaders of Russia — from the times of tsarism to the present times — believed that the answer to the problems of modernization was technology itself. It was believed that the answer was in technology, and not in the socio-economic environment.
This misunderstanding was very clearly shown a few years ago, when I came to Russia with leading scientists from the Massachusetts Institute of Technology (MIT).
Many Russians asked: how can they equal MIT in developing the next big sensational scientific thing. But MIT scientists said that the key to the success of their institute is not just in the MIT culture, but in the US culture as a whole.
What are the cultural elements that allow ideas to turn into commercially successful enterprises? This is a democratic form of government. Free market, where investors need new technologies. Intellectual property protection, control of corruption and crime. The legal system, where the accused has a chance to defend himself and prove his innocence. This culture allows critical statements, allows for independence. It can fail, but try again. Here are some of the "intangible" characteristics of an innovative society.
But Russians, with whom we spoke, especially in institutes and universities, did not understand these moments. And they continued to ask specific questions: nanotechnology, information technology, three-dimensional printing. They asked what specific technology could be successful. Finally, the rector of MIT, tired of these questions, Mr. Rife turned to his Russian counterpart and said: "You need milk without a cow!"
At the moment, the leaders of Russia are trying to modernize, but, unfortunately, in line with their predecessors - kings and Soviet leaders. They are trying to separate technology from sociopolitical systems. They say they support Skolkovo, this ambitious and expensive clone of Silicon Valley. But at the same time (I must say this, I'm sorry) they prohibit demonstrations, they suppress political opponents and entrepreneurs who have enough power to challenge them. They distort the legal system for their own purposes. They sign laws that accuse Russians collaborating in scientific research with others. They support authoritarian regimes.
Such a policy can only lead to the emergence of a society where people pull their heads in the shoulders, fearing to be punished. Modernization means for them, unfortunately, the acquisition of new technologies in case of rejection of the economic and other principles that these technologies promote and bring to success. They need milk without a cow. And while this policy remains, the scientific genius of the Russian people, whom I respect so much, will remain economically unrealized.
.