In the Mexican state of Oaxaca, violent clashes of protesters with the police take place. Only in the first few hours of the clashes killed at least 6 people, more than fifty were injured. There are a lot of policemen among the wounded. According to the medical services, 7 people are still in extremely serious condition. Reports about it
"BBC"
.
The first clashes began after law enforcement officers arrested two leaders of the Education Workers Union (CNTE), who spoke in favor of improving the working conditions of Mexican teachers and raising the level of social guarantees. One of the union leaders was accused (attention!) Of stealing school textbooks. The union said that these accusations are ridiculous, and that the authorities decided to settle accounts with those who are trying to protect the rights of employees of budgetary organizations.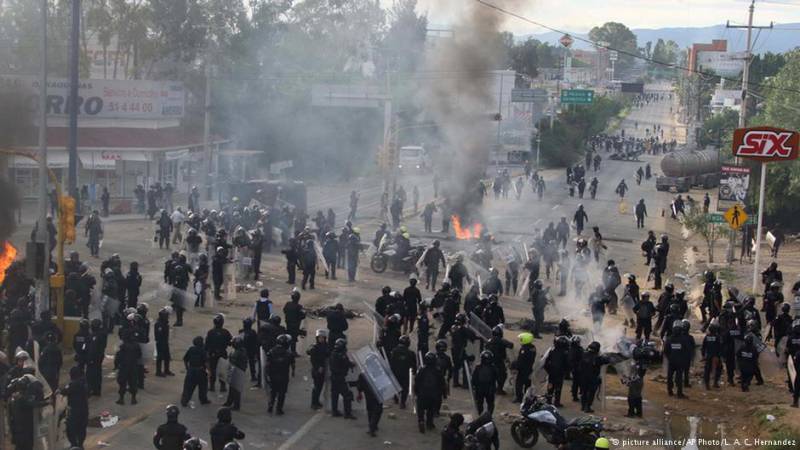 Protesters of the union decided to close the highway connecting the province with the capital of Mexico City. The blocking of the road led to the fact that one of the refineries located in the province stopped receiving raw materials for production, and the management of the state-owned company that owns the company declared its readiness to close the plant. This provoked outrage among the representatives of the country's oil refining industry. More than 3-thousand people participate in protest actions in the southern province of Oaxaca.
Information agencies have reported that the protest against the infringement of the rights of Mexican teachers and educational reform, according to which teachers will have another re-certification, turned into a real slaughter after unidentified persons opened fire both towards the police and towards the protesters. This led to the fact that the Mexican police, believing that the representatives of the trade unions were shooting, opened fire on the crowd. This led to a large number of victims.
Additional police outfits have been introduced into the province of Oaxaca. The streets of the provincial capital have become a real battlefield with firearms.
weapons
, stun grenades and tear gas grenades, high-power firecrackers. Protesters set fire to gas cylinders on the way of the police. To this minute, as reported by the Mexican media, more than 20 people are detained. A state of emergency is being introduced in Oaxaca.