The head of the German Foreign Ministry, Frank-Walter Steinmeier, with his criticism of NATO exercises near the borders of the Russian Federation provoked fierce discussions in the ruling coalition - CDU / CSU and SPD, reports
TASS
message journal Der Spiegel.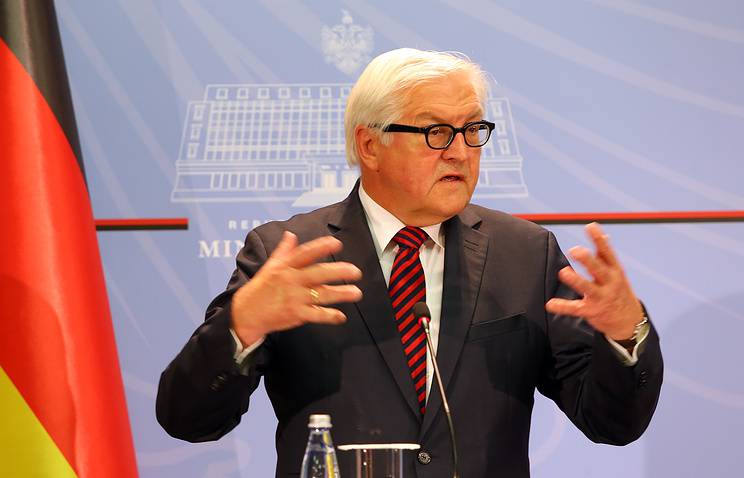 On the eve, Steinmeier stated:
"What we should not do now is to warm up the situation with a loud bang
weapons
and war cries. "
"Germany's relations with Russia are far from defusing tensions. As if on purpose, the most senior diplomat now contributed to making the sensitive situation even more difficult. This is what the CDU supporters are at least accusing him of, "the magazine writes, recalling that" the Bundeswehr is also participating in the alliance's exercises on the eastern flank. "
In the CDU, some politicians called the words of the minister "an outrageous reproach", and also did not rule out that they (the words) "can lead to misunderstanding inside NATO".
"With his criticism, Steinmeier sparked a coalition dispute. In fact, the issue of relations with Russia is among the most sensitive foreign policy projects in Germany, "the magazine notes.
"The implementation of the Minsk agreements is not moving forward, the EU sanctions against the Russian Federation also do not lead to the desired effect. Politicians fiercely argue about whether military maneuvers in this difficult situation are counterproductive or necessary, "the article says.
Steinmeier was supported by the Greens and the SPD.
"We are watching how Poland is staking on the arms build-up. Calling it "saber-rattling" is correct, "said the Green expert, Jürgen Trittin, who earlier himself criticized the Anaconda maneuvers.
"And in the ranks of his own party, the minister received support. The German government should take the course of Steinmeier, "said the politician from the SPD, Rolf Mutzenich.
The magazine notes that "the debate in the ruling coalition is taking place at a" special moment "- 21 June, the EU wants to extend sanctions against Russia."