On the eve it became known about the death of 11 Russian servicemen in Syria. They became the sergeant of the Marine Corps Andrei Timoshenkov, who served under the contract. It is known that a soldier at the cost of his own life stopped a car in which there was a suicide bomber who tried to disrupt the issuance of humanitarian aid in the province of Homs. Andrei Timoshenkov represented a Marine Corps unit from Baltiysk, originally from the city of Smolensk. He was in Syria for about 3 months and was supposed to return to Russia at the end of June.
The report of the information management and the press service of the Ministry of Defense says that Andrei Timoshenkov was injured as a result of the explosion, incompatible with life. Of
messages
:
Sergeant Timoshenkov Andrei Leonidovich command submitted to the state award - posthumously.
According to some information, we are talking about the presentation of Andrey Timoshenkov to the title of Hero of Russia (posthumously).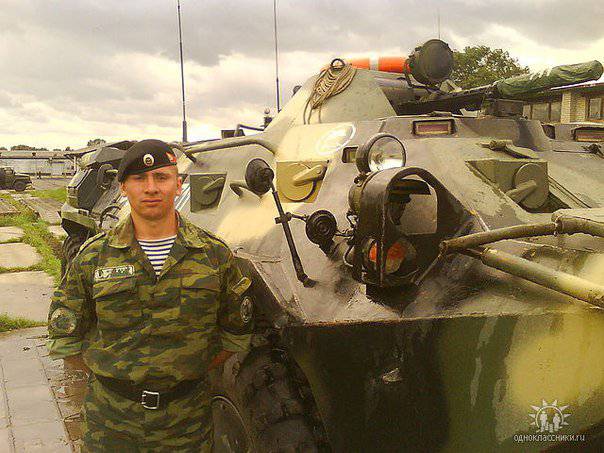 Andrei Timoshenkov died in the hospital of the Russian Avibaz Khmeimim (Latakia Province) on June 16. Surgeons fought for more than a day for his life. Andrey Timoshenkov has a wife and a little daughter.