Previous articles in the series:
Israel's defense industry. 1 part
Israel's defense industry. 2 part
Israel's defense industry. 3 part
Integrated soldier
The eyepiece of Elbit is one of the main interface elements between a human and electronic devices of military personnel equipped with Dominator or Dominator LD digital soldier systems.
After examining various programs for the modernization of the soldier and the requirements of the Israeli army, Elbit Systems developed a system of integrated soldier Dominator, in which dozens of know-how were applied, which made it possible to make each soldier a node and sensor of a distributed system.
The system is based on the Personal Digital Unit (PDU), which is a hardened tactical computer with integrated GPS, running the Integrated Infantry Combat System C2 application, as well as Tactical Intranet Geographic Dissemination in Realtime (Tiger); the latter provides relevant information at the right time, and also optimizes message passing. A TORC2H combat control system can also be installed, adapted for motorized / dismounted operations, which allows the combat groups to be coordinated to perform combat missions with optimum accuracy. TORC2H also provides commanders and crews with a simplified working interface, increases situational awareness and provides data transmission tools.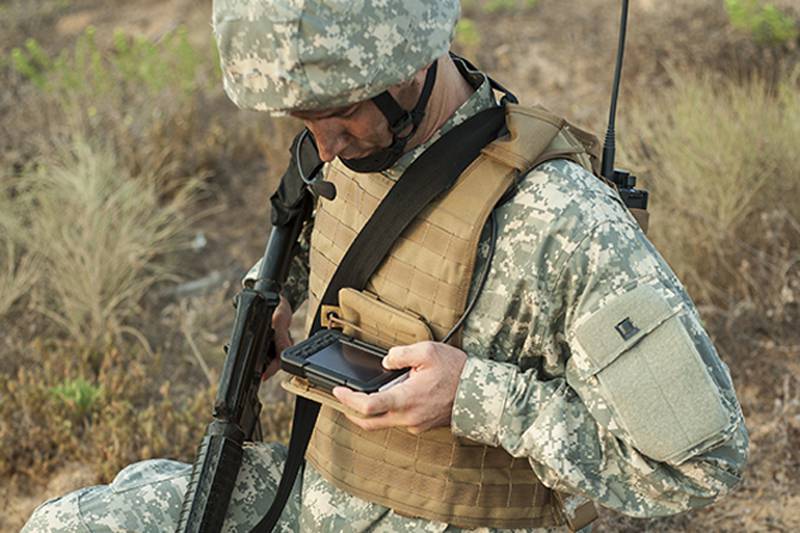 The 4,3-inch Raptor Terminal Dominator LD system, connected to the soldiers' radio station. Designed for dismounted soldiers, the system weighs only 1,3 kg
The system also includes other means of information transfer between humans and devices, such as the eyepiece, which displays operational control information, as well as real-time video; it can be mounted on a helmet, vest or be part of a fire control system (LMS) for weapons. Manual displays of various types are also available. Since Elbit Systems itself is not engaged in communication solutions, it offers systems from this sphere on behalf of its Tadiran division, for example, these are personal network radio stations PNR-1000A or PNR-500. In order to expand the scope of the system, additional components can be integrated into the Dominator system, such as specialized information gathering and operational management kits, target designation systems, unmanned aerial and ground vehicles. The components of the Dominator system are part of the integrated infantry system of the Israeli army; it was also adopted by the Australian army, the Finnish army and several other armies in Latin America and Europe.
In 2012, Elbit Systems introduced a lightweight version of the previous system under the designation Dominator-LD (Light Dismounted), designed for special forces and dismounted soldiers. The main component is a Raptor computing device with an 4,3 inch screen and a cell phone-like interface that runs on the Linux operating system. It has a version of the battle control system TORC2H – D for the dismounted soldier, and the connection is provided by the radio station Tadiran PNR-1000A. Raptor is installed in the docking station, but can be easily removed from it, for example when carrying out planning. A JS Eyepiece hand-held display is available to provide in-depth marching information. The entire system weighs less than 1,3 kg with the option of customization.
In the museum of IWI, you can see the first Uzi machine gun, significantly different from the current Uzi Pro (above), equipped with a Meprolight mirror sight. The latest development of the Tavor assault rifle, which received the designation X95 (pictured in the Flattop layout), can be quickly redone from the 5,56 mm cartridge to the 9 mm cartridge.The X95 assault rifle with a barrel chambered for 9 mm is equipped with a silencer. X95 available with standard and short trunksNegev is one of the few machine guns with semi-automatic mode. IWI's machine gun has very low recoil and is easy to handle.
Small weapon
Israel Weapon Industries (IWI), once part of Israel Military Industries, was privatized in 2005 and is now part of the SK Group, which also acquired the Meprolight and Pulse Inteco System, connecting weapons, sights, optical-electronic systems and night vision systems, which allows without delay to coordinate work in the development of new products from scratch.
Two
historical
projects that IWI is no doubt proud of are part of its portfolio, although the company has deeply modernized these two systems over time. These are Uzi and Galil machines. The new Uzi Pro 9x19mm makes extensive use of polymer components to reduce weight, while the new adjustable cheek rest stock significantly improves ergonomics when combined with a new front grip. The barrel is locked with a length of 152 mm by turning the bolt; a quick release muffler is also available.
Galil 5,56 mm is currently available in Assault Rifle, Short Assault Rifle and Micro Galil. The Galil Ultra retrofit kit is available for all three options and includes an ergonomic receiver with Picatinny trims, a telescopic butt and an ergonomic pistol grip. Galil Sniper is an option for the 7,62 mm bullet, firing in semi-automatic mode and having a modified ergonomic butt, pistol grip and bipod. The Galil mechanism, which is also the basis of the ACE assault rifle family, is available for 5.56x45, 7.62x39 and 7.62x51 mm.
Modernization of existing weapons is based on the experience of actual exploitation obtained by young officers, many of whom served in special units, and now work at IWI and are called up from the reserve twice a year. This practical experience undoubtedly has a great influence on new projects as well, and in addition to relations with the Israeli army regarding its requirements, the company can use the know-how of its own staff that is not divorced from life. In recent years, Tavor-type bull-pop assault rifle has become the workhorse of the Israeli army. A rifle with a chambered chambered for 5.56x45 mm can fire in automatic and semi-automatic modes. The basis of automation is the removal of powder gases from the bore through an exhaust unit located under the barrel and hidden by the body. The barrel is locked by turning the bolt on the 7 lugs. The rifle is available with trunks of two lengths; The 460 mm is used for standard, sniper versions, while the compact version has a barrel length of 380 mm. The last option, designated X95, is intended mainly for special forces. It is a lightweight weapon with a shortened barrel length 330 mm, which in the long version has a length 380 mm. This weapon can be quickly converted from 5,56 mm caliber chambered for 9x19 mm. The automatic machine uses vapor automatic with a gas piston located above the barrel. In all variants, shooting is conducted from a closed shutter, single or in turns. Both Tavor and X95 assault rifles (assault rifles) are currently available in a "flattop" configuration - a layout in which the axis of the bore passes through a fulcrum (butt); this eliminates the "jump" of the weapon under the influence of recoil force and increases the accuracy of shooting, and also allows you to mount all types of night and day optics and additional accessories. The IWI catalog also contains a lightweight 5,56-mm Negev machine gun, available as standard with a barrel with a length of 460 mm and in a variant for special forces with a barrel with a length of 330 mm. In the newest version of the NG7 caliber 7,62-mm in order to accelerate the replacement of the magazine supply of ammunition is carried out from the side rather than the bottom. Like all weapons of the Negev family, the NG7 machine gun shoots in semi-automatic mode. With their Jerico series pistols, IWI also lit up in the field of handguns.
A number of new projects are being implemented in the short and medium term. Among them, the 40-mm grenade launcher passed the last test with low-speed ammunition and should soon enter mass production. In addition, IWI currently has its own line of silencers. As a result, all these new projects require a new building, the construction of which is about to be completed. The expanded staff of the company that has doubled in recent years will move to it, and in the future, the number of staff will grow by another 50%. IWI engineers have a number of projects in their heads and computers, most of which are still classified, but one can say a little in general terms. We are talking about a sniper rifle with a sliding bolt, the development of which is carried out in close contact with the army. One of the main features will be a quick-change barrel and a rigid fry. The company Meprolight is currently starting work on the sighting system for this rifle, it will be combined telescopic sight and a fixed thermal sight.
In the field of small arms, Israel Military Industries recently completed the development of the MPRS (MultiPurpose Rifle System) multipurpose rifle system, focusing on an SLA that improves the accuracy of fire with both an 40-mm grenade and 5,56-mm bullets. The built-in computer with "stitched" various ballistic tables makes the system quite flexible, although the capabilities of the system are fully realized with the use of 40-mm airborne ammunition from IMI. They are distinguished by a multimode fuse with an integrated self-destruct function, which operates in delay mode, pinpoint detonation or air blasting. Installation of the fuse is made by magnetic induction, the induction coil is available in the grenade launcher and grenades. The communication protocol adopted for this MSA allows it to be used also on any weapon capable of firing different types of air grenades. LMS weighs about 700 grams; The first such system was delivered to the Israeli army for evaluation at the end of 2012.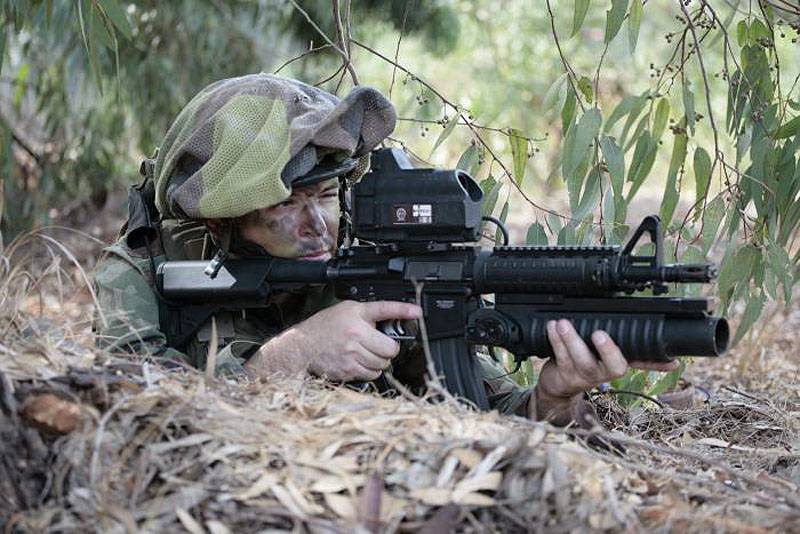 Israel Military Industries has developed a weapon system that includes 40-mm programmable grenades and a fire control system. It allows you to fire in various modes, including in the mode of air blasting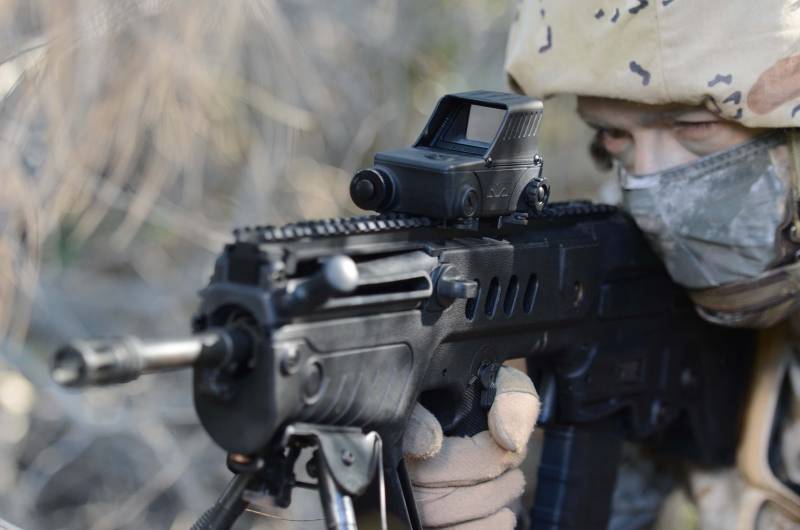 Meprolight M5 collimator sight is often mounted on IWI's assault rifles, the two companies are now in the same industrial group
Day and night rifle sights
In Israel, the production of sights, ranging from day sights for close combat and ending with sniper telescopic sights with enhanced image brightness and thermal imagers, involved several companies. Thus, it is simply impossible to describe the whole range of proposals of all these companies and, probably, the most correct thing in this case is to tell about the latest products and the most unusual systems.
The aforementioned company Meprolight is a member of the same group as IWI, its sights are often offered with Israeli-made small arms. The Mepro M5 reflex sight, for which a large contract was obtained from a Latin American country, is a system with an x1 magnification and, thanks to the large 33x22 mm window, the 160 ° field of view with both eyes open. The initial version of the collimator sight provided 2 minutes of the angle (roughly equivalent to 2,7 cm by 100 meters) and had four brightness settings. The latter version of the M5 sight has two red dots, 0,8 accuracy of angle minutes in long-range shooting and 1,8 angle minutes in melee combat. The M5 is compatible with Gen II and Gen III night vision devices and with magnifying optics, such as the company's MX3 scope. With a built-in Picatinny rail and without batteries, the M5 sight weighs less than 300 grams; one AA battery provides 8000 hours of continuous use. The Mepro 4X with its fixed magnification 4x has an 8 ° field of view that is wider than most of its direct competitors; Five backlight levels are also available. At the request of the customer, Meprolight can develop new crosshairs for various ammunition and ranges. The sight weighing 320 grams with one CR2023 battery, guaranteeing over 250 hours of operation, is completely ready and several orders have already been received for it.
The Mepro 4X can be connected to a NOA XT4 thermal mount, which incorporates the same technology as the NOA Nyx family; powered by four AA or CR123 batteries or just two CR123 batteries. Its configuration has been approved and production will start shortly, since contracts have already been signed for the supply to countries in Asia and Latin America. The well-known uncooled thermal sights of the NOA NYX family have been given to another colleague, the NOA NYX 3x, designed for skilled shooters. This sight with optics with increasing 2.7 can withstand recoil rifles caliber 5,56, 7,62 and .338; In addition, an optional damper is available for installation on 12,7-mm rifles, plus a new device to bring to normal combat. There is a digital increase x2 - x4, while the crosshairs have been modified with a focus on long-range and various ammunition, such as cartridges 5.56xXNNUMX, 45XXNNUMX, 7.62X39 and .7.62. Available remote control sight. With a set of four AA batteries, providing up to 51 hours of continuous operation, the device weighs less than a kilogram. Picatinny Plank at the top allows you to set the holographic sight for melee. This scope complements the Meprolight family of thermal sights with 338x, 8x and 2x magnification for various operational and tactical needs. For snipers, Meprolight has developed a MESLAS 3x7 rifle sight with an integrated 10-μm laser rangefinder with a range of 40 meters. Range data are fed to a ballistic computer that automatically calculates the elevation. Up to 1,54 different ballistic tables for 2000 mm, .10 LM, 7,62 mm and possibly .338 WM ammunition are built into the computer. Meprolight began the production of MESLAS sights, for which a couple of orders have already been received. The Meprolight catalog includes several other sights, such as the Mepro MOR mirror sight with a laser pointer, a Mepro 12,7 day and night sight with illumination, and a Hunter and Mini Hunter night sight with enhanced image.
The Star Defense Systems group includes two sights companies. The first MSE (Marksmanship, Sniper, Excellence - accurate shooting, sniper, superiority) produces optical-electronic day sights, and the second New Noga Light produces optical-electronic day and night sights. MSE is led by Maki Hartman, the founder and past two decades of the commander of the sniper school of the Israeli army, a man who wrote the doctrine of the art of shooting the Israeli armed forces. His experience underlies the development of sights that are most user-oriented. The development of scopes available today began relatively recently, in the 2011 year, and therefore the entire portfolio of the company can be considered completely new.
Night Sight OR is an inexpensive solution from MSE that uses a camera with enhanced image brightness. It is installed in front of the main sight.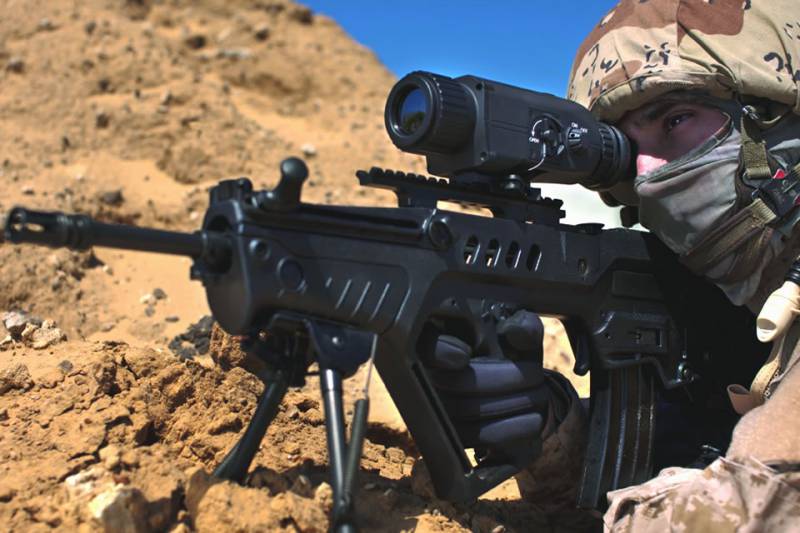 Meprolight has developed a series of uncooled NOA NYX thermal imaging sights, which are adapted for both infantry shooters and snipers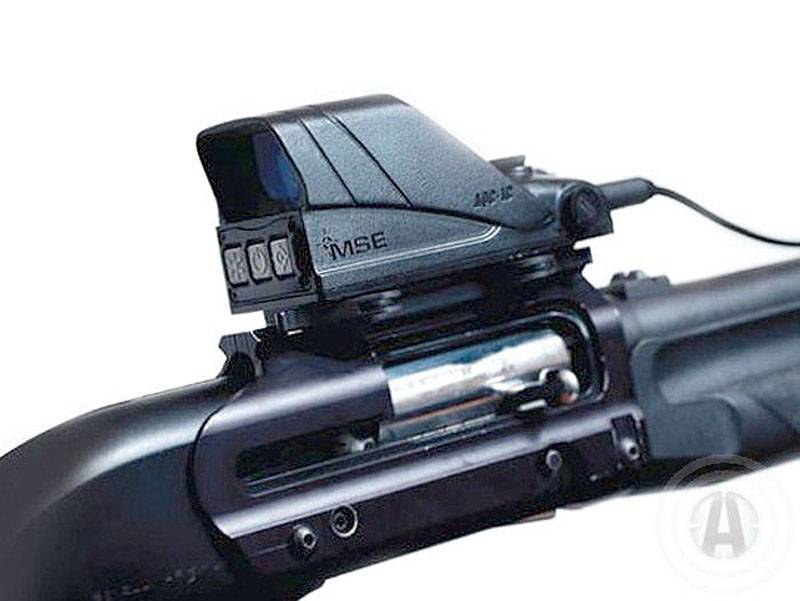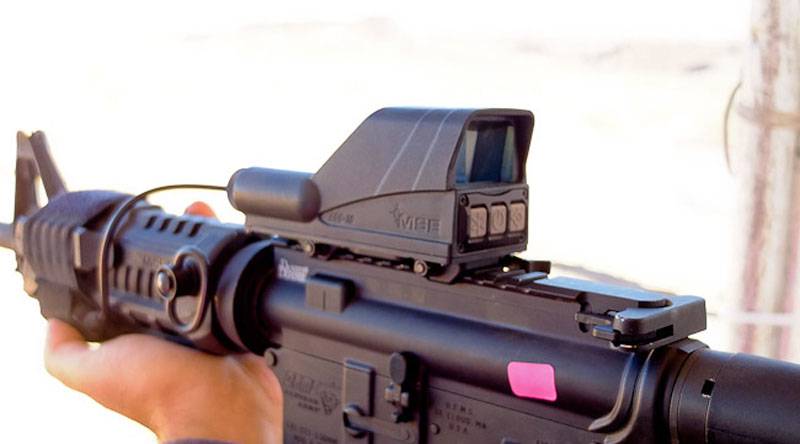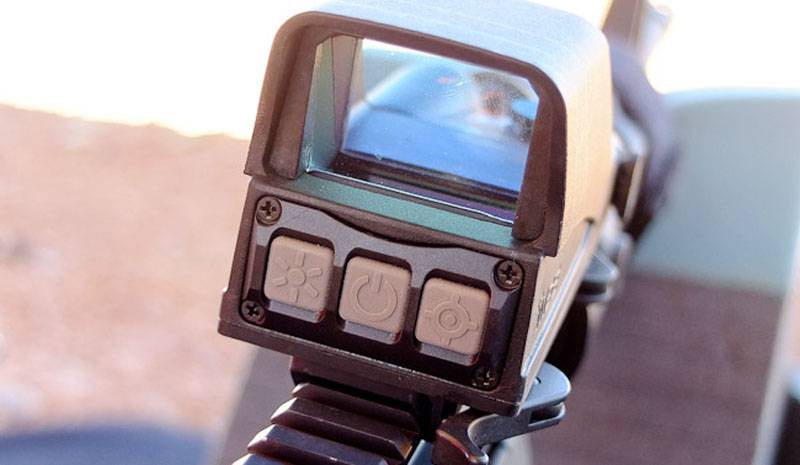 The ACQ1 sight (above) was developed by MSE, founded by the former commander of the sniper school and the rifle training of the Israeli army. Scopes from MSE, for example ACQ2, have a much larger window, allowing for an almost unlimited field of view with both eyes open
The AQC-1 (Accurate Quick "Chot") family of sights follows Hartman's idea that a narrow field of view causes the arrow to close one eye, which impairs the control of the situation. Thus, a sight was designed with a window of size 25x34 mm allowing to have an almost unlimited field of view with two eyes open. This x1 magnification has three selectable crosshairs: fast shooting, accurate shooting (1,7 minutes of angle) and a red dot. Three buttons in the back allow you to turn the sight on and off, select the crosshairs and brightness (four for the day and four for the night), a tangent cable connected to the sight allows you to work with the sight without removing your hands from the weapon. In order to prolong battery life, the device goes into sleep mode, but the built-in motion sensor automatically displays the sight in working mode. If a CR123 battery is to be replaced, the low charge indicator gives a warning. AQC-1 sights are available in three different models: B and C and AQC-1W with a large window 30x35 mm, their weight varies from 297 to 375 grams. The AQC-2 family is an evolution of the AQC-1W model, but features an integrated laser target designator. The AQC-2 has an infrared laser with a 850 nm wavelength and 200 range m at night, the AQC-2C model has a visible laser with a 639 nm wavelength and 25 meter at night, and finally, into the AQC model -300D built-in lasers of the visible and infrared ranges.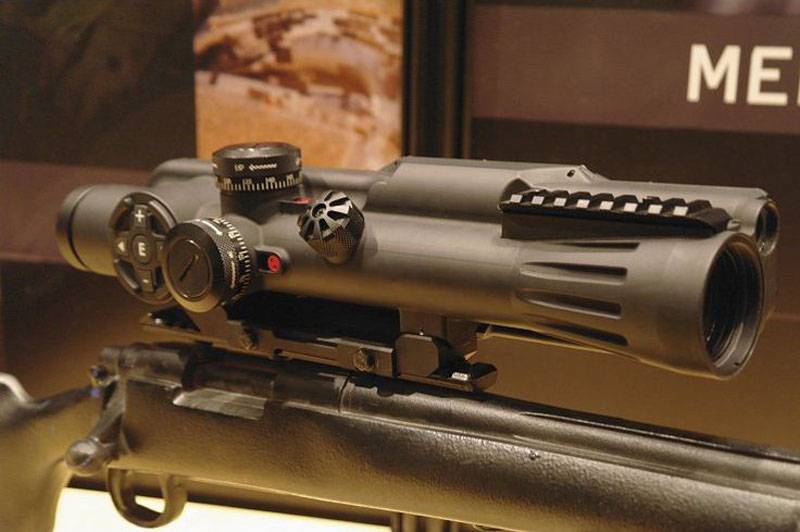 Meprolight's Meslas scope includes a computer and a laser rangefinder, thereby providing the arrow with data for firing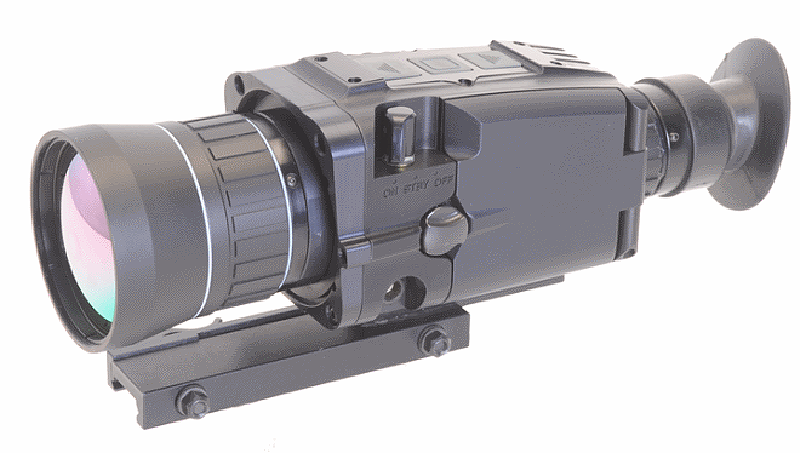 The new Noga Light catalog includes two uncooled thermal sights, known as Matisse M75 (pictured) and Matisse SD, designed for experienced shooters and snipers, respectively.
MSE, on the basis of the ultra-sensitive camera, has also developed an inexpensive additional OR-Sight system with x1.5 magnification, which has an interchangeable module with a laser with a wavelength of either 830 nm or 980 nm. When installed in front of the AQC-1, the instrument uses crosshairs, alignment and ballistic tables of the main sight; it can also be used as a separate surveillance device, while the range when using a backlight device with an infrared laser is 200 meters in absolute darkness. The device is powered by two batteries on 3,7 volts (with batteries, the weight is 540 grams), providing up to 8 hours. MSE products have been extensively tested in the Israeli army and have already achieved some success in the United States.
The already mentioned New Noga Light company from the Star Defense Systems group specializes in night sights, both thermal imaging and image intensification. The Matisse series consists of two uncooled thermal sights: Matisse M75 weighing 1,1 kg with an increase of x3.6 for skilled shooters and Matisse SD weighing 1,8 kg with a double field of view and magnification of x1.7-x5 for snipers. Both devices have a continuous or discrete x2-x12 digital zoom and are powered by six CR123 three-volt batteries or a rechargeable battery. In addition to thermal sights, the company releases a series of sights with enhanced brightness of the Li-Or image for long-range shooting. This family includes three M4F, M4FS and M7F models, the number indicates an increase. The M4 model is for qualified shooters, the submersible FS model is for naval special forces, while the M7 model is for snipers. Li-Or sights can be equipped with Gen II or Gen III generation tubes and are powered by a single AA battery. The remote control cable with tangent allows you to work with a sight, holding his hands on a rifle. An open crosshair or mil-dot reticle is available with five brightness settings. The sights weigh 1,1, 1,2 and 1,8 kg respectively.
New Noga Light is closely following the development of fusion technologies for thermal images and images with enhanced brightness and can be activated in this area, but only when real digital merging becomes available, although cost will play a decisive role in future decisions.
The largest manufacturer of optical-electronic systems outside the United States, the company Elbit, is mainly focused on long-range optocoupler systems, and its unit Elop is engaged in similar devices. However, with the acquisition of ITL, Elbit Systems has added day and night rifle sights to its portfolio, expanding the range of products in this area. The Elbit ITL catalog includes the Mars family (Multi Aiming Reflex Sight - a multi-purpose optical sight), which is based on an optical sight with x1 magnification and different types of cross lines with which the laser designator is integrated. The latter may be infrared or visible red, although in one sight they can be combined. Mars has an automatic brightness control feature that adjusts the brightness of the crosshairs to ambient lighting. The sight lines of the sight and the laser are calibrated using the same tuning function. The Mars sight is also controlled from an external PTT cable connected to the scope itself. The combination with the Trisight block allows you to get an increase in x3, but at the same time the Trisight can also work as a separate sight. The Elbit-ITL product line also includes the Coyote family of uncooled thermal sights, designed for a wide variety of users, from special forces to snipers and machine gunners. The smallest model Coyote 20 mm through a picatinny adapter can be mounted on a weapon, the same solution is used for Coyote 45 / 75 mm and Coyote 100 Sniper. Coyote 100 HMG version is designed for machine guns and medium-caliber guns and is the only such system designed specifically for marine use. He was tested under combat conditions on different weapons, from 40-mm cannons to 7,62-mm machine guns.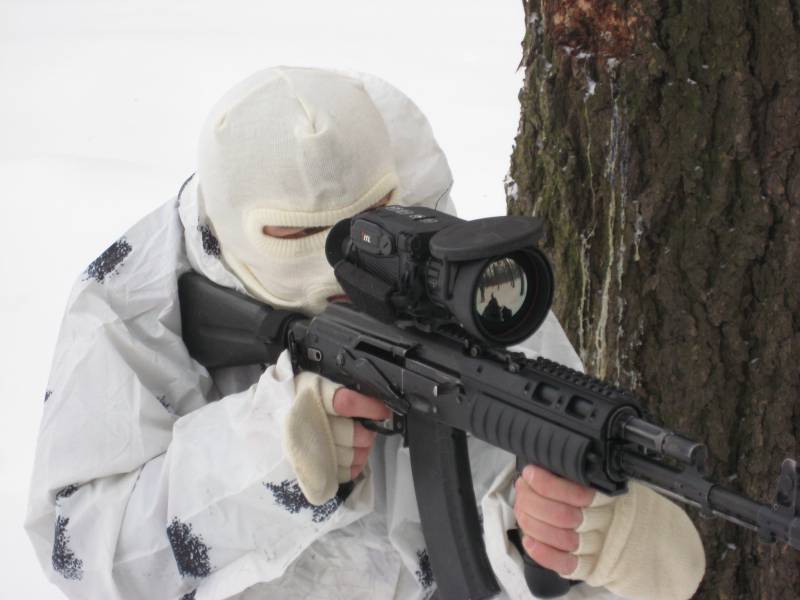 Sight Coyote 45 / 75 mm
Elop's portfolio includes many surveillance systems. The Lily family, specially designed for aiming, consists of three models: short-range S (short range), medium M (medium) and long-range L (long). Models S and M weigh less than a kilogram, including batteries that provide 8 hours of operation. Both of them are based on the 3 microbolometer of the Elop generation. The Lily-L Fixed Cooled Thermal Imaging Device operates in the 3-5 µm range, has two fields of view 2,5 ° and 10 ° and a mass of 3,1 kg, in addition, there is a tangent for remote control. The sight allows you to identify a person at a distance of 5 km and recognize the 2 km.

The Elbit Elop catalog includes a family of uncooled thermal imaging devices Lily, consisting of three options: short range S (short range), medium M (medium) and long range L (long)
Personal protection
Due to the complex security situation, the Israeli military and security forces need body protection systems. As a result, this led to the creation of a strong industrial base in this particular area. Many Israeli companies produce personal protection systems that are also successful in other countries.
Israel Military Industries has a huge portfolio of personal protection systems for the military, police and security forces. ASA03 plates are intended for the defense market, providing solutions with the level of protection Level III of the NIJ standard (the American National Institute of Justice, develops standards in the field of security); These plates of size 250x300 mm can be used as an addition to body armor (then weight 1,35 kg) or as a separate solution (weight increases to 1,5 kg). ASA75 is a sturdy plate for counter-terrorism tasks, providing Level III + protection with multi-hit features. This plate with an area of ​​0,12 m2 and a weight of about 3,5 kg is capable of stopping 7.62x39 armor-piercing bullets and NATO standard 5,56 and 7,62 mm bullets. The ASA44A plate is the same size as the ASA03 plate, but provides Level IV protection, weighs 3,1 kg for an additional solution and 3,3 kg as a separate solution.
Rafael is active in the production of boron carbide anti-bullet components that are used to protect platforms and also as body wearable. The company has patented pressure-free sintering technology, which guarantees lower cost compared to hot stamping, while providing high performance, reduced weight and flexibility of geometric shapes. Most personal protection systems are manufactured in complex shapes and reach Level IV NIJ protection levels. With a polyethylene backing, the Rafael plates provide protection against SS109 5.56x45 bullets at 24 kg / m2 density, 7.62xXNNXX armor-piercing bullets at 39 kg / m28 and 2-30 bullets APM06 at 2 kg.
Plasan Sasa, being a specialist in body armor, developed a line of products specifically designed for the military and security forces. She supplies body armor and ballistic kits. The company has 30 years of experience in this field and continuously develops new solutions based on modern materials available on the market, such as aramid fibers, high density polyethylene, ceramic plates and tiles made from various materials, such as aluminum oxide, glass ceramics, silicon carbide and boron carbide. Protection of her body armor reaches NIJ Level III, IV and IV + levels. Among its protection systems there is, for example, the ATLAS personal tactical ballistic protection system (Advanced Tactical Load-carriage Armor System), which provides 0,56 m2 coverage area with 2,65 kg mass and can be equipped with a number of optional protection systems, for example, MPAC (Modular Protection Armor) Carrier - modular protection kit) weighing less than 1,2 kg.
Another player in this area, Magam Safety (part of Star Defense Systems or the SDS Group), is currently offering its modular protective vest with MS-OTV inserts, providing Level IIIA, III, IV protection in accordance with customer requirements. The company has signed a cooperation agreement with DSM Dyneema and is currently focusing on the protection of the new generation, the development of new technologies and the new matrix for Dyneema. Magam Safety is also working with partners on new technologies for creating durable ballistic materials. She recently introduced a bulletproof vest on the market with a Level III protection level that can withstand a bullet hit with a mild steel core fired from an AK-47; while the surface density is 15 kg / m2 with the prospect of achieving 12 kg / m2. A helmet body with 700 grams with a ballistic V50 800 barrier m / s (the speed of the bullet at which half of the bullets stops, half pierces the barrier) designed to withstand fragments of 1,1 gram is also designed. While the company has focused on new solutions with the Level III protection level, it has already begun working with a German system partner with the Level IV protection level.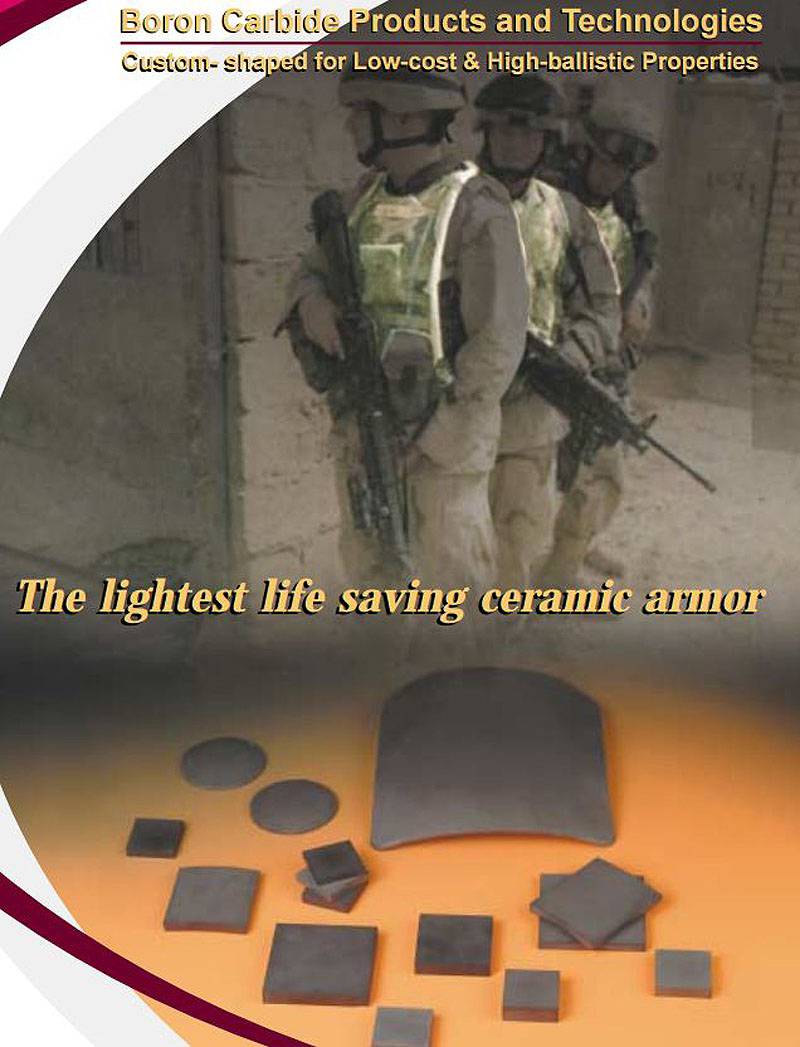 Rafael has developed sintering technology that allows for the production of cheaper and more efficient ballistic ceramic components.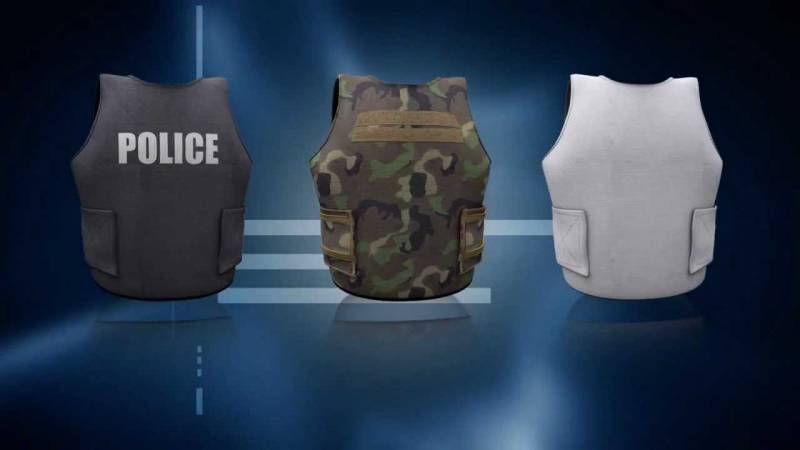 Magam Safety (part of the SDS Group) in collaboration with DSM Dyneema is working on new technologies next generation body armor
Sensors for all occasions
Serafim Optronics, formed from the technical unit of the intelligence service of the Israeli army, is active in the field of permanent covert surveillance systems. Its automatic mini-system for obtaining species information Mugi (Mini Unattended Ground Imager) in large quantities was sold to the Israeli army, as well as to North American and European customers. The Mugi system consists of a thermal imager and a CCD camera (visible and near-IR range, with magnification) mounted on a platform that allows you to rotate in the ± 39 ° sector and tilt in the ± 10 ° sector without any noticeable signs of movement or reflection of optics, what would give the location of the system. It allows you to recognize a moving person at a distance of 3500 meters by day and 1600 meters at night. The 367 mm touch sensitive unit has a diameter of 197 mm and weighs 5,5 kg. Operating time depends on the power supply system; The BPU-10 rechargeable battery increases the weight to 19 kg, but provides 9-12 days of work, while the non-rechargeable BPU-60 battery increases the total weight to 36 kg, but provides autonomous work 50-80 days. As a rule, the Mugi system is buried in the ground and only a small periscope head with sensors looks at 110 mm, which makes it almost invisible; the system was specially designed so that it could be disguised. Built-in wireless standard Wi-Fi with data encryption allows you to send images, full-frame video or individual frames at a distance of 20 km. All information is received by the operator's console, which comes in three versions: mobile in a hardened body weighing 13 kg, a hardened tablet weighing 5 kg and a hardened manual version weighing 3 kg. Radio channel, satellite channel and 3G mobile channel can also be used. The Mugi system can be easily integrated into a network of maintenance-free ground sensors. It is equipped with a motion detection function that automatically alerts the operator and "wakes up" the Mugi, which regularly goes into low power mode. Control and management software allows you to connect up to 32 systems and use 4 systems simultaneously; the battery console and the communication status of each of the systems are displayed on the operator console.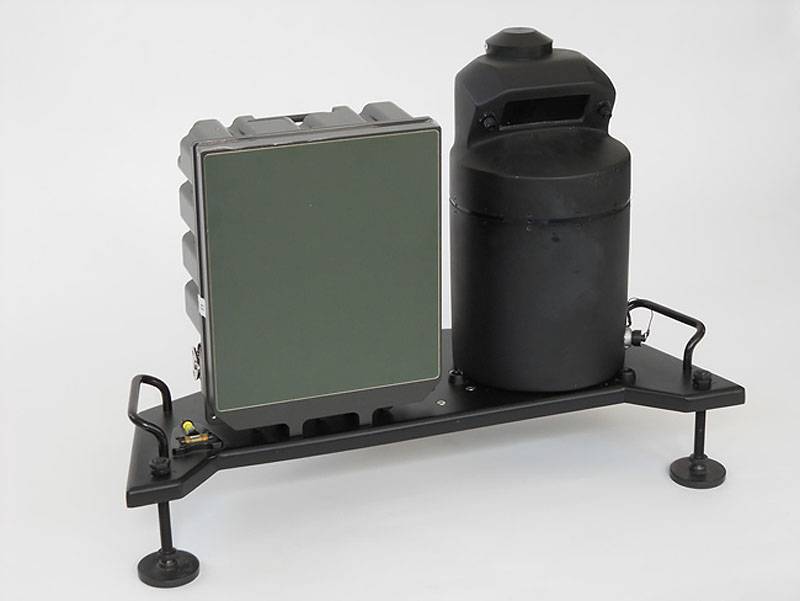 The unattended UGF system (Unattended Gap Filler) Rafael consists of an Mugi automatic ground block of Seraphim Optronics specific information and an ELM 2112 (V1) observation radar integrated with it from IAI Elta
Integration of the Mugi system with the ELM 2112 (V1) IAI Elta surveillance radar allows you to get the unattended UGF (Unattended Gap Filler) system currently designated as Rafael. The low-power radar (12 watts) operating in the C-band weighs only 6 kg; he detects a moving person or a rubber boat on 1000 meters and a car on 2000 meters with an accuracy of less than 10 meters in range and with an accuracy of less than 2 ° in azimuth. The radar covers the 90 ° sector; four of these systems provide respectively a circular 360 ° cover, which allows you to protect any object, such as a military base. If the Mugi system is intended for field deployment, then the Chameleon system, also from Seraphim Optronics, is intended for conducting reconnaissance in urban environments. The system is able to recognize a person at a distance of 2 km and identify them on 120 meters. It contains a CCD camera (visible and near IR spectrum) or an uncooled thermal imager with viewing sectors on the horizon ± 25 ° and on the vertical ± 5 °; during operation, the system has no signs of visible movement and does not reflect light. Like the Mugi, the Chameleon system is also offered in a low-power radar configuration. Seraphim's portfolio also includes the SRU (Smart Relay Unit) multifunctional video signal distributor with a robust handheld console.
Camero, a part of the SK group, specializes in so-called object vision systems through walls or wall visors. The Xaver stenovizorov family currently includes three devices operating in the 3-10 GHz band. Model Xaver 800 weight 14,5 kg is mainly intended for special forces. This 3D device allows you to determine not only the presence of life in the room, but also the number of people and their location, track the movement of the target, determine its height, the geometry of the room, including the size and basic infrastructure elements. The simpler model Xaver 400 weighing 3,2 kg displays a two-dimensional image; its main battery, along with additional ones, provides a total of seven hours of operation. Stenovizor displays the location of the target in the XY grid, showing the field of view and the maximum distance, the latter is selected using the button on the left side; The button on the right allows you to select tracking, expert and deep penetration modes.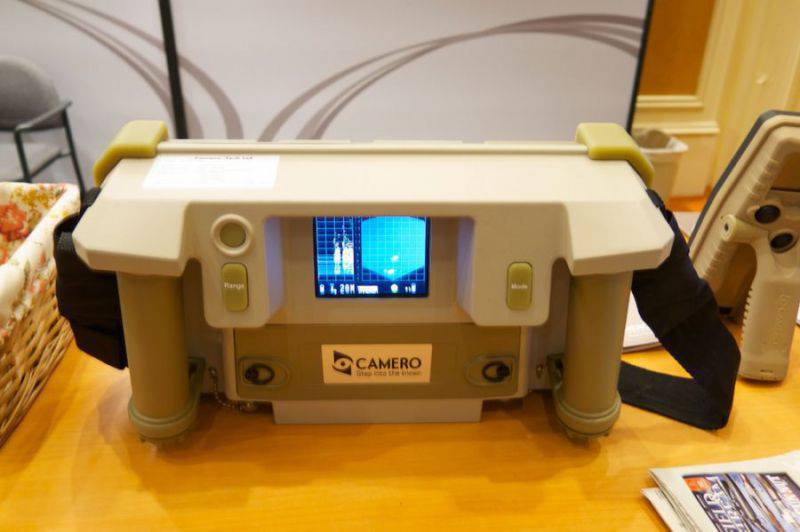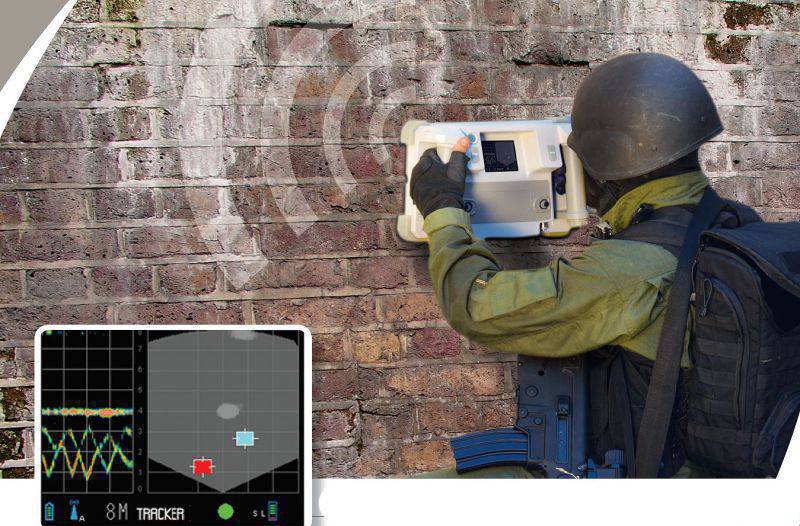 Camero systems can operate either leaning against a wall or away from it with a corresponding decrease in detection distance. The raw data and standard 2D mode allow the operator to fully utilize the capabilities of the Xaver 400 Wall Viewer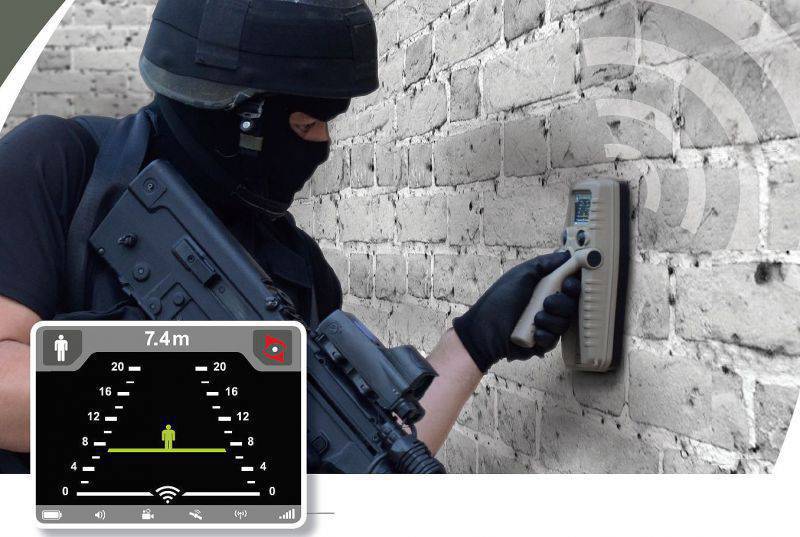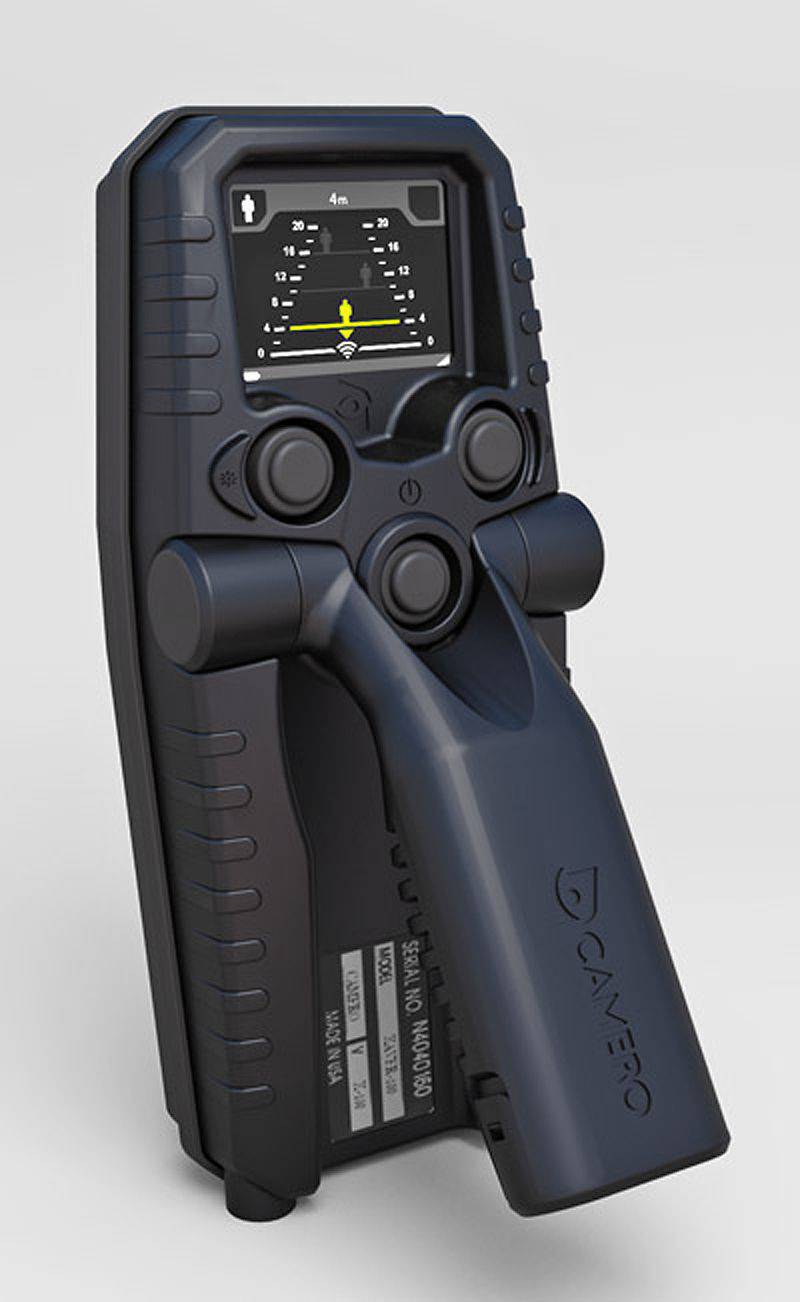 The lightweight manual stenovizor Xaver 100, developed by Israeli company Camero, allows you to determine the presence of a person in the room and measure the distance from the wall to him. For a trained operator, the raw signals displayed on the screen can provide more information than the standard mode used by most users.
The Xaver 100 model weighs 660 grams with four CR123A lithium batteries providing 3,5 hours of operation. The device has one radiating and one receiving antenna, the data from which are displayed on a small screen in the form of a one-dimensional image showing the presence of living objects and the distance to the nearest target. Detection distances are the same as for larger members of the family, 4,8 or 20 meters. In most advertising photographs, the Xaver device is shown leaning against a wall, but in fact there is no need for this, the device allows you to see through it away from the wall, but at the same time, the detection distance is, of course, reduced by this amount of removal. It is important to note that the Xaver must be held still in order to avoid induced errors. The antenna provides an 120 ° field of view in azimuth and elevation. The Xaver 100 device really does not require any training; all you have to do is to orient the device and turn it on, the screen displays the target and sensor icons and the distance between them. This is an intuitive man-machine interface, the whole system is user-friendly and even a beginner needs only a few seconds to turn on the device and determine the distance to the target. However, the second operating mode allows you to see the raw signals that an experienced operator can give more information than the "intended for the soldier" mode.
Camero offers customers a two-day course on the Xaver 400 system, which includes classroom work, but mostly all the features are taught in real-world conditions so that users on the ground can fully utilize all the features of this stenovizor. On the contrary, the Xaver 100 device does not require training in connection with its simple and accessible interface.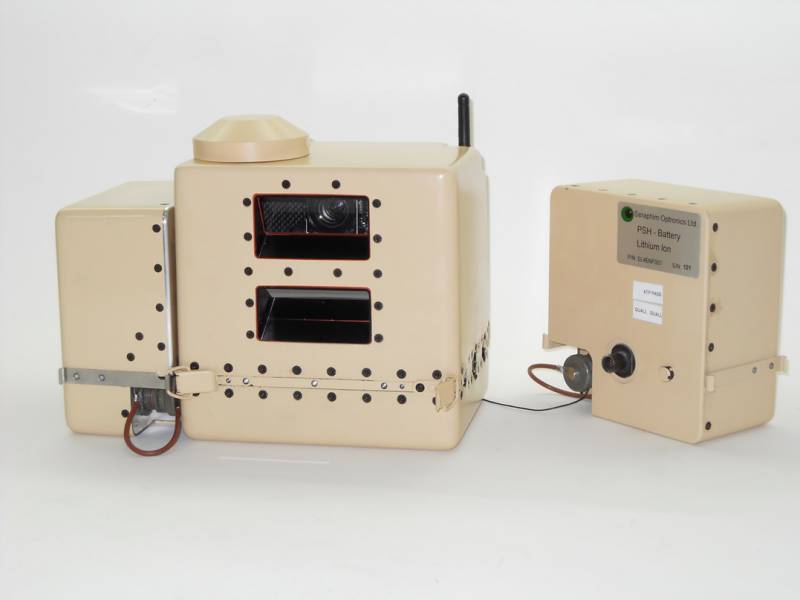 The Seraphim Optronics Chameleon 2 optoelectronic surveillance system was developed for urban operations and can be integrated with other systems, such as radarTo be continued