Sergei Shoigu yesterday awarded the Order of Zhukov to the 810-th separate brigade of the Black Sea Fleet for successfully performing combat missions in hot spots, the press service reported.
Ministry of Defense of the Russian Federation
.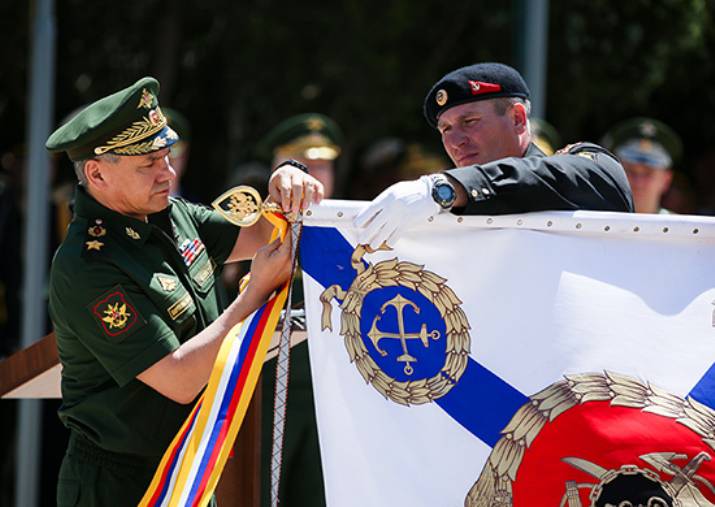 "The contribution of your illustrious compound to the defense of the sovereignty of the country and its borders is difficult to overestimate. Brigade servicemen successfully accomplished combat missions in the Indian Ocean, the Adriatic Sea, the Mediterranean, the Georgian-Abkhaz conflict zone and the North Caucasus. They defended the right of the inhabitants of Crimea to self-determination. We carried out the special assignment of the Supreme Commander-in-Chief of the Armed Forces of Russia on the territory of the Syrian Arab Republic, "
said the Minister of Defense at the ceremony.
He stressed that "the personnel of the brigade always showed high professionalism, acted outside the box and selflessly, often risking their own lives."
"The name of Alexander Pozychnich, who died heroically in Syria, is forever inscribed in the chronicle of the formation and the Armed Forces of Russia," Shoigu recalled.
"The leadership of the country highly appreciates the contribution of the 810 brigade to the strengthening of the state's defense and hopes that you will continue to serve the Fatherland faithfully," he said.