Sources close to the command of the Syrian government army, reported that today the units of the armed forces of the SAR have achieved significant success in the north of the country. As a result of the successful operation, the Syrian army took control of several areas on the border with Turkey, which allows to partially cut off the supply of terrorist groups operating in the provinces of Aleppo and Lattakia.
The Syrian Marines, with the support of the national defense forces, beat off several militants from the northern districts of Latakia province. The jihadists among the militants of Jabhat al-Nusra and Jaish al-Turkman were thrown out of their positions.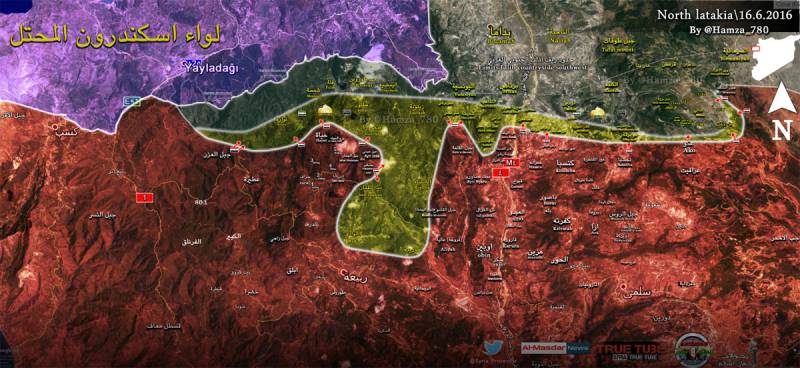 The report states that the dominant heights were taken near the border with Turkey, which allows you to develop an offensive in an easterly direction. It should be noted that this is actually a repetition of last year's success of the Syrian army in the area. Then the forces of the SAR armed forces also took control of a long stretch of the border, but after a while they were fired upon by Turkish artillery, which actually enabled the terrorists to return the previously abandoned positions.
Against this background, clashes continue in the Aleppo area. The situation is complicated by the fact that in the region of the largest city of Syria there are several theaters of military operations at once. At one of them - north of Aleppo, the representatives of the so-called "Syrian Free Army" and ISIS militants are fighting. This is reported by the portal.
AMN
.
Mutual shelling leads to the death of the civilian population in the territories under the control of various forces. The Igilovs were able to regain control of three settlements north of Aleppo, previously lost, including after the strikes of the so-called American coalition by airplanes.