The Italian division of the Iveco group presented at the Eurosatory-2016 exhibition a new version of the well-known LMV (Light Multirole Vehicle), which received the designation LMV 2, the blog reports
bmpd
.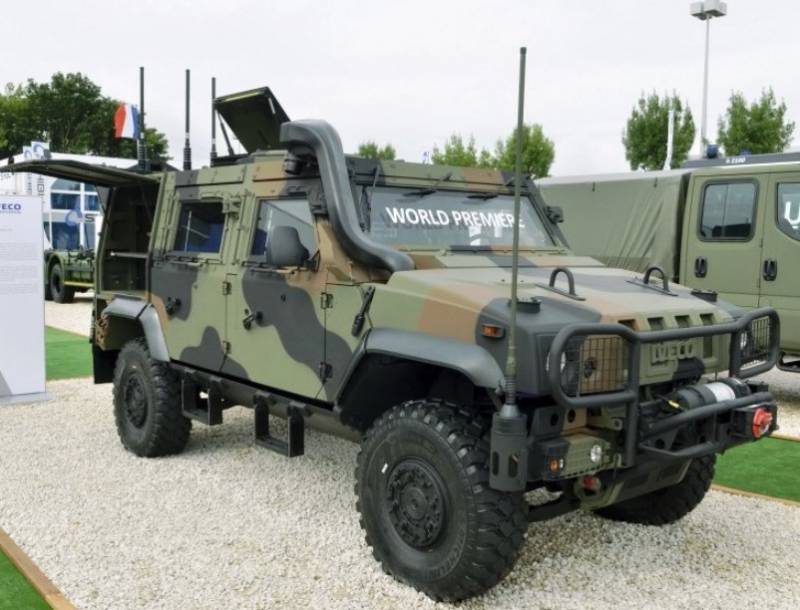 Prototype of an Iveco LMV 2 light armored vehicle on display at the Eurosatory 2016 exhibition in Paris
"The LMV 2 machine has fully preserved the main geometrical dimensions of the previous LMV, but it has a full combat weight of 8100 kg and a payload mass of 1500 kg, which is 40% more than the LMV. The LMV 2 is equipped with a new Iveco diesel engine with an 220 horsepower. (Now on the LMV, the Iveco F1D engine in the 182 hp is installed on a regular basis), a new automatic transmission with eight forward gears, a two-speed transfer case, the resource writes, citing the Jane's International Defense Review magazine.
It is also noted that the car "applied automatic transmission control system ADMS and a new electronic stability control system."
In addition, the armored car is equipped with a new suspension and can use larger diameter tires. The stated maximum speed is 110 km / h.
According to the information, "the height of the inhabited compartment is increased by 100 mm, the roof of the vehicle is reinforced and made of armor steel to accommodate a manual or remotely operated turret with armament of a larger mass." Car capacity - 5 people.