On Wednesday in Brussels at the ministerial meeting of Ukraine-NATO, the head of the Ukrainian defense ministry, Stepan Poltorak, presented the "road map" of reforms to the Ukrainian Armed Forces, which satisfied the leadership of the Organization, reports
Kommersant
.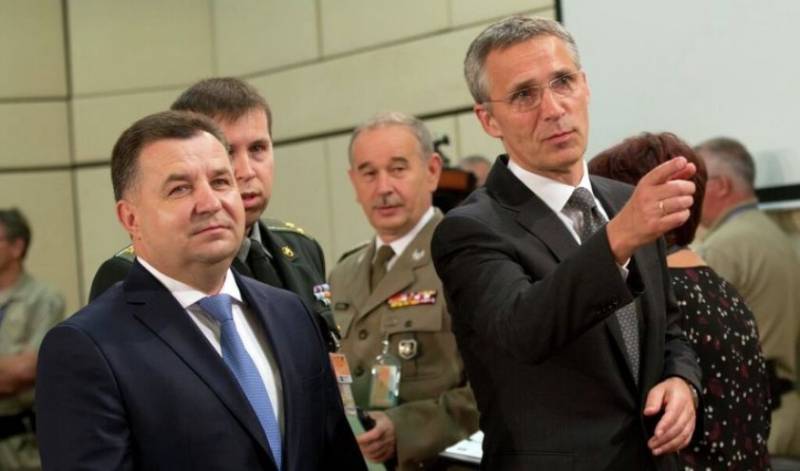 "Those who destroyed our army all these years have either fled or retired. Therefore, now our army is being reformed by those who, at a difficult hour, stood up to defend the homeland and stopped the advance of the aggressor inland ",
Poltorak said at a press conference at the headquarters of the alliance.
Secretary General Stoltenberg shared the guest's optimism from Kiev: "Ukraine is constantly progressing along the path of reforms, and we are satisfied with what Mr. Poltorak presented to us. But they (Ukrainians) still have a long way to go, and we are aware of all the problems that they face. "
As a result, NATO adopted a "comprehensive package" of support for Ukraine, under which the Kiev authorities will receive assistance in "building more effective security and defense structures and strengthening civilian control over them." This assistance will go to the Ukrainian ally in the form of advice and training.
"Not,
weapon
Ukraine will not supply NATO. Because NATO does not have its own weapons, "the secretary general specified, adding that" Ukraine is a sovereign state and can enter into agreements on arms supplies with the member countries of the alliance. "
Meanwhile, a Kommersant source at NATO Headquarters commented on the negotiations with Poltorak as follows:
"We cannot say that we are fully satisfied with the course of reforms in Ukraine, but at least we see that in two years there has been a real desire to carry them out. The Minister of Defense of Ukraine made an excellent presentation of the "road map" of the transformations, and now we can call him to account in case of their failure. "