Historical Russia's partner against friendship for three
In terms of its military potential, India, together with the DPRK and Israel, is among the top three leading countries. The first, of course, are the United States, China and the Russian Federation. The personnel of the Indian Armed Forces have a high level of combat and moral and psychological training, although they are recruited for hire. Here, as in Pakistan, due to the size of the population and the difficult ethnic and religious situation, recruitment is not possible.
New Delhi is a major customer of Russian weapons, and maintains close military-technical cooperation with France, Britain, and more recently with the United States. At the same time, India has a huge own military-industrial complex, which is theoretically capable of producing weapons and military equipment of all classes, including nuclear ammunition with delivery systems. However, the samples developed independently (tank "Arjun", fighter "Tedzhas", helicopter "Dhruv"), have very modest performance characteristics, and their design stretches for decades. The quality of equipment collected under foreign licenses is often very low, which is why the Indian Air Force has the highest accident rate in the world. Nevertheless, the country has every reason to claim the title of one of the superpowers already in this century.
Arsenal, time-tested

The land forces of India have a training center (with headquarters in the city of Shimla) and six territorial commands. Directly subordinate to the SV headquarters are the airborne brigade, two regiments of the Agni MRBD, the regiment of the Prithvi-1 OTR, four regiments of the NRMB BrahMos.
"Moscow still does not notice that India is by no means a former Third World country that will buy everything they offer."
The central command (headquarters in Lucknow) includes one army corps. It consists of infantry, mountain and armored divisions. At present, the corps is temporarily assigned to the South-West Command.
Northern Command (Udhampur) has three army corps. In 14 and 15-m AK - on one infantry and mountain divisions. In the 16-m AK - three infantry divisions and one artillery brigade.
Western Command (Chandimandir): an artillery division and three army corps. 2-th AK: armored, SBR and infantry divisions, engineering and air defense brigades. 9-th AK: two infantry divisions, three armored brigades. 11-th AK: three infantry divisions, armored and mechanized brigades.
The South-Western Command (Jaipur) includes an artillery division, a temporarily assigned army corps and an 10 st AK, which has one infantry and two SBR divisions, and three brigades - armored, air defense, and engineering.
Southern Command (Pune): an artillery division and two army corps. 12-th AK: two infantry divisions, armored and mechanized brigades. 21-th AK: armored, SBR and infantry divisions, three brigades - artillery, air defense, engineering.
Eastern Command (Calcutta): an infantry division and three army corps with three mountain divisions in each.
In two shelves of MRBR - 20 PU "Agni-1" and 8 PU "Agni-2". A total of 80 – 100 Agni-1 missiles (flight range - 1500 km) and 20 – 25 Agni-2 (up to 4000 km). It is possible that the first 4 launchers of the Agni-3 MRSD (3200 km) are deployed. The only shelf of the Prithvi-1 OTR (150 km) contains 12 – 15 PU and 75 – 100 BRMD. All of these ballistic missiles are made in India and can carry both nuclear and conventional warheads. Each of the four regiments of the KR "Brahmos" (joint development with Russia) has 4 – 6 batteries, each with 3 – 4 PU (their total number is 72).
Tank
India's fleet has 124 Arjuna, at least 947 of the latest Russian T-90s (they are supposed to be in 2011) and 1928 Soviet T-72Ms that have undergone modernization on the spot (Ajeya). Up to 815 Soviet T-55s and about 2000 Vijayant own production (English Vickers Mk1) are in storage.
Other armored vehicles were largely outdated, as was artillery. There is a 20 ACS "Catapult" of its own design (130-mm howitzer M-46 on the platform "Vijayant"), 68 English "Abbot" (105 mm). Towed implements: 215 Yugoslav mountain M48, 700 – 1300 own software solutions Mk1 / 2 / 3 and 700 – 800 LFG, 50 Italian Soviet M-56, 400 Soviet D-30, 210 English ENG, D-77, 180 English, M-46, 40, English N-XXUMX, 23, 721, 46 Soviet 200 C-77, up to 5000 M-1 and 220 FH-2В. Mortars: 500 own E50 and 207 self-propelled SMT on the BMP-58 chassis, French AM-500 160, Finnish M-200 Tampella X-NUMX and Soviet M-21 80. MLRS: up to 42 Soviet BM-XNUMX, XNUMX own Pinaca, XNUMX Russian Smerch. Of all the artillery systems listed above, only the MLRS Pinaka and Smerch can be considered modern.
In service is the 250 Kornet ATGM, the 13 self-propelled Namika (Nag Nagirkh own-developed ATGM on the BMP-2 chassis), the 300 of the newest Israeli Spike. In addition, there are several thousands of French ATGM Milan, Soviet and Russian Malyutka, Konkurs, Fagot, Sturm.
Branch defense includes 25-45 batteries (100-180 PU) of the Soviet air defense system "Square", 80 SAM "Wasp", 200 "Strela-1», 45 "Strela-10», 18 Israel's "Spider", 25 English "Taygerket" . There 620 Soviet MANPADS "Strela-2» and 2000 "Needle-1», 92 Russian ZRPK "Tunguska», 100 ZSU-23-4 «Shilka», 4000 anti-aircraft guns (800 Soviet ZU-23, 1920 Swedish L40 / 70 and 1280 L40 / 60). Of the entire air defense technology, only the Spyder and Tunguska air defense missiles are modern, while the Osu, Arrow-10 and Igloo-1 can be considered relatively new.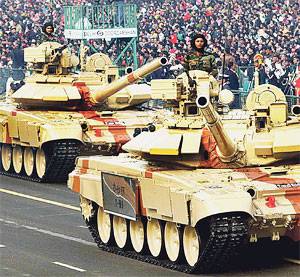 In the army
aviation
- More than 100 helicopters: up to 80 Dhruv, 12 Lanser, up to 22 Rudra. All of them are made in India. More than 100 helicopters from the Air Force, primarily the Mi-35 and SA315 / 316/319, operate on an ongoing basis in the interests of army aviation.
The Indian Air Force includes seven commands — Western (Delhi), Central (Allahabad), South-Western (Gandhinagar), Eastern (Shillong), Southern (Thiruvananthapuram), training (Bangalore), MTO (Nagpur). As part of the Air Force, three squadrons of OTP "Prithvi-2" (18 PU in each) with a range of 250 kilometers, capable of carrying conventional and nuclear charges. Attack aircraft consists of about 140 Soviet MiG-27M and 139 British Jaguar bomber. All of these planes, built under license, are outdated. The basis of the fighter aircraft is the latest Su-30MKI. They are collected in India under license. Now in service to 239 machines of this type. The 76 Russian MiG-29, 17 own Tejas and 50 French Mirage-2000 are quite modern. Remain in service until the 228 MiG-21, also released in India under a Soviet license. It is planned to acquire the 36 of the French Rafale, in addition, the 144 fifth generation FGFA fighter will be built on the basis of the Russian T-50.
There 6 AWACS planes (in 3 Russian A-50 and Swedish ERJ-145), 7 DER (3 US 'Gulf Stream-3 ", 1" Boeing-707 ", 2 Canadian" Global-5000 ", 1 Israeli IAI1125« Astra » ), 6 refillers IL-78. VTS: 17 Russian IL-76, 10 latest American C-17, 97 Soviet An-32 (still 4-5 in storage), 39 German Do-228 (plus 1 in storage), 5 Brazilian EMB-X XNXXXXXXXXXXXXXXXXXXXXXXXXXXXXXXXXXXXXXXXXXXXXXXXXXXX Boeing 135 and 6 C-737J, 5 English HS-130 (and 59 in storage). In service more than 748 combat helicopters - mainly Mi-1, as well as 30 own "Rudra" and 35 newest LCH. Multipurpose and transport helicopters: 7 Dhruv, 3 Mi-46 and up to 276 Mi-17, up to 98 SA8B, 115 SA315B, 139 SA316, 75 Mi-319. The SA1 / 26 / 315 models were produced in India under the French license under the names Chetak and Cheats. They, like the Soviet Mi-316, are outdated, therefore, they are written off and replaced with Dhruv and Mi-319.
Ground defense includes 25 squadrons (at least 100 PU) of the Soviet C-125 air defense missile system, at least 24 Osa air defense missile system, 8 squadron of its own Akash air defense missile system (64 PU).
In the Indian Navy there are three commands: Western (Bombay), Southern (Cochin), Eastern (Visakhapatnam). There is a single "Arikhant" SSBN of its own construction with 12 SLBM K-15 (range - 700 km), it is planned to build three more. The Chakra submarine (project 971) is in leasing, the transfer of the second by Russia is expected.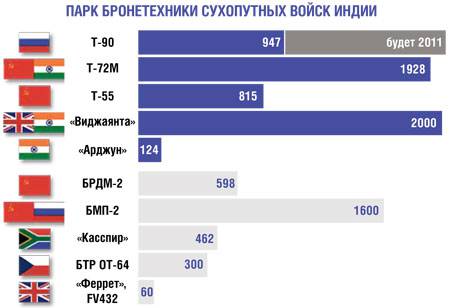 Nine Russian submarines of the 877 project and four German projects 209 / 1500 are in the ranks. Three newest French submarines of the Scorpins type are being built, there will be six in all. Four Soviet submarines of the 641 project are laid up. In addition to the two imported aircraft carriers (the Viraat - the former English Hermes, the Vikramaditya - the Soviet Admiral Gorshkov), two own types of the Wikrant are being built. There are nine destroyers - five types of "Rajput" (Soviet project 61), three own types of "Delhi" and one type of "Calcutta" (with the prospect of supplying two or three more of the same). In the ranks - six of the newest frigates of the Russian construction of the type "Talvar" (project 11356) and three modern own types "Shivalik". Three frigates "Brahmaputra" and "Godavari", made in India according to British projects, remain in service with each other. In the sediment 4 old British frigate type "Linder" ("Nilgiri"). Corvettes: the newest "Kamort", four types of "Bark", "Hukri" and "Abhay" (Soviet project 1241P). There are also 12 rocket boats of the "Fan" type (Soviet project 1241Р). All destroyers, frigates and corvettes (except "Abhay") are armed with modern Russian and joint SLCMs and anti-ship missiles (BrahMos, Caliber, X-35). Amphibious forces dispose of the "Djalashva" DVKD (American "Austin"), 4 with the old Polish TDK of the 773 project (still 4 in the sludge), 5 with their own TDC "Magar"
The naval aviation is armed with a 44 decked fighter: the 33 MiG-29K (including the 8 combat training MiG-29CUB, will also be 12) and the 11 Harrier (10 FRS51, 1 Т60). MiG-29K designed for "Vikramadityi" and under construction "Vikranta", "Harriers" - for "Viraat" (this year will be written off together with the aircraft carrier). Anti-submarine aircraft: 5 old Soviet IL-38 and 4 Tu-142М (4 is still in storage), 6 is the newest American P-8I (there will be 6). There is up to 64 German patrolmen Do-228, 6 – 10 English transport BN-2, up to 17 training HJT-16 and 17 "Hok" Mk132. Naval aviation includes 14 Russian helicopters, AWACS Ka-31 to 38 ASW (17 Soviet Ka-28 before 4 Ka-25, 17 British "Sea King" Mk42V), at least 125 multipurpose and transport (11 "Dhruv" to 103 SA316B and SA319, 6 (Sea King, Mk42C, 6 UH-3H).

With a triangle on the neck
In general, the Indian Armed Forces possess a huge combat potential, far exceeding the Pakistani one. However, Beijing is now becoming the main opponent of New Delhi. And its allies are the same Pakistan and Myanmar and Bangladesh adjoining India from the east. This makes the country's geopolitical position very complex, and its military potential, paradoxically, insufficient.
Russian-Indian military-technical cooperation is exclusive. Moscow and Delhi are engaged in joint development of weapons, and unique ones, such as the BrahMos missile or the FGFA fighter. There is no analogue in the world practice of leasing a PLA (a similar experience was only in the USSR with the same India at the end of 80's). T-90 tanks, Su-30 fighters, and X-35 RCCs in the Indian Armed Forces are operated more than in all other countries combined, including Russia itself.
But the historically established partnership is now being tested for strength. Many officials in Moscow still do not understand that India is almost a superpower, and by no means the former third world country that will buy everything they offer. New Delhi requests are growing with ambition. From here scandals, in the majority of which Russia is guilty itself. Indicative of the epic sale of the aircraft carrier Vikramaditya, which deserves a separate story.
However, it must be admitted that such excesses arise not only with Moscow. With both the largest Indo-French contracts (Submarine Scorpion, Rafale fighter jets) the same thing happens with Vikramaditya: a multiple increase in the price of products and a significant delay in production.
Much worse that cloudy and in the field of geopolitics. India is our perfect ally. There are no contradictions between us, and the main opponents are common: a group of Sunni countries and China. Alas, Russia continues to impose the idea of ​​a triangle Moscow - Delhi - Beijing. Meanwhile, India absolutely does not need an alliance with China - its main geopolitical opponent and economic rival. She is interested in an alliance against Beijing. It is in this format that she would be happy to be friends with us. Now she is persistently lured away by Washington, who understands perfectly well against whom New Delhi would prefer to be friends.
The only thing that keeps India from complete disagreement with Russia is the mentioned exclusive military-technical cooperation. Maybe it will in some way save us from ourselves.