Concern "Kalashnikov" opened the sale of 4-s new products for the civilian market, the press service
Rosteha
.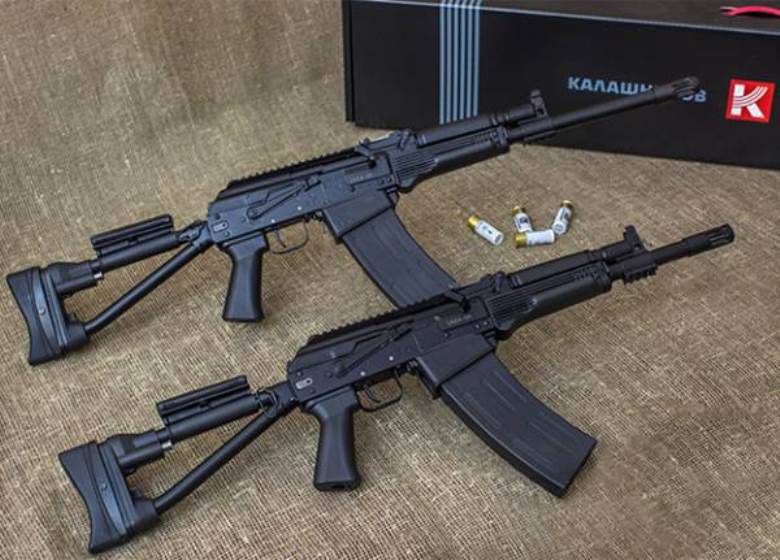 "Among the new products is the Saiga 12K multipurpose smooth-bore self-loading rifle of the 12 caliber. 033 (compact) - a shortened version of the popular smooth-bore self-loading rifle "Saiga 12" isp. 030. Barrel length "Saiga 12K" isp. 033 is only 320 mm, which provides maneuverability and compactness. The rifle is completed with a convenient folding plastic butt with a rubber damping butt pad, Picatinny slats are installed on the receiver lid and under the barrel, "the release says.
"To speed up the reloading, the rifle is equipped with an automatic slide lag and a shop shaft. The standard thread on the muzzle allows you to mount modern expansion joints. The gun reliably works with the wide nomenclature of hunting cartridges and will be ideally suited for self-defense and fans of practical firing », - told in a press - service.
The second novelty was the peeled AK-103 (caliber - 7,62х39 mm), which uses a light and noise cartridge. "The use of other ammunition is impossible. This model has the most authentic appearance and weight of combat
weapons
, at the same time any citizen of the Russian Federation who has reached the age of majority can acquire it, "the report says.
"We strive to hear our client and to issue regular updates of the model line," said Vladimir Dmitriev, marketing director for the Kalashnikov concern. "This allows us to remain the recognized leader of the Russian arms market."
The third and fourth products were modernized rifled carbines "Saiga MK" isp. 030 (caliber - 5,45x39 mm) and "Saiga MK" isp. 033 (caliber - 5,45х39 mm).
"" Saiga MK "isp. The 030 is an upgraded version of the popular Saiga rifled hunting carbine. The design of the carbine introduced a cartridge guide, which ensures reliable operation of the carbine with any type of stores and ammunition, including hunting cartridges with a semi-bullet bullet. "Saiga MK" isp. 030 is equipped with a ten-charge magazine in an elongated body, which has an authentic look of a combat store. The carabiner completely repeats the appearance of the combat samples, is equipped with an aiming bar on the 1000 m, the middle support of the ramrod, and an unseaved muzzle brake-compensator, "the message says.
As for the "Saigi MK" isp. 033, this is a shortened version of the Saiga MK rifled hunting carbine isp. 030. It is noted that the weapon "has a guide cartridge and is completed with a store in an elongated body that has an authentic look of a combat store."