Baltic Watchman
fleet
Russia, "Yaroslav the Wise" made a call to the Maltese port of La Valletta to replenish fresh water, food and fuel. In addition, Russian sailors were given the opportunity in the conditions of the port to inspect the ship and perform routine maintenance. From message
press service
Western Military District:
On the Day of Russia, the Extraordinary and Plenipotentiary Ambassador of the Russian Federation in the Republic of Malta, Vladimir Malygin, visited the TFR "Yaroslav the Wise", who congratulated the Baltic seamen on the holiday and wished them success in the military field.

In the port of La Valetta, protocol visits by the command ship of the city and military authorities took place. The crew members, free from keeping the watch, visited the museums of the city with excursions and visited the city sights.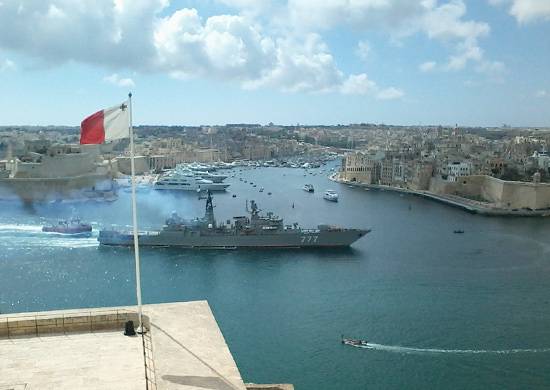 The patrol ship made the transition from the base of the Baltic Fleet (city of Baltiysk) to the Mediterranean in order to become part of the Mediterranean group of ships of the Russian Navy. Speech on the permanent operational connection of the ships of the Navy of Russia. Exit from Baltiysk "Yaroslav the Wise" made 1 June.
Recall that earlier officials in NATO countries stated that "individual states should take measures to prevent Russian ships from entering the Mediterranean ports." In particular, Britain protested to Spain against the fact that official Madrid does not object to the entry of Russian warships into the port of Ceuta (an enclave in North Africa). According to British officials, this supposedly could threaten Gibraltar (Gibraltar is under the actual occupation of London). Will NATO protest Malta, given that Malta is not part of the North Atlantic Alliance? Or to expect a campaign of intrusion into NATO and Malta, too? ..