On the eve, the militants of the so-called "Islamic State" attempted to divert part of the forces of the Syrian government army from operations in the Tabka airbase area. The attempt resulted in a strike on the positions of the Syrian troops and militias in the area of ​​the Jazal oil fields.
In the first stage, the militants managed to seize the forward positions of the Syrian government army. Then several detachments of the SAR army were deployed to help forces in the Jazal area.
In addition, the attack of militants was stopped by the forces of the Russian VKS. Russian airplanes launched a series of bombing strikes against the militants who advanced forward, using armored vehicles and off-road vehicles equipped with large-caliber machine guns. As a result, several pieces of ISIS equipment were destroyed, over 25 terrorists eliminated.
Syrian army forces 67th
tank
the brigade launched a counterattack on the position of the Ishilovites, dropping those a few kilometers. The fighting in the Jazal area continues.
ISIS terrorists are highly active in the area of ​​the city of Manbij (Aleppo province). As a result of the assault on the position of Kurdish troops supported by the United States, the Ishilovites took control of several villages in the vicinity of the city. We are talking about the settlements of Tal Yasti, Ain al-Nahil, Vurayda and Khudhud, in which more than 3 thousand people live in total. To Kurdish units supported
aviation
The USA did not accept the attempt of quick counterattack, the Ishilovites use a "live" shield to cover it - they build local residents on the streets. Several tens of thousands of citizens remain virtually in blockade of ISIS in Manbij itself.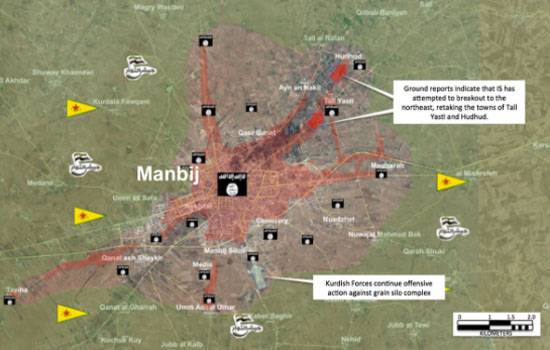 Against this background, the information published by the TV channel
Al Jazeera
. The submission says that in addition to launching air strikes on the territory of Syria and Iraq, American aircraft launched a missile-bombing attack on the territory of Yemen. The report said that the need for such an airstrike was associated with obtaining data on the whereabouts of one of the leaders of al-Qaeda. It is reported that the data could be obtained from representatives of the US military contingent, which is located in the Yemeni city of Al-Mukallah (Hadramaut province) since last year. As stated in the Pentagon earlier, the US military "will help the Yemeni army and police, together with the Arab coalition, to resist terrorism."