Nine Ukrainian military were killed and 19 injured in the course of unsuccessful attacks on the positions of the Armed Forces of the DPR, undertaken by the units of the Armed Forces
DAN
message from the representative of the Ministry of Defense of the Republic of Eduard Basurin.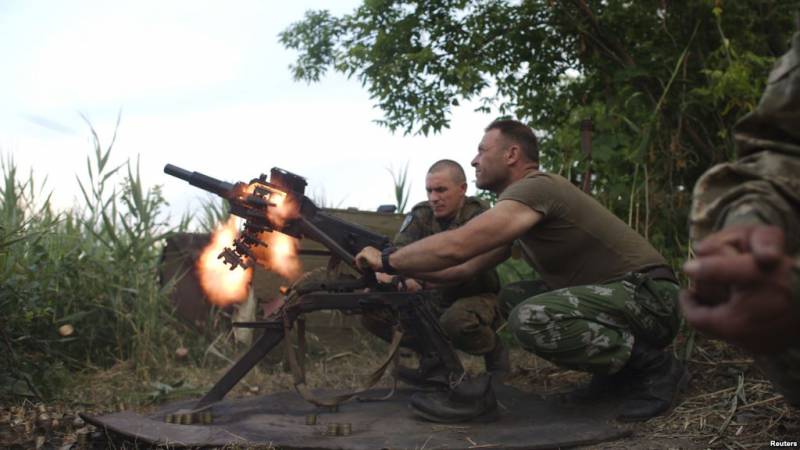 "Tonight (from 10 on June 11), units of the 53 Brigade of the Armed Forces of Ukraine attempted to advance into our defense by 700 meters in the area of ​​Gorlovka, with this purpose used heavy-caliber artillery and mortars on residential areas of the city to divert attention from active operations on line of contact. Our units managed to repel the attack of the enemy under Gorlovka, as a result of which units of the Armed Forces of Ukraine suffered losses: six Ukrainian servicemen were killed and 12 was wounded, "said Basurin.
According to him, "as a result of the said attacks of Gorlovka, 16 houses were damaged".
"By the same forces of the 16 Battalion of the 58 Brigade of the Armed Forces of Ukraine, an attempt was made to attack in the area of ​​occupied Avdiivka north of Donetsk," the colonel said.
"Because of the illiterate actions of his command, the enemy suffered irretrievable losses in the number of three dead and about seven wounded. The attack of the enemy by the skillful actions of our servicemen managed to be thwarted. The entire responsibility for the death of the Ukrainian servicemen lies with the armed forces of the Armed Forces of Ukraine Vodolazskoye, Sokolove, Delyatitskiy, Voilokove, Zabolotny, who gave criminal orders to capture and shelling the territory of the DPR, "said Basurin.
And on the night of 11 on June 12, the car of the Aidar battalion was blown up by an anti-tank mine. As a result, two soldiers died, four were injured.
"We have two dead and four wounded (one very heavy)," says Facebook page on "Aydar".
Among the dead is Major Boris Makarevich. The major "died while completing the mission as a result of undermining a regular vehicle on an anti-tank mine," the report says.