The monument to "polite people" was solemnly opened in the center of Simferopol. So were called the soldiers of the Marine Corps, the GRU and the Airborne Forces, who ensured the security of the Crimean people during their reunification with Russia, reports
RIA News
.
"The monument was installed in the public garden of the Republic, near the building of the Crimean parliament, where fateful decisions were made to hold a March referendum in which Crimeans overwhelmingly voted for reunification," the newspaper reports.
It is created from bronze on the donations of the Russians. The money came from different parts of the country. In a short time, 5 million rubles were collected.
It is reported that "the monument was opened by the head of Crimea Sergey Aksyonov and plenipotentiary representative of the President of Russia in the Crimean Federal District Oleg Belaventsev."
"We are opening a monument to the heir of our glorious Russian soldiers - to the modern Russian soldier," said Belaventsev.
The author of the monument is the famous sculptor Salavat Shcherbakov.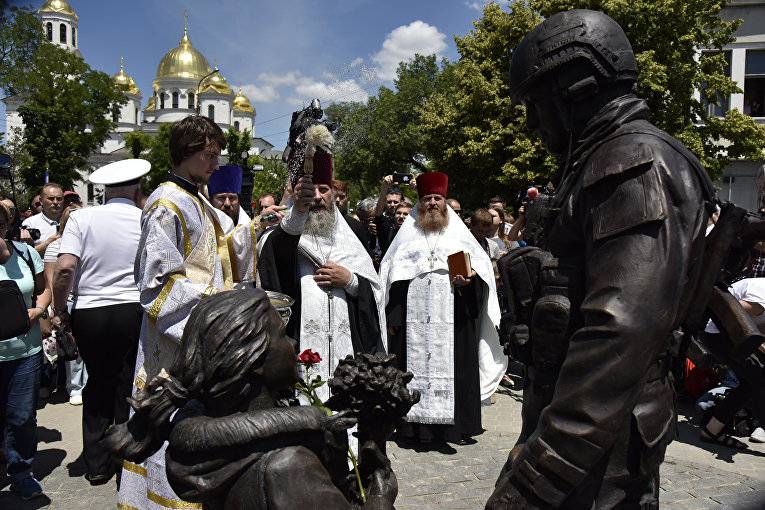 "The monument, cast in bronze, is a single, integral composition. A soldier in full combat ammunition, with a Kalashnikov assault rifle over his shoulder, looks at a fragile girl who gives him a bouquet of flowers. At the feet of the military cat rubs as a symbol of peaceful life. The prototype of the soldier was a real participant in the "Crimean Spring". A young Russian athlete posed for the girl's figure, "the publication says.