In different ways, you can lead the little man to the true love of his homeland.
I really like the way Galina Ivanovna Perekrestova, a primary school teacher in the village of Terbuny, Lipetsk Region, does it. Today it is customary to say "provides educational services." But Galina Ivanovna does not render services, she teaches and educates pupils, as if they are children of their own, not sparing for this their own strength and time. She spends holidays with them, created a theater and staged performances, publishes a newspaper. A big role Galina Ivanovna assigns the game, because it is - the first tool for communication between children and adults. And parents - the first assistants to the teacher. And in this community what kind of ageless children grow up in a good way! And what are their hobbies!
Here is a student about whom the story will go today - fourth grader Ilya Krytsin. The boy is seriously interested in military
history
, instead of computer shooters and walkers prefers books. Particularly interested in his history of World War 1812. Once a boy learned that a lot can be learned about this period from Leo Tolstoy's novel War and Peace. He took out all four volumes, flipped through, tried to read, but so far it is a reading matter to him, of course, not age. But Ilya didn't stop at this, found the famous motion picture of Sergey Bondarchuk and looked at it with his mother. Grandpa presented Ilya the Encyclopedia of the Great Patriotic War 1941-45. And you can imagine, in the time free from studies and extracurricular activities, the boy practically does not let her out of her hands. What to say about the documentaries ...
There is in Terbunsky district, on the third kilometer of the highway Terbuny-Volovo, a monument - a ZIS gun of the 76 caliber of the 1943 model of the year. We installed it on the 65 anniversary of the Great Victory at the place where half a year - from the summer of 1942 to the winter of 1943 - went through the front line and there were fierce battles. Where seventy-odd years ago our fighters with such a gun fought off the fascist attacks and went on the offensive. The gun was attached to cars, dragged on horses, and most often drove it themselves gunners. I repeat: the battles here were terrible, many villages passed from hand to hand up to seven times. And the 13-I Army of the Bryansk Front and the 38-I Army of the Voronezh Front fought on this line.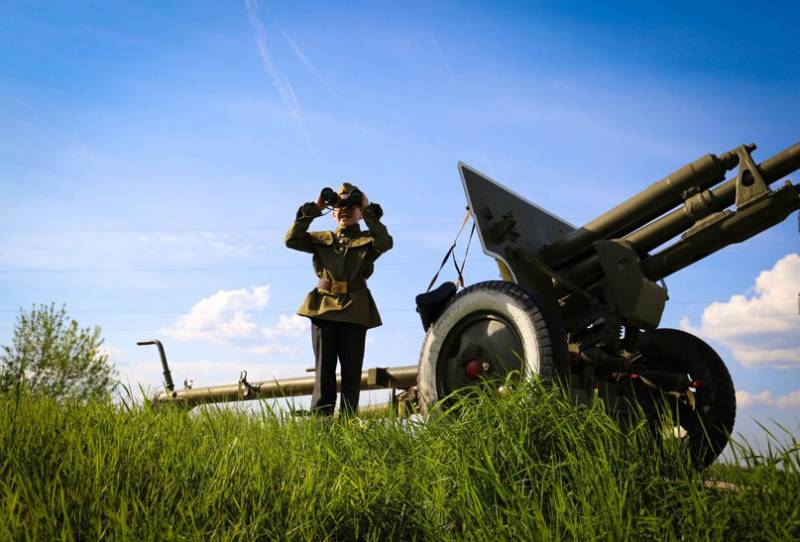 But back to Ilya. The boy really, really wanted to feel like a soldier at least once. Until maturity to wait far away. And my mother, Elena Valentinovna, sewed a military uniform to her son (he helped). I bought an aluminum mug - after all, our soldiers drank from the same people, they were not up to porcelain. Ilya went to the monument-cannon, it seemed to him that here he would understand better what our Russian soldier felt ...
Teacher Galina Ivanovna knew about the boy's dream. And she asked her grown-up daughter, Alena Afanasova, who is passionate about photography, to photograph Ilyushka the fighter. Some pictures you see here, dear forum users.
You can ask: if you forget about the books Ilya read, and where is the patriotic education here? And in my opinion, here it is, it is obvious. Ilya was photographed not for empty beauty, but in order to better understand what he was, a Russian soldier of the Great Patriotic War who saved millions of lives of his people. Look, the time will come - and Ilya, who today is only trying on the soldier uniform sewn by her mother, will not give offense to his Fatherland.