The representative of the Central Command of the US Armed Forces Patrick Rider confirms the information that about two weeks ago, US military aircraft launched an airstrike on armed forces fighting ISIS on the territory of the Syrian Arab Republic. Then, as a result of a rocket bombing, four members of the so-called Mutasim Brigade, which operates in the Al-Maar region (Syria), were killed; more than 10 people were injured. Initially, it was reported about the death of at least ten fighters of this brigade, which the Americans themselves refer to the Syrian opposition.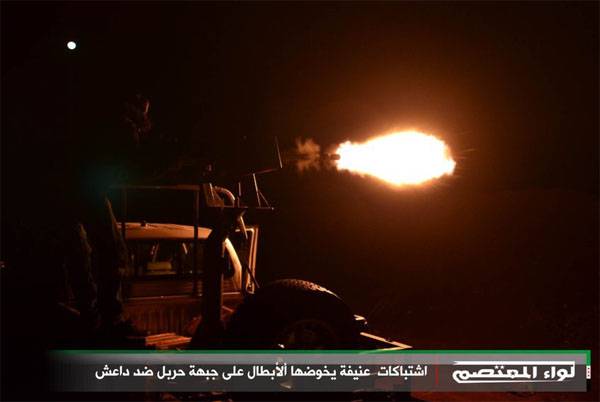 American newspaper
Wall Street Journal
writes that the Pentagon conducted an investigation into the incident and recognized the blow to the armed units opposing ISIL as a "tragic mistake." At the same time, the Pentagon was forced to declare that striking the positions of the armed groups opposing the Igilovs was "a failure in joint actions with the Syrian allies in the north of Syria."
It should be noted that earlier in the US military they claimed that in the Al-Maar region, US Air Force planes attacked ISIS positions, destroying the 10 militants and two of their vehicles equipped with heavy machine guns. As soon as it turned out that the detachment had nothing to do with ISIS, and even vice versa - it was fighting with ISIS, the Pentagon immediately "reduced" the number of people killed as a result of the airstrike to 4's.
Against this background, Washington continues to drag out the process of separating the so-called moderate groups from those who do not fulfill the terms of the truce and continue to fight both against the government army and against the civilian population of Syria.