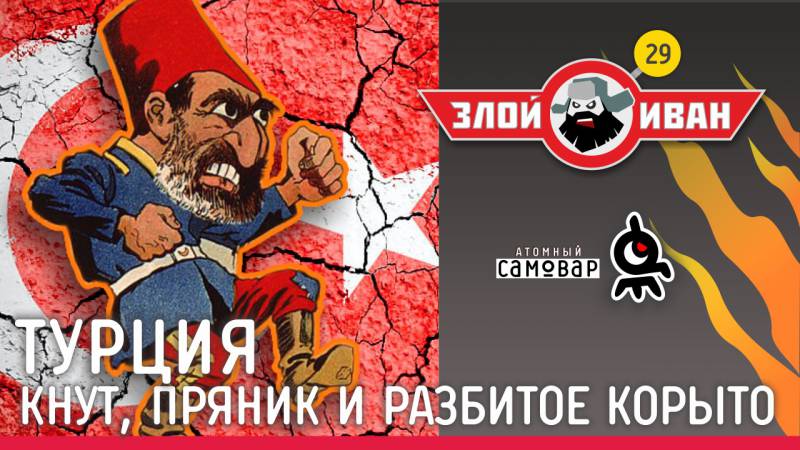 Hello to all ours and not to ours! I am Ivan Victory and I am angry again today.
Summer. Beach. Sea and sand. Beauty. Until 2015, it was the Turkish coast that was the most popular holiday destination for Russian citizens. Every year, almost 4 million Russian only from Russia, came to Turkey to spend their money. A lot of money.
The average Russian spent 20% more than tourists from other countries, so he brought much more income to the Turkish budget. The Turkish travel industry and related industries have grown rapidly and developed. And his future seemed so bright, full and cloudless.
And in November, 2015, Turkey knocks down a Russian plane, while our pilot is killed.
Joyful cries svidomitov, local liberals and vsepropalschikov at that moment could be heard even on the moon. Turkey Strong! Russia wiped out!
Divan experts from both sides rushed to paint scenarios of wars between Russia and Turkey. In a random order, connecting them to the United States, then NATO, then China, then even aliens.
Most of the scenarios from Russophobes naturally ended in the defeat of Russia, after the independent and independent Ukraine entered the war on the side of Turkey. Which stopped the war in a three-day period with the capture of Moscow and a parade of combat shushpantserov on Red Square, hastily renamed Zhovto-Blakitnuyu.
On our side, the couch troops, all in the same three-day period, seized the straits and nailed another shield to the gates of Istanbul-Constantinople. With obligatory passing nuclear bombings of Poland and Baltic.
But the reality turned out to be more difficult and to uncover the Iskanders and to release the strategists, Russia loaded with nuclear missiles did not. With Turkey, the same began, terrible and terrible, according to Petro Poroshenko, a hybrdnaya war. Diplomatic assaults, discrediting the Turkish authorities, tough economic sanctions. And, possibly, covert operations in Syria, during which they destroy pro-Turkish militants and Turkish instructors. And, even perhaps, ours support, supply and train Kurdish paramilitary units.
In general, the standard set is not direct hostilities. Yes, Russia is learning fast.
Let's wind off
history
back a bit. After the collapse of the Soviet Union, Russia itself was a couple of steps from death. And this period of our weakness was fully used by our geopolitical opponents. So, Turkey was such an opponent.
She began to conduct intensive anti-Russian and anti-Russian activities as soon as she felt our weakness. Support for Wahhabis and Russophobes in Central Asia, assistance to terrorists and radical Islamists in Chechnya, sponsorship of any form of separatism directed against Russia. That is, behaved like an old and familiar enemy. And from the point of view of geopolitics - this is quite normal behavior.
But the period of weakness in our country is over. Enemies began again to give hands and even Mordasov. But here Turkey, for all the nastiness that it suited us, did not punish. She was given another chance. Turkey received trade preferences, access to our market, Russian tourists and cooperation in the energy sector.
I think it was a deliberate and purposeful policy. Attempt to remake Turkey from the enemy into a reliable and predictable trading partner.
And the Turkish economy, thanks in large part to Russia, rushed up and became one of the fastest growing in the world. The standard of living grew. GDP took all new records. And Russia gave Turkey all the new and new buns and nishtyak. We allowed the Turks to take a serious part of their construction market, and then we agreed to build a nuclear power plant in Turkey with Russian money, on credit. Introduced visa-free regime between countries. And they made an absolutely fabulous proposal about turning Turkey into a transit gas hub through which gas will flow to Europe. That would allow Turkey to seriously influence the economy and policy of the European Union. And with all this it is stable to earn very big money from transit.
It is important to understand that Russia has always sincere and honest intentions.
We need peace on our borders and stable neighbors. Therefore, the strategy of peaceful and mutually beneficial cooperation with Russia's geographical neighbors is a priority. The only condition is that third countries should not interfere in these relations and climb. Russia perceived Turkey as an independent geopolitical player who can make informed decisions. In contrast to the same Baltic or Eastern European countries.
But something did not grow together. Whether Turkey accepted gifts and benevolence from Russia for its weakness, or third-party players forced the Turkish authorities to make wrong decisions. But in fact, after the catastrophe with our plane, relations from the neighborly neighborhood turned into hostile status. Once again, not the fault of Russia.
The compassionate and conscientious citizens of Russia, well, to some extent without them, they demand to repent and beg forgiveness from the non-Turks. Until it became even worse and we did not lose such a reliable and loyal friend forever. But earlier I had already explained that Turkey is not our friend and never was ...
They tried to scare us that the Russians would no longer have fresh fruits and vegetables from Turkey! Are you serious? Dozens of countries lined up in line, from Iran to Venezuela, hoping to enter our grocery market. In addition, it is in Russia for a year, agriculture has become the fastest growing and developing industry. So, again, not scary.
Russia is self-sufficient. And temporary difficulties will soon be resolved. And no matter how cynical it sounds, but the break in economic relations with Turkey is even beneficial for Russia. This allows you to develop domestic production and provide jobs for its citizens. Yes, and Russian resorts have received a serious impetus for development.
I understand that some citizens have a drunken longing for Turkish hotels, where everything is included. The argument is serious. But here state interests are higher than personal, selfish ones. So reconcile and master the resorts of Russia and friendly countries.
But Turkey, unlike Russia, has serious systemic problems in the economy. Turkey has lost a significant part of the income from tourism. In addition to the drop in tourist arrivals from Russia, the flow of tourists from Europe also decreased. And the factors that scare tourists a lot. Instability, terrorist attacks, civil war with the Kurds, the forcing of tension on the border with Syria.
Turkish construction companies began to oust the Russian market. The import of agricultural products from Turkey was blocked. And Turkey is unlikely to become a gas hub. And now it has come to the Turkish authorities that Russia is not joking, that everything is serious. And they delayed a dull song, about the fact that you need to live together, you need to restore relationships, like let's forget everything and start from scratch.
We will not forget anything. Turkey has already had a chance, and she stupidly leaked it. More chances will not be. And cooperation will never be restored to its former level. Turkey committed a betrayal. And the Russians have such a thing on their minds. We consider treason as the most disgusting act, a sin. And therefore, in order to earn the forgiveness of the Turks will have a very long and carefully to try. And it will take many years. So Turkey has a hard and long crisis ahead.
You know, relations with Turkey resemble Russian-Ukrainian relations. Exactly the same. Even there is a suspicion that the ancient ukry could not dig the Black Sea alone ... on the other side the ancient Turks dug it.
Let me remind you that Ukraine was also offered a generous bag of nishtyakov from Russia, preferences, market, loans, fabulous offers of cooperation. And in response, wagging his ass, inadequacy, idiocy, and incompetence. Well, countless attempts to spoil Russia, even to the detriment of itself. In the case of Ukraine, it all ended in its collapse and degradation. So with the Turks, the situation is rapidly repeating.
I do not say that Turkey is not able to solve these problems that have piled on it or that it will suddenly collapse. Not. Unlike Ukraine, the Turks know how to work, know how to trade, they have a strong state power, a loyal army and police. So, they will not be gone. But they will lose time to mitigate the consequences of the gap with Russia. And time is perhaps the most valuable resource in geopolitics, in the period of the Dark Times of the New Wonderful World.
Well, what is the conclusion? Russia cooperates with its neighbors not because of weakness, but because of favor. Russia is self-sufficient and can live autonomously. But her neighbors can not. For Russia, peace, stability and order at its borders is important. That is why she sincerely helps her neighbors.
Dear neighbors, learn to accept with gratitude what Russia gives you. No other country in the world is so interested in your prosperity and stability as Russia and never and in no way try to blackmail the Russians by deciding that they have fallen into economic or political dependence for you .... It's exactly the opposite.
And finally, a simple rule for our neighbors.
Want to be rich and prosperous? Make friends with Russia, do not be fooled. Follow your commitments and comply with the agreements signed with her. That's so simple! Well, if your local government incites Russophobia, this will eventually lead to a fall in your standard of living. So think about whether you need such power? A power that consciously dooms its citizens to poverty and misery.
Everything! Believe in your people and your country! See you soon!