The leading diesel-electric icebreaker "Ilya Muromets" (project 21180), being built for the Navy, will be launched today in St. Petersburg, reports
TASS
.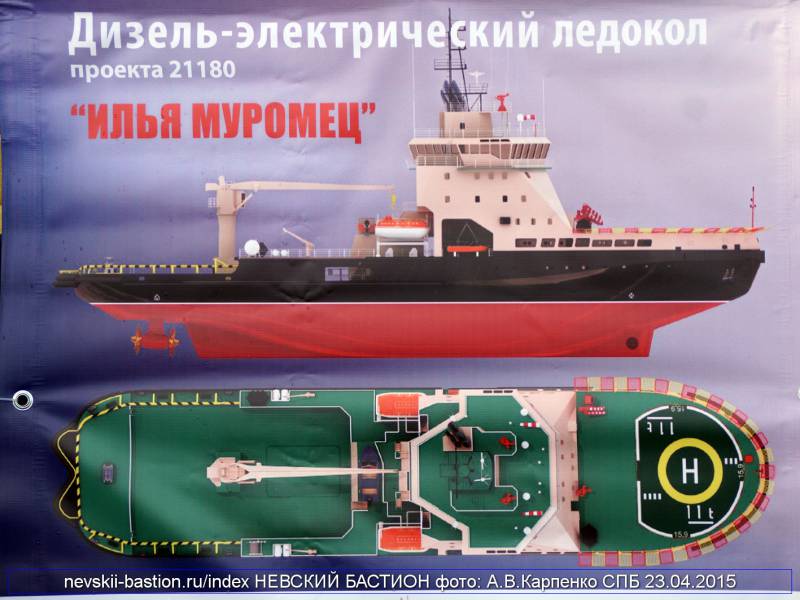 "A ship under construction for the North
fleet
, was laid down on April 23, 2015. Over the past 45 years, this is the first icebreaker to be built exclusively for the needs of military sailors, "the report said.
Earlier, the head of USC, Alexei Rakhmanov, reported that "for the Arctic, they can build a series of such icebreakers as part of the auxiliary fleet renewal program." According to him, "the icebreaker of the 21180 project is intended, in particular, for basing and deploying fleet forces in ice conditions, as well as towing warships."
The decision to order new ships of this class will be made based on the results of the operation of the lead icebreaker.
TASS Help:
"Ilya Muromets is being built on the Admiralty Shipyards on the same slipway where the first-ever nuclear-powered icebreaker Lenin was created in the world, which was a real breakthrough in nuclear shipbuilding. Displacement "Muromtsa" will be 6 thousand tons, it laid down the new principles of electric propulsion and modern power plant. It is assumed that the crew will consist of a 32 man, the ship's autonomy will reach 60 days, and the cruising range 12 thousand miles. The icebreaker will be able to overcome an ice field up to 80 cm thick. "