The regional air defense system will enhance the country's defense capabilities,
RIA News
statement by the deputy head of the Armenian Foreign Ministry Shavarsh Kocharyan.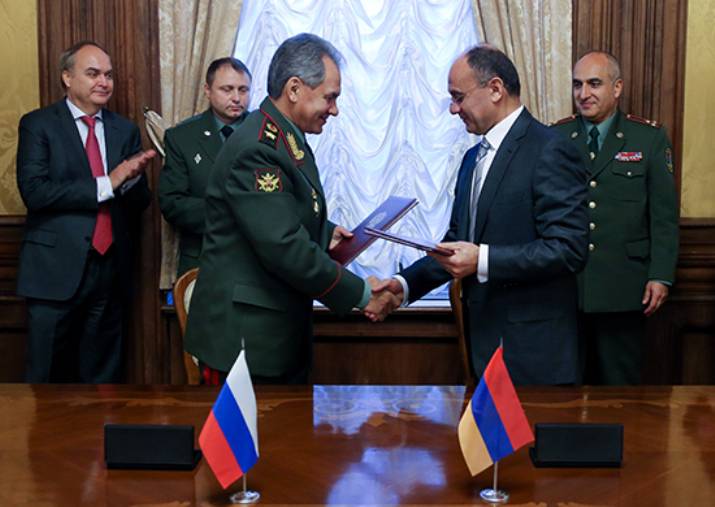 At the signing of the agreement, December 2015.
On Wednesday, CSTO Secretary General Nikolai Bordyuzha said that the project to create a joint defense of the Russian Federation and Armenia "is being considered at the legislative level of both states."
"This agreement will strengthen our air defense forces. In addition, Russian equipment will provide new, better opportunities, "Kocharyan told reporters.
He recalled that similar agreements are already in force in other zones of the CSTO. "From a military point of view, the CSTO is divided into three zones: the western, where the armed forces of Russia and Belarus operate, the second - the Central Asian, where Russia and Central Asian countries operate, and the third direction - the South Caucasus, where the armed forces of Armenia and Russia operate. That is, this is a general program within the CSTO, "the diplomat said.
Earlier, on June 3, the commission on foreign relations of the Armenian parliament approved the inclusion in the agenda of the agreement on the creation of a unified regional air defense system in the Caucasus region of collective security between Russia and Armenia.
As explained by the Deputy Minister of Defense of the Republic, Ara Nazaryan, "the general control of troops belonging to the unified air defense system will be under the jurisdiction of Russia, and some will be controlled by the military leadership of Armenia."
The agreement on the creation of a regional air defense system was signed by the heads of military departments Sergey Shoigu and Seyran Ohanyan in December last year.