Today, at the Yantar Baltic Plant, a groundbreaking ceremony was held for the oceanographic research vessel (OIC) "Almaz", reports
press office
enterprises.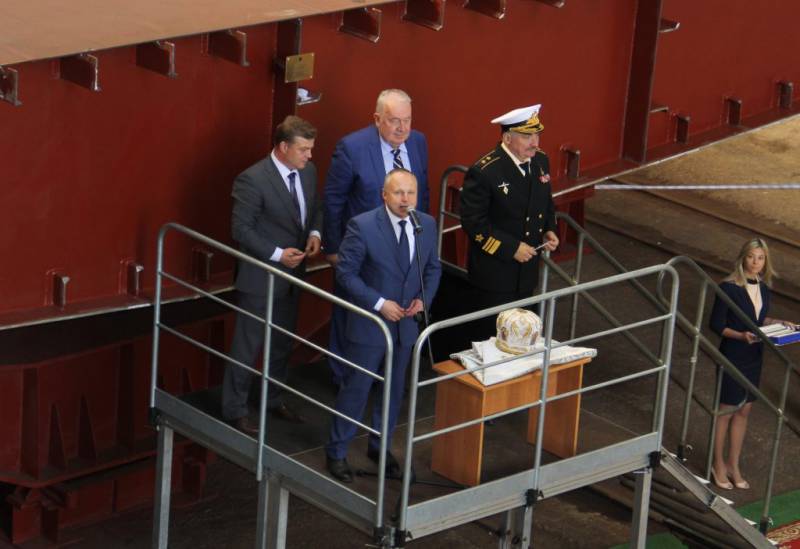 The laid-out board was attached to the vessel's section: Eduard Efimov, Director General of Yantar Design Bureau (at the microphone, then from left to right), Vyacheslav Gospodinov, Head of the Department of the State Defense Committee of the United Shipbuilding Corporation, Aleksandr Shlyakhtenko, Director of Almaz Central Design Bureau, and Alexey Burilichev.
"OIS" Almaz "is the second ship of the 22010 project, which will be built by the Yantar AIP. The lead ship of this project, "Yantar", transferred the plant to the Russian Defense Ministry in May last year. The contract with the Ministry of Defense of the Russian Federation on the construction of the OIS "Almaz" was concluded in March of this year. The vessel was named after the Almaz Central Design Bureau, which developed the project. Under the terms of the contract, it must be transferred to the customer in 2019, "the release says.
"On May 23 last year, we handed over to our esteemed customer (the Ministry of Defense of the Russian Federation) the first ship of the 22010 project, OIC Yantar. It is symbolic that only a year has passed, and we are laying the second ship of this project, which is called the Almaz. The laying of ships in our factory and the laying of this ship is a guarantee that the plant is alive and will live by releasing products that confirm our motto "Quality Tested by the Sea". I hope this is not the last ship of this project that we will be mortgaging at our plant, "said Eduard Efimov, general director of the plant, at the ceremony.
The first vessel, "Yantar", has already proved itself in the service in a year and is now making a second long-distance cruise, solving ocean research tasks.
"We exploited the lead ship for a year, got experience, and figured out what could be improved. The equipment is almost the same, but it will be more conveniently located, conditions for the crew's activities will become better. This is an incarnated experience in the operation of the head vessel, "said Alexei Burilichev, Head of the Main Directorate for Deep-Water Research of the Defense Ministry.
Help press service:
"The OIS project 22010 is a vessel with unlimited navigation area. It is intended to study the ocean strata and its bottom. On the ship are based deep-sea habitable and autonomous uninhabited underwater vehicles of the type "Rus", "Consul" and "Mir". The ship can also be used for rescue purposes, the equipment installed on it allows you to search for sunken objects on the seabed and ocean floor ".