The next important stage in the construction of the bridge - the installation of the spans - started on the Taman bank, the information center said.
The Crimean bridge
.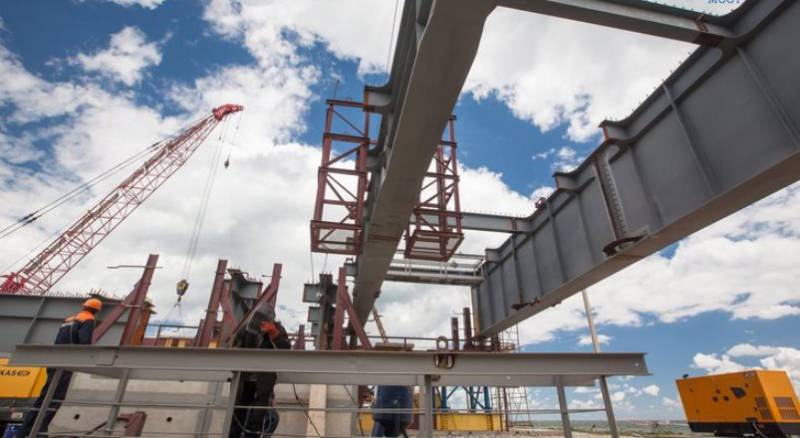 "The builders have begun assembling and assembling the first span on the supports of the highway bridge. In total, they will be 287 for the automotive and 306 for the railways, "the release says.
"At each of the construction sites, a certain scope of work is assigned to the bridge sections. Having completed the construction of the supports, almost immediately the detachment proceeds to the installation of spans on these supports. Such a scheme of work organization provides a high and virtually uninterrupted pace of construction: the bridge "grows" not from shore to shore, but in fact from the ground or from the water - upwards, "Luarsaba Tsybulkin, director of the Taman representative office of PKU Uprdor Taman, quotes.
Currently, the installation of spans began on land in the area of ​​the Tuzla Spit.
"The span of the road bridge - from the support to the support - these are the four main beams connected by transverse beams, consoles, other horizontal links, as well as jacking beams directly between the supports and the span. The total weight of such a structure is about 160 tons, "said Oleg Romensky, the chief engineer of the bridge construction, installing the first span. "When the span is fully assembled on temporary supports, all that remains is to lower it onto the supports of the bridge."
According to the information center, "the supply of steel structures for the spans of the bridge began in May, beams with a total weight of more than 800 tons have already arrived." In total, over the summer months about 12 thousand tons of metal structures will be delivered to the facility.
"In total, about 250 thousand tons of metal will go to the construction of the spans of the Crimean bridge. Deliveries are distributed in time so that the structures come from the plants and right there - without long storage - can be assembled and assembled in their place, "said Aleksey Sorochinsky, head of the construction site on the Tuzla Spit.