Russian armored vehicles "Tigr" seen among the military equipment of the armed forces of the SAR, participating in the battles in the province of Rakka, reports
Messenger of Mordovia
.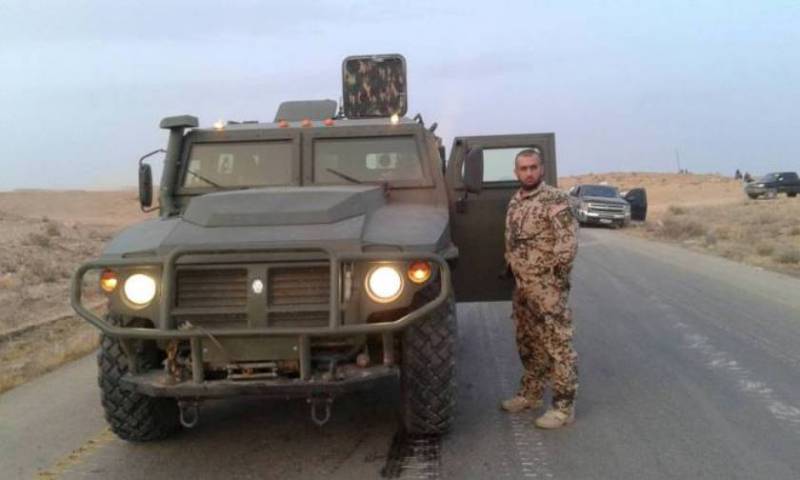 "It is worth noting that the first" Tigers "appeared in Syria even before the arrival of Russian troops there. In August of last year, information appeared on the network that Syrian government forces noticed GAZ-233001 - unarmored versions of this car. And that is typical, despite its civilian modification, the cars had protective painting, "reminds the author of the article Roman Katkov.
The military version of the "Tigers" appeared in the Syrian military after these cars began to arrive at the Russian base Khmeimim.
"According to the available information, the Syrians were satisfied with them, which is quite understandable: they significantly exceed all the samples of the wheeled vehicles they have, not counting, of course, the BTR-80 and the BTR-82. For example, compared with the Italian IVECO LMV M65, "Lynx" and "Tigers" are more spacious and more reliable, "writes Katkov.
In addition, the author notes, "Lynx-based" in Syria have not yet received any standard armament, and some of the Syrian "Tigers", judging by the video from the front, are armed with 12,7-mm Kord machine-guns. "
In his opinion, "the combat use of Russian armored vehicles" Tigr "in a hot spot, in addition to direct assistance from the Syrian army, is also valuable in suggesting further ways to improve the national armored vehicles of this class."