Poland is an active supplier to the Russian market ... no, not apples, but News. Every day, the information bomb. It is either reported about "extensive mobilization" of the population (the country is preparing to fight with the Russians), then it is broadcasted about future purchases of gas from the Norwegians (it is not from the Russian aggressors to buy it), then all of a sudden, contrary to all logic, information comes from Warsaw about the alleged return of Poland to Russian market of fruits and vegetables.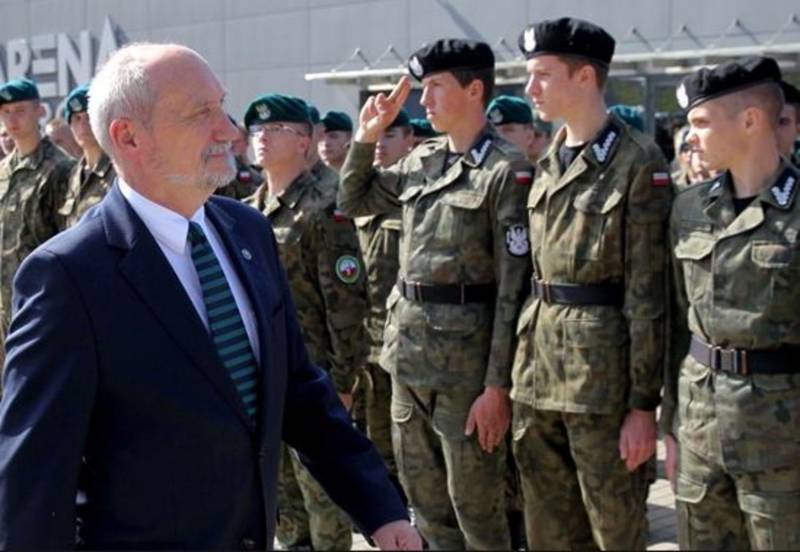 In Poland, carried out "extensive mobilization" of the population. In anticipation of the upcoming NATO summit (Warsaw), the authorities are stirring up anti-Russian sentiments among citizens. According to
Utro.ru
, even schoolchildren are involved in general combat training: they conduct "NATO lessons" in schools, in which youngsters "fight" with the "Soviet occupiers" (the action takes place in
historical
reconstructions). Children also participate in the preparation of anti-communist performances and politically charged sports events - for example, in the "folk races", glorifying the heroes of the Polish insurgency.
The classes simulate a meeting of the local council where the question "How can the NATO summit improve our security?" Is also discussed. In addition, participants in "family outings" (there is such a name) are invited to test themselves in various branches of the armed forces. The most interesting thing is that in simulated battles the enemies are not necessarily Russians. Poles are at war with Wehrmacht soldiers. Contrary to history, the Poles win.
All events of this kind, notes "Morning.ru", took a grand scale. In scope, they resemble a campaign conducted in Ukrainian schools on the eve of a political crisis.
As for the summit to be held in Warsaw, his government is trying to present the event of the century. At the National Stadium are scheduled mass celebrations.
Other news directly related to Russia was also aired.
It turns out that Warsaw is going to replace the supply of natural gas from Gazprom with gas from Norway. This was stated by the representative of the Polish government on the development of strategic energy infrastructure Peter Naimsky, the newspaper writes
"Sight"
.
This man accompanies President Andrzej Doudou during his visit to Denmark. During the visit, construction of the Baltic Pipe gas pipeline is discussed.
True, this is not today's business or even tomorrow. Rather, the day after tomorrow. It's about 2022 year. Or rather, even those years that will come later.
"I don't think that after 2022, under existing conditions, we would continue a long-term contract (with Gazprom)." We will look for other ways and arrangements. Of course, if the Russian side offers good conditions and a price, then we will interpret this opportunity as open for negotiations, "the Naimsky edition quotes.
He explained how Poland will replace the supply of Russian gas. This will be done via the LNG terminal in виwinoujцеcie and a gas pipeline that will connect Poland to the Norwegian shelf.
According to his estimates, "approximately" in the 2020-2022 years in Poland it will be possible to deliver several billion cubic meters of gas. "Poland needs about 15 billion cubic meters, in general, we can say that this volume will satisfy our needs," he told the Polish news agency PAP.
Vzglyad specifies that Poland consumes about 15 billion cubic meters of gas annually. Of these, Gazprom delivers 10 billion.
Naimsky received an unexpected response from Putin himself.
After talks with Israeli Prime Minister Benjamin Netanyahu at a press conference, Vladimir Putin was asked how he felt about the Polish gas decision. "The Jews have nothing to do with it!" - the president was surprised. And then I thought a little. And he said that 10 billion cubic meters can be sold on the Belarusian-Polish border to any company - Polish (non-state), Austrian, German, Italian. "Someone will buy it!" - quotes Putin
"Moscow Komsomol"
.
And then V. V. P. turned to Netanyahu and voiced a commercial idea: "Maybe the Israelis will buy it! And then they will sell back to Poland! "
Despite the plans announced at the state level about the impending cessation of cooperation with Gazprom, the "extensive mobilization" of the population and the widely publicized festivities in honor of NATO, Warsaw is making plans ... to return to the Russian market of fruits and vegetables. We will not buy from you, we will defend from you, and you will buy from us - this is what a wise Polish strategy looks like.
"Poland will look for opportunities to return to the Russian market of fruits and vegetables" - under such a heading a note appeared on the radio site
"Poland"
.
Radoslaw Domagalsky, Polish Deputy Development Minister, explained that Russia is still a very profitable destination for Polish business and investment, and therefore Poland will look for opportunities to return to the Russian fruit and vegetable market.
According to Mr. Domagalsky, the share of Polish investments in the Russian Federation is still very significant, "despite the unstable economic situation and the decline in demand in Russia."
In addition, Poland has a long tradition of cooperation with Russia, and Polish business is quickly adapting to the realities there. Moscow only needs to create "appropriate conditions": "I am convinced that if appropriate conditions are created, then Polish business will find opportunities to invest and develop its activities in Russia."
Obviously, Pan Domagalsky hints at the abolition of counter-sanctions, which made it difficult for the Poles to import apples and other non-perishable, glossy food to the Raseansky spaces. It is no coincidence that he spoke about the "quick adaptation" of Polish businessmen.
In short, the fraternal Polish message is this: where are you going to go, dear Russians. We will not buy your gas from you and we will consider you as enemies and aggressors, which we will tell students about in class. And you have to buy food from us - not without our investments you will be bent. And long live NATO and the victory of Poland in World War II. And in the Third.
Here is the interline reading. Let us hope that we have correctly understood the Polish logic and the Polish international strategy. By the way, Naimsky and Domagalsky no longer pour.
Observed and commented on Oleg Chuvakin
- especially for topwar.ru