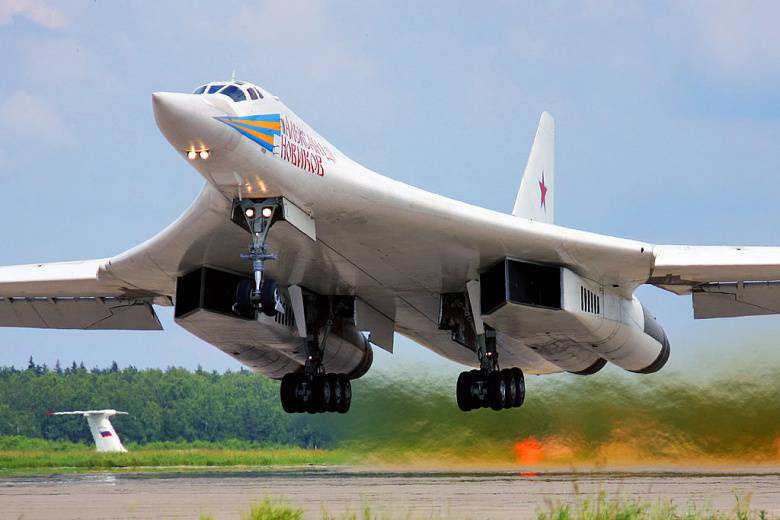 In previous articles - "This is a Russian nuclear weapon Better American "and" US vs Russia: the struggle for nuclear supremacy under water "(US vs Russia: Struggling for Undersea Nuclear Supremacy) - we looked at the strategic nuclear balance between Russia and the US in the context of land-based intercontinental ballistic missiles launched from submarines, respectively. We also examined in detail the issue of the total number of strategic carriers and nuclear warheads in the arsenals of these countries, as well as the question of their fulfillment of the terms of the new START treaty, according to which the number of carriers should be reduced to 700 and the number of warheads to 1550.
In this article, we will look at the remaining component of the nuclear forces, namely the strategic bombers. In the US and Russian arsenals, bombers make up the smallest share of strategic nuclear forces: Washington's 5,5% of warheads (85 bombers, each of which has one warhead) and about 3% of Russian warheads (approximately 50 bombers).
At first glance, this is a very insignificant share, which cannot play any significant role. But there is one "but": although, according to the START treaty, there is one warhead for each bomber, in reality it carries much more warheads. For example, the Russian Tu-160 White Swan can carry up to 12 strategic cruise missiles with nuclear warheads on board, so the real potential of strategic bombers does not match what is written on paper. In general, strategic bombers have a number of advantages and disadvantages compared to ground-based intercontinental ballistic missiles. Among the advantages are the significant unpredictability of the attack direction, the ability to change the combat mission in flight, and the ability to use non-nuclear high-precision weapons in local and regional conflicts. As for the main drawback, it is possible to single out a lower speed of action during a counterattack - modern intercontinental ballistic missiles require a maximum of five minutes to prepare for launch, and in this sense
aviation
to a large extent inferior to them. On the other hand, when several planes are on the alert at once, it is almost impossible to destroy them by means of a preventive strike over the "home" territory. But from a technical point of view, intercepting a bomber or a cruise missile is a more realistic option than an effective missile defense system.
Now let's take a closer look at the strategic aviation of the United States and Russia and compare the effectiveness of their current weapons.
USA: "Ghost" without rockets and "good old" B-52
According to the US Department of State's 1 January 2016, the X-NUMX Spirit Spirit bomber and the B-12 Bomber StratoFortress bomber are currently in service. There is another bomber that was previously classified as strategic - B-2 "Lancer" - but it is not capable of carrying nuclear weapons, so we excluded it from the list - for the reasons that will be discussed below.
Let's start with В-52Н, which, despite its considerable age (the equipment that is currently in service, was made in 1960-ies, that is, for more than 50 years), remains almost the only carrier of strategic cruise missiles in US Army. I'm talking about AGM-86B ALCM missiles, whose range is 2,4 thousands of kilometers. High-precision non-nuclear modifications of these missiles, which can hit targets at a distance of up to 1,2 thousands of kilometers, still remain in service. This makes the B-52 the main aircraft of nuclear deterrent.
As for the B-2 "Spirit", this aircraft is the most high-tech and expensive bomber in the world. These aircraft entered service in the 1994 year. Then the 21 aircraft was released, after which they were stopped doing - they were prohibitively expensive. Given the cost of development, the price of a single B-2 aircraft is 2,1 billion dollars. For the same money, the United States received a plane with the lowest ESR parameters - the lower this figure, the less noticeable this or that object becomes for enemy radars. Moreover, there is information indicating that the ESR of the giant B-2 is lower than the EPR of the small F-22 and F-35 fighters. It was originally planned that they would penetrate into the zone of enemy air defense systems to conduct an attack. However, modern Russian radars are capable of fixing targets of this type — lower visibility only makes it possible to shorten the detection distance, but does not completely eliminate it. Given that the B-2 bombers are equipped only with free-fall nuclear bombs and do not carry strategic cruise missiles onboard, an effective attack on an adversary, such as Russia, seems highly unlikely. For example, the Russian C-400 anti-aircraft missile systems recognize "normal" targets at a distance of 600 kilometers. Even if the B-2 bomber is "recognized" at a distance of just 200 or even 100 kilometers, it will not be able to drop its bombs on time. Modern and modernized fighters, such as the Su-30CM, Su-35C and MiG-31BM, can also be connected to the search for "ghosts." This is what makes the B-2 somewhat clumsy aircraft: despite its record price, its real role in a hypothetical nuclear conflict will be insignificant. This bomber is much more suitable (and often used) for conducting non-nuclear attacks in local conflicts.
Finally, let's say a few words about the B-1 "Lancer". This bomber, outwardly very reminiscent of the Russian Tu-160, turned out not the way it was originally planned. It cannot develop any practically significant supersonic speed: the maximum possible speed is Mach 1,25 (that is, the speed of sound is at 25% faster). AGM-69 SRAM missiles that this bomber could carry up to 1990 year (that year they were discontinued) could cover distances of only 160 kilometers, which was not in any way compared to Soviet cruise missiles. Further, this bomber was able to carry free-fall nuclear bombs, and later it was not equipped with nuclear weapons at all, because of which it was removed from the list of strategic weapons. That is why the B-1B bombers did not make it to the list of the new START treaty. Nevertheless, if necessary, this bomber can be equipped with nuclear weapons again - this does not require any major modifications. However, the free-fall bombs will be quite difficult to deliver deep into the territory of Russia or China, even for B-2, not to mention B-1, for which this task will be impossible.
Speaking of prospects, a new strategic bomber is currently being developed as part of the Program for creating a long-range strike bomber. The approximate concept of the new bomber was made public on 27 on February 2016 by US Air Force Secretary Deborah Lee James. This bomber, which was named B-21, will be created in the "flying wing" type, as well as B-2. The main requirements for the aircraft - it is even lower level of visibility and adequate cost (it is planned that one such aircraft will cost 564 million dollars). Northrop Grumman will receive a total of 80 billions of dollars in the development and production of hundreds of new bombers. Production will begin no earlier than the middle of the 2020-s. B-21 bombers must replace all B-52H and B-1В aircraft. Obviously, the new bomber will carry onboard modern cruise missiles, which are being developed as part of a weapons program used outside the air defense zone. Information about when this weapon will be developed and what characteristics it will possess is not yet available.
The White Swan and the Bear are equipped with the most advanced strategic cruise missiles
As in the case of the United States, there are now two types of strategic bombers in service with Russia: the Tu-95MS (according to the NATO codification "Bear") and the Tu-160 "White Swan" (according to the codification of NATO "Blackjack").
Let's first consider the Tu-95MS. The basic version of the Tu-95 entered service in the USSR in the year 1956. However, all earlier versions of this aircraft were disposed of. The upgraded "Bears", which are now in service in Russia, were released in the period from 1981 to 1982 year, that is, they are much "younger" than the American B-52. Now 64 bomber of this type is at the disposal of Russia, although half of them are in storage, and 30-35 bombers remain in service. The main weapon of the Tu-95 is the X-55CM cruise missile with a maximum launch range of 3,5 thousands of kilometers. Moreover, the process of upgrading this bomber to version Tu-95MSM (before 35 aircraft) has already begun. The upgraded bombers will be able to use the latest X-101 / 102 cruise missiles with non-nuclear and nuclear warheads, respectively. This new rocket has excellent performance: the maximum launch range of the 5,5 is thousands of kilometers, its filigree accuracy and all-round deviation of only five meters. In addition, this rocket was made using stealth technology. Non-nuclear missile X-101 has already been successfully used in the field - in Syria. The Tu-95 carries on board eight cruise missiles, either X-55 or X-101 / 102. After the modernization process is completed, this bomber will last a long time, at least until the 2030-s.
The most advanced Russian strategic bomber is the Tu-160. Currently in service with the Russian Air Force are 16 bombers of this type. Its maximum speed is much higher than that of its American twin, the B-1, and is Mach 1,6. Moreover, the Tu-160 carries strategic cruise missiles on its 12 board. The Tu-95MS bombers are equipped with the same cruise missiles: these are the X-55 and X-101 / 102 missiles. Aircraft of this type are already undergoing some modernization: they are installing new equipment that will allow them to use high-precision non-nuclear weapons. In addition, work is underway to update the production of the White Swan, which will be upgraded to version Tu-160М2. An improved bomber will have a completely new electronic "stuffing" and in many ways superior to its predecessor. The exact number of aircraft that is planned to be released is still unknown, but there was talk about 50 bombers. Their production, according to the plan, will begin in 2023 year.
Regarding the project of the new PAK DA bomber (Advanced Aviation Complex of Long-Range Aviation), after the decision to resume production of the Tu-160, the conditions for implementing this project became extremely vague: before its first flight was planned to be held in 2025, which now seems impossible. The concept of this aircraft has not yet been disclosed, however, most likely, it will be a subsonic low-profile bomber, resembling an American long-range strike bomber.
conclusions
In terms of quantity, American strategic aviation has a significant advantage over Russia. However, the American aircraft are now equipped with much worse: the range of the Russian X-101 / X-102 cruise missiles, which are already in service, exceeds the range of their American counterparts more than twice, which is a guarantee that Russian bombers will be able to release all their missiles from a safe distance to any enemy. However, knocking down the B-52H, which carries the AGM-86B ALCM rocket, is a very difficult task. In addition, B-2, which is not equipped with cruise missiles at all, is unlikely to be able to realize its potential in a real global nuclear war, despite the fact that this platform is the most advanced in the world.
As for future prospects, the B-21 development program has just begun, and it is unclear what difficulties the developers may encounter and whether it will be possible to fully implement this program. The same can be said about the Russian project PAK DA - the future of these two bombers is still uncertain. But this cannot be said about the Tu-160М2, the start of production of which may be difficult, but it is quite realistic. Considering what level Russian developers in the field of strategic cruise missiles were able to achieve, the upgraded Tu-160 with its guns will be able to serve as a nuclear deterrent for several decades, as well as take part in local conflicts if necessary.
Nuclear deterrence strategy for the foreseeable future
Now let us briefly summarize the results of our series of articles devoted to all components of the US and Russian strategic nuclear arsenals.
As far as we understand, possessing mobile launch platforms and more advanced systems for penetrating missile defense systems and approaching the creation of a maneuvering supersonic warhead, Russia has a significant advantage over land-based intercontinental ballistic missiles compared to the United States. This may be due, among other things, to the fact that the United States withdrew from the Anti-Ballistic Missile Treaty and began to actively develop this type of weapon, provoking Russia to an asymmetric response to the emerging threat.
As for submarines equipped with sea-based ballistic missiles, the United States now has more balanced forces in this area thanks to the use of Ohio-class atomic submarines equipped with highly reliable Trident II missiles. However, Russia became the first country to create fourth-generation strategic nuclear submarines: three submarines of the Borey project 955 are already in service. Therefore, for some time, until the United States begins to develop the SSBN (X) submarine, which should replace Ohio, the scales may be in balance or lean toward Russia.
We wrote about strategic aviation above. Its role in the use of nuclear deterrent is less than the role of intercontinental ballistic missiles and sea-based ballistic missiles, although it also occupies its niche. Today we can talk about the situation of parity of the parties in this area.
Summarizing all the above, we come to the only conclusion: nuclear weapons still play an important positive role in preventing global wars. Moreover, in the foreseeable future the situation will not change - every step of one of the parties will be accompanied by a swift response. Therefore, while the US is developing its missile defense systems, Russia will develop intercontinental ballistic missiles and warheads that will be able to overcome these missile defense systems. In this situation, only weapons manufacturers benefit, who will always enjoy generous funding. Thus, all the arguments and statements about nuclear war are either propaganda or destructive - people simply do not understand what they are talking about.