The practice of holding conversations in the format of direct lines with residents of various regions of Ukraine was continued by the head of the DPR, Alexander Zakharchenko. This time the head of the Donetsk People's Republic communicates with the residents of the Zaporozhye region. Recall that previously there were direct lines with Donetsk residents, residents of Odessa, Kharkov and Kherson. During the direct line, Zakharchenko spoke about the situation with Nadezhda Savchenko. According to the head of the DPR, the Kiev special services were preparing an assassination attempt on her at the very moment when she went to the Donbass.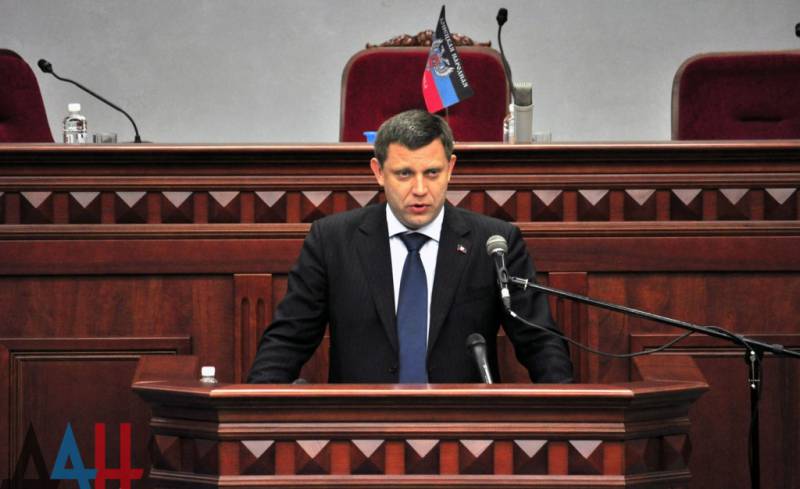 Donetsk News Agency
cites the statement of Alexander Zakharchenko:
When we learned that the secret services of Ukraine are preparing an operation to eliminate Savchenko on the line of demarcation, then to blame it on us, we conducted our operation, bringing this information to Savchenko through the media. The information, judging by the statements of Savchenko, reached her. She came to the special services, which, after such a "flare", abandoned their operation. Or moved.
One of the questions addressed to Zakharchenko was devoted to his opinion regarding the future of Ukraine and, in particular, the Zaporizhia region. The response of the head of the DPR was:
I have already answered the question on the merits and I will answer it again. And here I was touched by this excuse "in / on." Are you still undecided? Or just in case? I understand, of course, that the majority of Ukrainians, even in private correspondence, write this "in / on". And so the people do not concentrate the political will to change their fate. Every time I am asked on these Straight Lines when Ukraine will be freed "from this evil." So I can answer this way: when the people of Ukraine stop writing this "w / w". When one will write "in Ukraine", and others "in Ukraine". And then they will sit down against each other and try to agree on the right of everyone to speak as he wants, and at the same time not to shoot each other.