The Marshal Ustinov cruiser, which is under repair at the Zvezdochka Ship Repair Center, will go on sea trials in the 3 quarter of the current year, reports
Flotprom
with reference to the press service of the plant.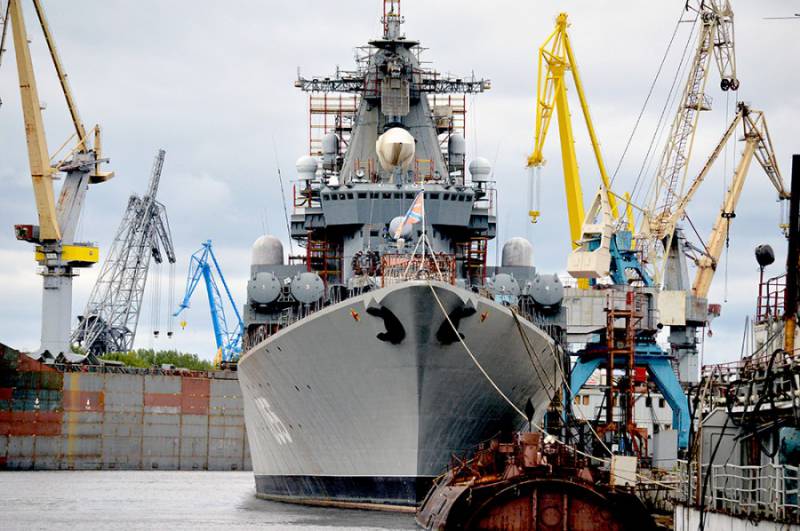 "Mooring tests of systems and mechanisms are underway. The crew is already settled on the ship. The target date for reaching the factory running tests is 3 quarter 2016 of the year. The planned deadline is December, "the press service informed.
"The shipbuilders of the Severodvinsk shipyard accepted the cruiser for repair and modernization in 2011. In October, the Marshal Ustinov 2012 was transferred to the Asterisk dock camera and placed on a hard slipway. During this period, work was carried out on the repair of the drainage, drainage and fire-fighting systems of the ship, the shaft line, propellers, pitching pads, and other systems and mechanisms. The cruiser hull was repaired and painted. In 2013, Marshal Ustinov was taken out of the dock and placed at a shallow embankment for carrying out construction and modernization works, "the company said.
The mooring tests of the ship began late due to the delay in deliveries of new equipment, including the gas turbine generator and the desalination plant.
"In addition, the amount of work performed by shipbuilders following the results of fault detection considerably exceeded the calculated one," the press service added.
Ship transfer
the fleet
scheduled for the end of the year.
Help resource: "Marshal Ustinov" - one of the three are in the Russian Navy missile cruisers (RKR) project 1164 "Atlant". The main armament of the ship is the Basalt cruise missiles capable of hitting naval targets at a range of 550 km. "