The President of the Republic of Kazakhstan, Nursultan Nazarbayev, commented on the attack of militants in the city of Aktobe, as a result of which at least 13 people died. Recall that the militants attacked the store
weapons
and to the military unit. The fighting, which was attended by military special forces, lasted several hours. According to the latest data, one of the terrorists was taken alive.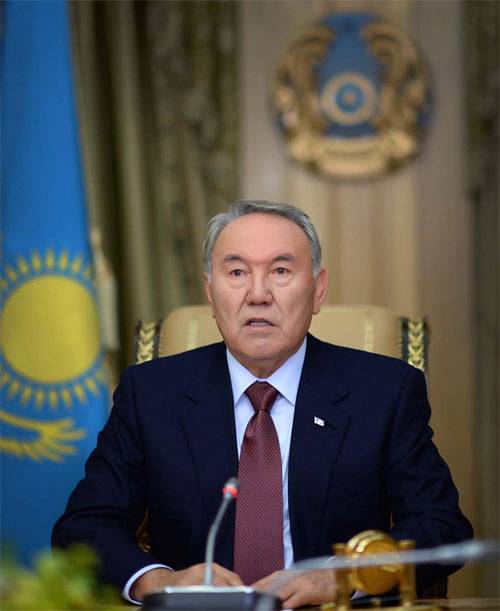 Press office
Administration of the President of Kazakhstan cites the statement of the head of state:
As you know, 5 June in Aktobe committed a terrorist attack. Law enforcement agencies have taken the necessary measures to harshly curb this criminal act, destroy and neutralize terrorists.

On my instructions, a special interdepartmental investigative task force headed by the Minister of the Interior is working.
The investigation is carried out under the personal supervision of the Attorney General. All criminals will be prosecuted to the fullest extent of the law.
According to the available information, the terrorist act was organized by the adherents of radical pseudo-religious movements, and they received instructions from abroad.

Extremism and terrorism threaten the security of not only our country, but the whole world. The people of Kazakhstan with understanding and responsibility reacted to the strengthening of anti-terrorism measures taken by law enforcement agencies in all regions of the country.

Today, there is no cause for concern for our citizens. At the same time, I urge all Kazakhstanis to be vigilant, resolutely thwart all calls for violent unlawful actions, to help law enforcement agencies everywhere.

Taking advantage of the liberality of state policy and our laws, some people wanted to test the state power for strength.
I declare that we will always take the toughest measures to suppress extremists and terrorists. For this, the state has all the capabilities and strengths.

We all know that the so-called "color revolutions" have different methods and begin with contrived meetings, murders, and the desire to seize power.

These signs appeared in us. In the countries of the world where this has happened, today there is neither a state nor stability, poverty and gangsterism reign there, conditions have been created for the emergence of extremists and terrorists. The economy of these countries is thrown back decades.
I urge all the people, all political and public associations to unite and show that we will protect our peace, stability and friendship of all Kazakhstanis!

The state will take additional measures to combat those who are trying to shatter society and the country. We will specifically consider and summarize them.
Law enforcement agencies of Kazakhstan conducted a preliminary investigation, during which it was possible to establish involvement in the development of a plan of attacks in Aktobe by foreign citizens. It is not reported yet whether these foreign citizens live in Kazakhstan itself or outside it. Also not reported on what kind of foreign countries in question.
During the 40 day after the attacks in Aktobe in Kazakhstan, there will be a "yellow" level of terrorist threat. Schools and kindergartens do not work in Aktobe, citizens are not recommended to leave their homes without special need.