Published the so-called "Global ranking of the world" (
Global Peace Index
), which was developed by order of the company www.visionofhumanity.org. According to the results of this rating, Ukraine is a country experiencing serious problems with the world. It is included in the 10 most dangerous countries in the world. Worse than in Ukraine, things are only in the Central African Republic, Yemen, Somalia, Afghanistan, Iraq and South Sudan.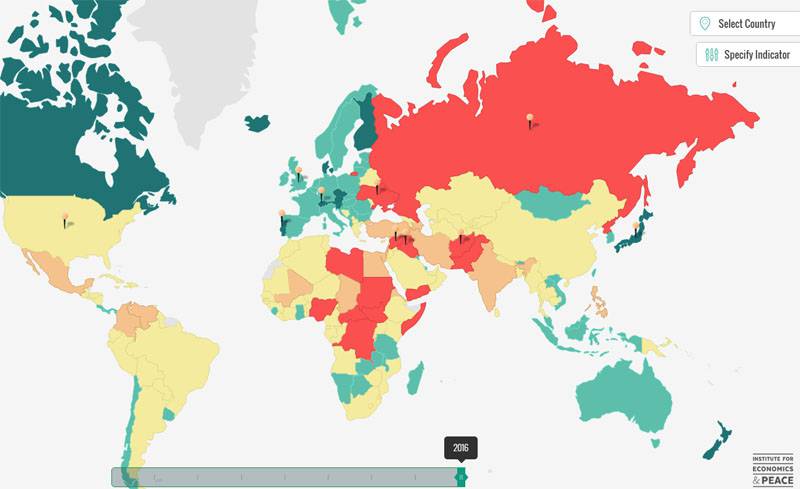 It would seem, but where is Syria? Is the situation in this country much calmer than in the same Ukraine? The site of the company that ordered the rating provides, to put it mildly, strange information. On the site, Syria is listed under the number 163, although in the very list of 162 states of the world. And such a distribution in the submitted rating is not commented by its compilers.
In this very strange ranking, Russia takes the 151 position in terms of the "peaceful environment". For example, this position is on 6 points below the position of Turkey, where civil war is raging, and on 100 more than points below the positions of France and Belgium, which in recent months have been confronted with terrorist attacks.
Separate attention is worthy of the position of Armenia and Azerbaijan. According to the compilers of this rating, 24 has a position between these countries, and the situation with the world in Azerbaijan is worse than in Armenia.
"Peacefulness" of the USA is marked on the 103 position in the world. US on 17 positions of China's "peaceable" ...
In the first place on the state of affairs with the world (drumming ...) Iceland.