In Kiev, they continue to discuss the statement of Nadezhda Savchenko, which she made the day before. Recall that Savchenko declared her readiness as a deputy I LIE to personally meet with the leaders of the DPR and the LPR Alexander Zakharchenko and Igor Plotnitsky. At the same time, Savchenko added that in order to end the confrontation with the Donbas, one must at first "at least smile at each other."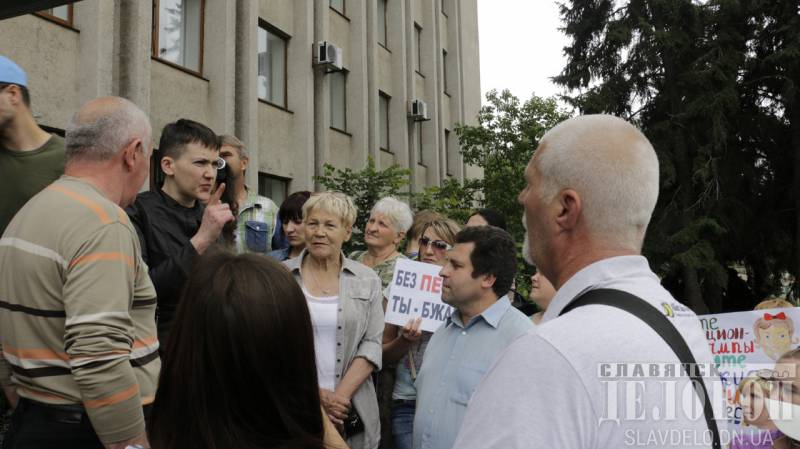 Advisor to the head of the SBU Yuri Tandit said that about any personal meeting with Zakharchenko and Plotnitsky today there is no question, since they "are criminals." According to Tandit, Savchenko's initiative is not supported in the SBU.
Much tougher about the statement Savchenko expressed in the Ministry of Internal Affairs. A statement by the spokesman for the ministry Artyom Shevchenko, who claims that "Savchenko is an agent of the Kremlin" leads the website of the Ukrainian TV channel
112 Ukraine
:
In connection with a kind of a kind of "coming out" of a people's deputy and Hero of Ukraine, a member of our delegation to PACE Savchenko, who is ready, you see, to negotiate with the terrorist leaders of the Ordlo (local districts of Donetsk and Lugansk regions). which is what the Russian aggressor is seeking, I will quote the words of one of the experienced army intelligence officers from one of our two special purpose regiments. He is the holder of two orders of Bogdan Khmelnitsky, which he received for successful army special operations behind the front line. So, he, who personally sent to the world more than a dozen separs, recently told an interesting one: "When we have, he says, three officers were captured by separs, and we quickly - in a few weeks - pulled them out, then they were all waited long counterintelligence cross-examinations, in-depth inspections, medical examinations, analysis of the psychophysical state, and so on. Was everything in captivity the way it was said? Did they lie accidentally? Did they ever turn up in an hour? Did they have a good brain? here two years in the dungeons of Russia At the current level of development of pharmacology and technologies of the Russian special services, the arsenal of the impact on the prisoner's mind is almost unlimited. And no checks, just from the plane, not for interrogations and a polygraph, but to the session hall of parliament. Not be surprised, says next time not an expander, but a real grenade in BP will bring. " Of course, this doesn't mean anything, and I don't say anything, but this comment seemed to me, at least, worthy of attention. No more. But no less.
In the Blok of Petro Poroshenko in VRU, they allowed themselves relatively mild rhetoric, saying that the initiative of Nadezhda Savchenko "looks a bit rash".
After these comments, it becomes extremely clear that Kiev does not consider the implementation of the Minsk agreements in principle.