A presentation of a new medium-haul passenger aircraft MC-21-300 took place at the Irkutsk Aviation Plant, a correspondent reported
RIA News
from the scene.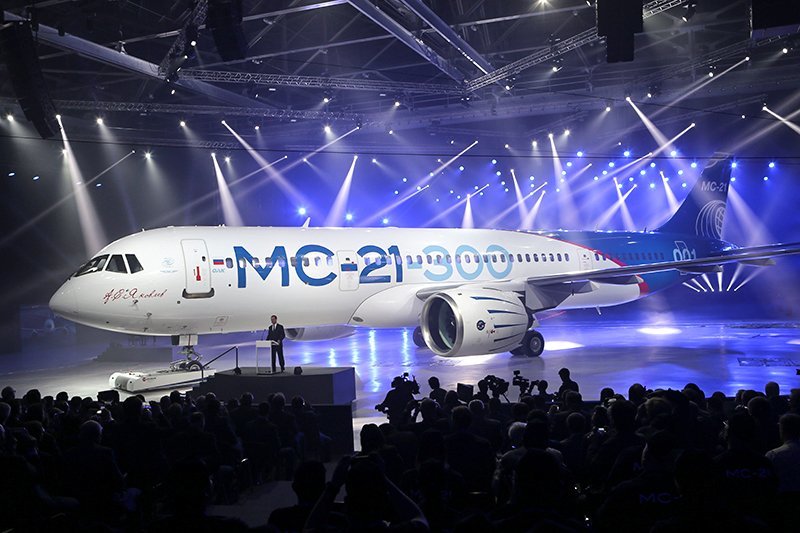 "Russian Prime Minister Dmitry Medvedev, Deputy Prime Ministers Arkady Dvorkovich and Dmitry Rogozin, Industry and Commerce Minister Denis Manturov, as well as President of the MS-21 development company, Irkut Corporation Oleg Demchenko, took part in the ceremony of rolling out the aircraft, - said in a statement.
"A few years ago we decided to make a plane that will take a worthy place in the global aviation market. We are confident that MC-21 will be the best in its class. Today I want to thank the designers, engineers, workers, managers of enterprises - we have invested in the aircraft not only the most advanced technical solutions, but also invested our whole soul, "said the head of the company.
According to him, "rolling out the aircraft is only the beginning." "The first flight of the MC-21-300 will be based on the results of ground testing at the flight test station while it is scheduled for December 2016 - February 2017 of the year. The first delivery of the aircraft to the customer is scheduled for the end of 2018, "he said.
"The MC-21 family of aircraft is focused on the most capacious segment of the global aviation market. The composite wing of high elongation, the increased diameter of the fuselage, engines and systems of the latest generation can reduce operating costs, increase comfort for passengers and meet the requirements of promising standards for environmental impact, "the company said.
According to the developers, "MC-21 will give airlines the opportunity to shorten the turnaround time at the airport by 20% - a wide central aisle and pivot-type luggage racks allow passengers to quickly and conveniently board and disembark."
It is noted that the liner family includes two models: "MC-21-200 is designed to carry from 132 to 165 passengers, MC-21-300 is able to lift aboard from 163 to 211 passengers".
Irkut already has "firm orders for 175 liners," including and from Aeroflot, which ordered 50 aircraft.
Meanwhile, Rostec reported that a new airliner could be equipped with anti-missile defense.
According to the press service of the corporation, the installation of the on-board defense complex "President-S" plans to take up the concern "Radio-Electronic Technologies". "
The company also noted that civil aircraft are already partially equipped with antimissile defense.
According to the adviser to the deputy general director of the concern, Vladimir Mikheev, the enterprise "has already begun to develop a new integrated avionics-based complex of onboard equipment, which, first of all, will be designed for the new medium-haul aircraft MS-21-300".