Yesterday, the first anti-sabotage boat Rook, built for the Russian Navy, was launched at the Vympel plant in Rybinsk,
press office
enterprises. 4 such boats will be built in total.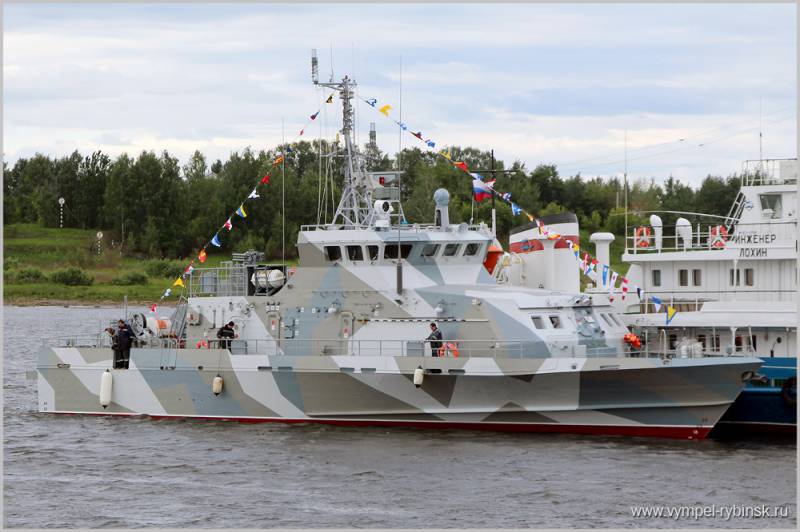 "At the Vympel Shipbuilding Plant JSC 7 on June 2016, the launch of the 21980 project cipher Rook's serial number 01221 was held. This is the first in a series of four anti-sabotage boats that the Vympel shipbuilding plant builds under contract with the Ministry of Defense , Says the release.
It is noted that "the boat with the serial number 01221 was laid in March 2014 of the year."
The ceremony was attended by the company's management, the head of the city of Rybinsk and the crew of the boat.
"The rite of consecration of the ship was completed. The godmother of the boat, the representative of one of the dynasties of shipbuilders Vympela, traditionally broke a bottle of champagne on board. After launching and conducting mooring tests, the boat will go to the external delivery base in the city of Gadzhievo, where it will pass sea and state tests. The boat will be in the North
navy
»
reported in the press service.
Reference of the company: "Anti-diversion boats of the project 21980 code" Rook "- a series of boats for the protection of the water area, designed to re-equip the Navy of the Russian Federation. The vessels are designed to combat sabotage and terrorist forces and facilities in the waters of home points and near approaches to them, as well as to assist the border service of Russia. "