Today's decision at the meeting of the Just Russia parliamentary faction could be a precedent. After long months, the faction proposed to deprive deputies from the "CP" Ilya Ponomarev and Alexei Mitrofanov of deputy mandates. Recall that Ponomarev and Mitrofanov for more than a year do not appear in the State Duma of the Russian Federation, do not fulfill their deputy duties, and in addition hide themselves outside the country from justice. Earlier, the State Duma deprived Mitrofanov and Ponomarev of immunity of deputies, today the intra-fractional meeting ended with a proposal to deprive them of their deputy powers.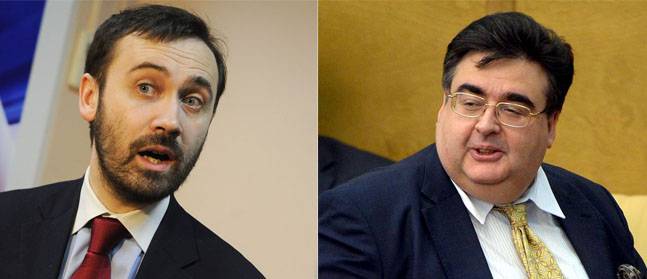 Press office
"Fair"
:
To propose to the State Duma of the Federal Assembly of the Russian Federation to terminate ahead of time the powers of deputies Ilya Ponomarev and Alexei Mitrofanov due to non-fulfillment during 30 and more than calendar days of duties stipulated by federal law.
The representative of the CP fraction in the State Duma, Mikhail Yemelyanov, stated that "Mitrofanov and Ponomarev have lost contact with voters and are not participating in the work of parliament.
The statement of the head of the faction Sergei Mironov leads
TASS
:
We will hand over to the chairman of the State Duma (our decision). Further, the fate of these gentlemen does not bother me, they themselves did what they did. This choice is clearly not the way with the State Duma.
It remains to wait, whether the entire Russian State Duma will support the initiative of the "fair Russia" regarding the deprivation of these persons of deputy mandates or not.
Meanwhile, Mr. Ponomarev himself becomes a regular guest of the air of Ukrainian TV channels: