The head of the Security Service of Ukraine Vasyl Gritsak decided to realize the possibility of self-promotion and public relations of the entire structure he headed. During the briefing, Gritsak said that the Ukrainian special services (attention!) Prevented a series of 15 terrorist attacks in France. Grytsak's statement leads the TV channel
112 Ukraine
:
The security service was able to warn a series of 15 terrorist attacks that were planned in France, on the eve of and during the European Football Championship, which is scheduled to start on June 10 of 2016. A lot of work has been done. I want to inform you that a large team of security staff worked, this is a collective work. The main or those who came out on this topic was the military counterintelligence of the security service. In December, 2015, we learned that a French citizen arrived in Ukraine, under the guise of volunteering, began to create contacts with a number of representatives of military formations in the east of our state and promised to bring volunteer help, promised to bring equipment and much more, but in the process communication, he began to show interest, where you can buy in Ukraine
weapon
, explosives and other means of destruction. As a result of operational work, the French citizen was transferred (all this was done within the framework and method of the head of 21 CPC, the entire operational combination, 21 head of the CPC regulates unofficial investigative actions) 5 Kalashnikov assault rifles, more than 5 thousand cartridges, 2 anti-tank RPG grenade launcher, 18 anti-tank RPG grenade launcher, 125 anti-tank RPG grenade launcher, 100 anti-tank RPG grenade launcher, 20 anti-tank RPG grenade launcher, XNUMX anti-tank RPM gang, XNUMX anti-tank RPG gang, 13 shots to them, XNUMX kg of TNT, XNUMX detonators, XNUMX balaclava and other things.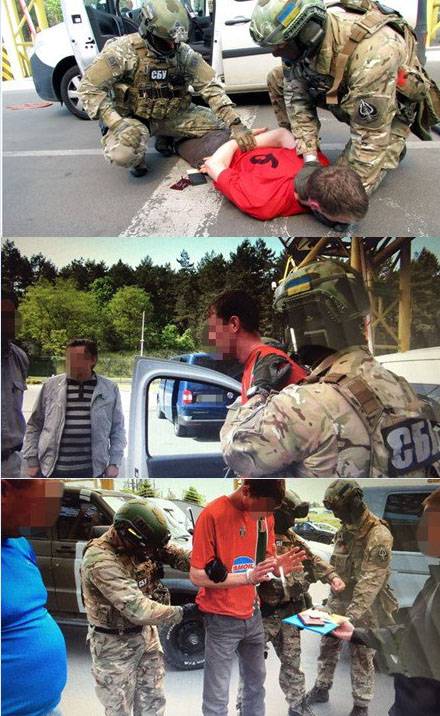 As can be seen from the message of Gritsak, the "French terrorist" was so unlucky that he rode to the east of Ukraine, even for balaclava ...
In addition to everything else, the head of the SBU was not able to pass by Russian subjects. According to Gritsak, "a Russian trace is visible in this matter."
Gritsak:
We began to believe in the truth of his intentions when he began to make a deposit. First, several thousand euros, then several thousand euros and there is a Russian version there, it appeared almost at the very end, when between him and those with whom he communicated, as part of a special operation, he proposed an operational combination, which the SBU organized application of several thousand euros for the citizen of Ukraine to accompany this cargo to the territory of Europe. These are key things, and that is why we believe that this may be the task of the Russian special services.
At such an active pace, Gritsak can even go so far as to start "preventing terrorist attacks" not only in France, but also at the NATO summit in Warsaw and at the Rio de Jeannereaux Olympiad ... About how long the arms are Gritzak should be discussing France with surprised eyebrows today, trying to find out who this Gritsak is ...