In Murmansk, at the branch "35 SRZ" of the Zvezdochka Ship Repair Center it is planned to create one large dry dock by rebuilding two existing cameras, reports
A red star
.
Currently, the 35 plant has two dry docks. One is the length of 179 m, the other is 225 m. The width of both docks is the same - 22 m.
Now they look like this: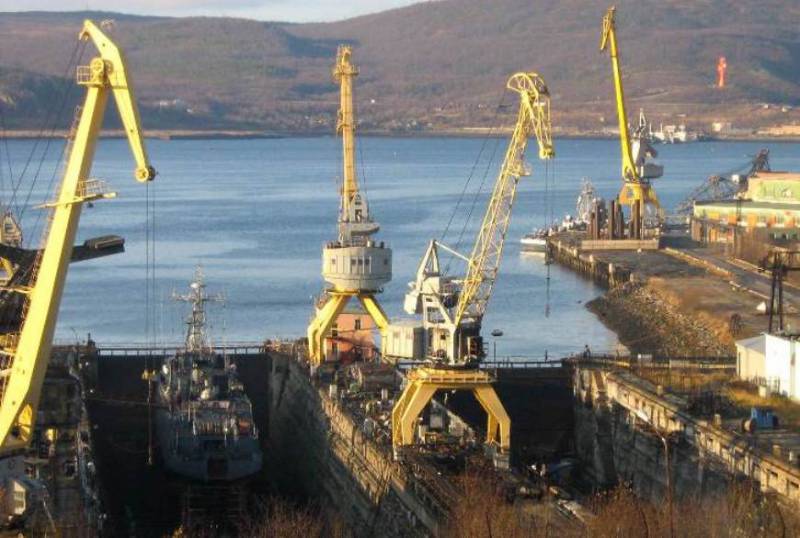 "According to the plan for the technical development of production, it is planned to disassemble the lintel between the chambers of our dry dock and build an extended and extended single-chamber dry dock in its place. The overall dimensions of the slipway will be 70 on 400 meters. This will ensure the possibility of docking repair of almost all existing projects of ships and vessels. It is also planned to build in the southern part of the plant a block of workshops for dock repairs ",
told the representative of the plant Alexander Lysakov.
According to him, "the central part of the plant will become a military ship repair zone: here it is planned to build a complex repair production unit equipped with the latest equipment, including hull, metalwork, assembly and installation, pipeline and other types of production required in ship repair." Existing workshops will also be refurbished.
Lysakov noted that after the reconstruction "the enterprise will be able to serve not only warships, but also occupy the niche of civilian ship repair, become attractive for large corporations such as Sovcomflot, Gazprom, Rosneft".