The company General Robotics from Israel will present at the Eurosatory 2016 exhibition, which will be held in the capital of France from 13 to 17 June, its new development - a tactical combat robot called DOGO. The robot is armed with a Glock-26 pistol. Thus, he became the world's first combat robot, who was armed with short-barreled
weapons
, reports the thematic edition all4shooters.com. The mini-robot is designed for use in melee during anti-terrorist operations. Its name, DOGO, is a tactical combat robot derived from Argentine dogs (sometimes called Argentine mastiffs, or Dogo Argentino), which are known for their guarding and hunting qualities. The breed was specially bred for hunting big game: pumas and wild boars.
Nowadays, it is rather difficult to surprise someone with combat robots, but almost all of them are fairly large, relatively heavy combat vehicles that weigh several hundred kilograms and sometimes even tons, and are equipped with heavy weapon systems: rocket launchers, machine guns or even rocket launchers. complexes. At the same time, for conducting police and anti-terrorist operations, especially in limited space, for example, inside buildings, in bunkers or tunnels, the use of such systems is simply impossible. More compact solutions are needed here. The exception to the rules is the Israeli tactical battle robot DOGO manufactured by General Robotics. Not so long ago, a video about this Israeli innovative development was presented on YouTube video hosting.
The development of this robot turned out to be quite a difficult technical task, since it was necessary to ensure the light weight of the whole structure, so that the robot could climb up the stairs without any preparation, easily moving in confined spaces. The developers spent a lot of effort on creating an intuitive and simple device control system, as well as a safe weapon activation system that would be resistant to recoil when fired and would provide the required accuracy of fire.
At the same time DOGO became the first in
stories
tactical combat robot, which was created specifically for a specific weapon, located on it on a permanent basis and fully integrated with all its systems. Unlike most other compact robots that do not carry any weapons, or substantially larger combat systems designed for the installation of replaceable combat modules with remote control, the Glock-26 9 mm caliber gun is installed on an Israeli tactical robot. The weight of the DOGO robot is approximately 12 kilograms, and the ammunition for the installed Glock-26 pistol is 14 cartridges.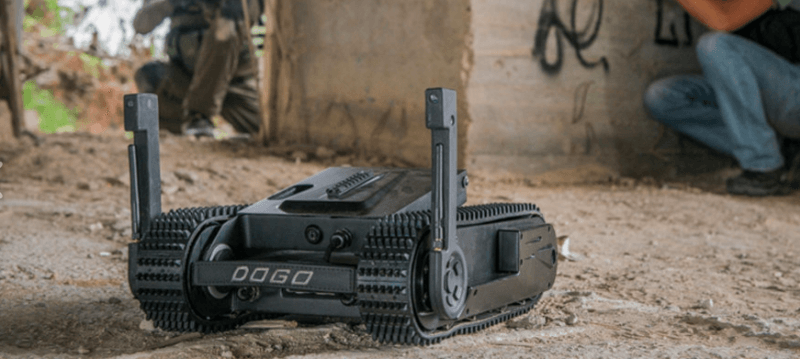 The Glock-26, which is armed with an Israeli tactical combat robot, is an Austrian self-loading subcompact pistol, which is usually used for concealed carry. The capacity of the standard magazines for this "Glock" is 10 ammunition caliber 9x19 mm, but there are versions of the gun and with a larger magazine capacity, with an extended handle. The gun, placed on the DOGO robot, is equipped with a non-standard magazine for 14 cartridges. In addition to a pistol, a non-lethal impact weapon can be installed on the robot: a blinding laser, pepper spray, noise-noise charges, etc.
At the mention of a robot with a pistol many, most likely, seem to be an ordinary pistol, which is outside mounted on a special platform in some noticeable way. However, if you look at DOGO, you will not see any gun. Outwardly, this Israeli development is practically no different from many of its counterparts in the shop. Only a moving block, which can move in the vertical plane two additional front cameras, catches the eye. It is inside this block that the gun is located. And two additional cameras are used to aim from it.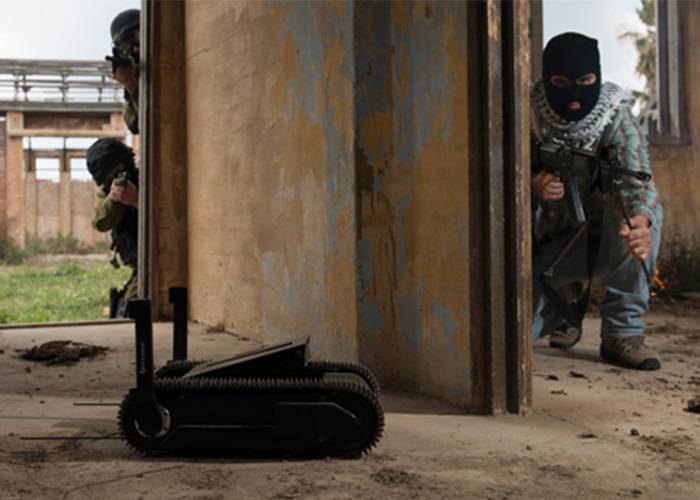 The robot is equipped with a rather complex surveillance system, which consists of high-resolution 6 cameras. These cameras allow for all-round visibility. In addition, in the gun module there are two more cameras used by the operator for aiming. Thus, 8 cameras are located on the device. In addition, the tactical robot DOGO is equipped with a microphone and a speaker, which allow the device operator to communicate with the hostages or the enemy. It has a robot and an obstacle recognition system. For example, when approaching a ladder, the robot automatically switches to the optimum for lifting mode, without waiting for an additional command from the operator.
Built-in rechargeable batteries allow DOGO to maintain performance over 4-hours, while the maximum speed of its movement is 6 km / h. To control the combat tactical robot, a console was developed, which consists of special manipulators and a shock-resistant tablet computer. To detect targets, special software was loaded into DOGO, which automatically detects objects and allows the operator to point weapons at the target and hit the enemy with a simple tap on the tablet screen.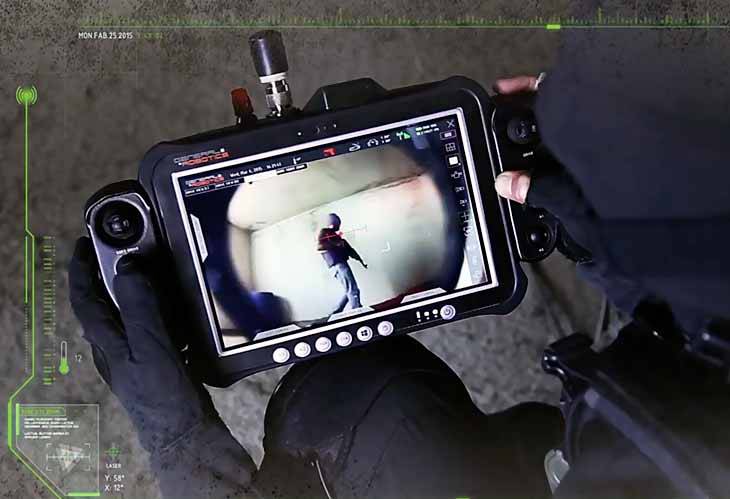 It is worth noting that the small General Robotics company, whose staff consists of only 15 employees, has already demonstrated its development several times both in Israel and abroad. Currently, the tactical robot is fully ready for mass production. This was preceded by a large amount of various tests, in which various scenarios of anti-terrorism, reconnaissance and combat missions were simulated, and thousands of test shots were fired.
Open source materials
https://www.all4shooters.com/ru/strelba/aksessuary/General-Robotics-DOGO-takticheskiy-boyevoy-robot
http://zonwar.ru/news4/news_714_Dogo.html
http://22century.ru/military/25485