Greetings to you, dear readers and readers! Truth be told, there is no greater happiness than meeting friends again. So I am happy today. I meet with you. Yes, and at home ... You can imagine coming home, and in the kitchen "hen party." Well, in the sense of the large-scale ladies, they came to my Tarakanushka.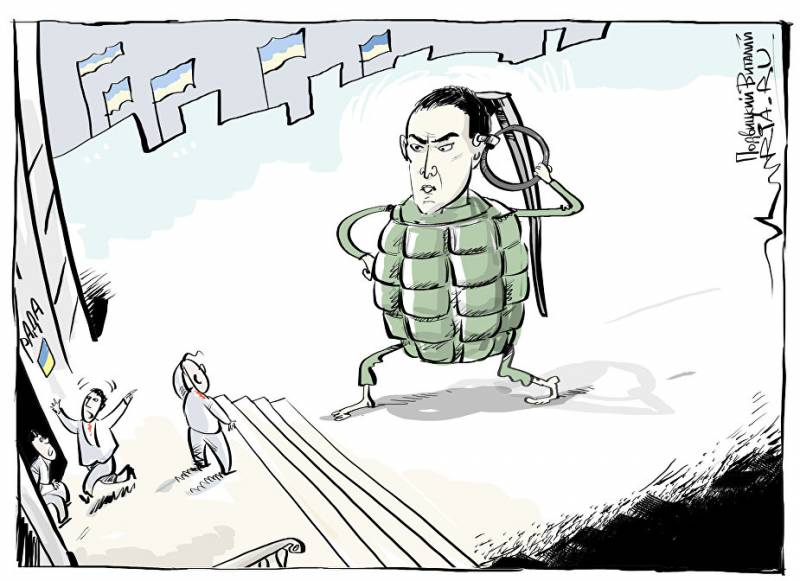 Sinno so sit. Cherry liqueur on the table (wow and tasty, take her wood lice). Again, dumplings, fat, and a lot of things. I will not raise your appetite in the morning. Well, and TV instead of men. There these men for every taste. And slim, and fat, and fools, and smart ... Women's paradise or a window into paradise. To mean us, our husbands, "poke their noses" in these "real men."
Without too much boasting, umishkom God did not hurt me. I understand that you should not go into the kitchen. I will receive from everyone for her man, and "my" summarizes everything and makes a conclusion about his most unfortunate "woman's share" of all. That is why, in the quickest way, I ran into the bedroom. It seems tired and not standing. It worked.
And from the kitchen screams. Goat! No, this is another goat! Yes, they are both goats! They are not goats! Goats with a beard! No, goats! Estimate that they about us, their cockroaches, told each other and what conclusion they came to. Well at least do not swear.
I'm under a blanket. And in the door Tarakanushka. And a smile ... But you remember her smile. I once described. Tender-tender. All ... Run off, I feel.
And she is a Tarakan (yes, jumping out to the pavement at rush hour from such an appeal at such a moment), what are you? Come to us. You didn't eat breakfast. And we have a liqueur today. I am going. And in my head for some reason, a revolutionary song. You fell victim to the fateful fight ... And from the kitchen - goats, not goats. And new, probably in connection with my approach - the wolf!
In general, he made a terrible face and stepped into the kitchen. Cossack I am or not a Cossack? We have not been in such alterations. Well, in a sense, those that are ancestors. I go, I pour out a blatantly glass, I drink. Silence and ... understanding views. Like, tired man. We need him to cheer up.
As it is now fashionable to write - I have a gap pattern! But what about the goats? Then this, wolf?
And they show me on the TV screen. There, two roe deer on the Ukrainian-Belarusian border muzzle each other "ram". Straight through the net. Initially, like a Ukrainian hit. Then Belarusian. Again, Ukrainian. Byelorussian. And everything in the grid ... Hmm. And then came the wolf. Drove both goats and dispersed. And most importantly, though a predator, and does not feed on goats!
You, people, do not know our language. And we understand. Not just called, but also obscenely expressed in general about goats and borders. I specifically show you this video. For skeptics.
What I saw seemed to be a prophecy. Perhaps it will be so with Ukraine. Only now who will be this very wolf is not clear. Oh, how you do not want the guys from NATO. But, sadly, this is what goes.
And now to us. In our "dense forest", to our goats.
The main thing about which, I think, today everyone is writing and arguing (this is me to the fact that I write notes immediately after the event, I predict it seems like) - this is a press conference of our president. After all, everyone was waiting for this event. Not even so much to listen to Poroshenko. Not. In order to see how pale Putin will look on his background. With your own conferences.
In our case, everything is done either at the suggestion of Putin, or with his participation, or in opposition to Putin. National idea. By the way, I would like to ask you, dear readers, are you looking at Kiselev? And then we are sure that all Russians are just watching him. Just for your own opinion on this.
So what? Who has not watched this conference, and I know that there are most of them in Russia, do not waste time. I will now briefly tell you in the form of abstracts. The points. Why "water" in the ears pour.
1. Dear ones! In the sense of the Ukrainians. Visa free regime will be. Right now this blessed time will come! It remains to wait "now."
2. I (in the sense of he - Poroshenko) savior Nadia Savchenko!
3. There was no scandal with offshore! There was an objective journalistic investigation. And the firms that have been created are intended only to "separate" presidential power and business.
4. How do you do? My name is Petia. I work an a presiden. Tell me what you want, I don't give a shit. For those who do not understand translate - listen to Nadia Savchenko and Lightly! They will relay everything to you in Ukrainian.
5. About all there "barn books" breshut. I have "all the moves recorded" and the books in my barns lie.
6. Not ... Paruby is not my godfather ... But in general, is the godfather a relative or friend?
7. No matter what my enemies say about my nationality, I am a Tatar!
8. Decentralization of power? So this is me!
9. What are these import duties for cars? Need to calculate the price. To think. Then look at the Crimean forums, how many avtohlama there still remains ...
10.And who is not happy with the actions of Guntareva? Submit a list to me to discuss this issue in detail. In the SBU.
11. Medvedchuk? And what Medvedchuk? Well, it works. But over what and with whom it is too early to speak. But I believe, someday the time will come ...
12. All that is prescribed to me by the post of President of the country I will do!
You can assume that you have attended the press conference of the President of Ukraine. Nothing more interesting was there.
In general, summer has come. 1 June - Children's Day! 2 June - International Prostitution Day! Every day, the holiday. And for us - the care of the younger generation. As for all parents. And what care in the summer? Right. Shuffle the child to the grandmother in the village or in a children's camp. To improve my health and eyes are not corn.
22 June (I don't know, we have a holiday or mourning) the children's camp "Artek" opens! But-but ... Without these, without calls to a specialized medical institution about my mental health. Such themselves. I am writing - it opens, it means it opens!
In Russia, the wrong "Artek". And we have the right one! And located in the "unoccupied territory". You can say at your side. In the sanatorium "Pushcha Ozernaya" in the Kiev region! And why bother to carry children somewhere to the sea? Scientists say that climate adaptation takes two weeks ... And what happens. Children's body "struggles" with the new climate. And only just wins, and his time ... and back. We must think! "Baby" is our everything!
Just wait. We are still organizing Sevastopol somewhere in the Ternopil region. And near Nikolaev Kerch. And that's it! Returned to Ukraine Crimea! And you will stay there in the "old Vasyuki"!
By the way, we have constant problems with this "old Crimea". Well, you remember, probably, about the hiding commander of the Russian Black Sea Fleet. The fact that hiding in the Crimea and is not on a call to the investigator in Kiev. Here! Here it is the attitude of the Russians to the law! And you think he is the only one? Where not only hide ...
About the president of the former and I will not write. Everything is clear there. But 130 Crimean officials? They are called, and they are hiding. Every morning, they run to their institutions and organizations in order to hide under the protection of "green men". And on weekends, reptiles such, leave for the sea. Try to find them there, on deserted beaches, in a crowd ...
Especially actively hiding Valery Saratov. The agendas were already sent to him via the Internet. And they showed on TV, but he didn't. Took and died in December 2015 of the year. Nothing new prosecutor will find there. We hope to hand the agenda personally!
By the way, about the prosecutor's office. You have not seen a Chinese with round eyes in Russia? In the form of a sea captain? Not? But somewhere should be. The Security Service of Ukraine, under the supervision of the prosecutor's office of the Kherson region, is investigating criminal proceedings for the construction of a Russian energy bridge to Crimea by a Chinese vessel JIAN JI 3001. Imagine this captain turned out to be so abusive. Right Chinese criminal.
"Despite the existing ban, violating international sanctions, a cable laying vessel illegally arrived in the closed Kerch sea port of Kamysh-Burun in the city of Kerch of the Autonomous Republic of Crimea, which violated the procedure for entering the temporarily occupied territory of Ukraine harm to the interests of the state "
In short, he now has only two choices. Or digs a cable backwards, or ... We will impose sanctions on China. Then gopak dance with fear. Why? We can! All the best!
True, my cockroach, when I read this message, was very surprised. What is such an energy bridge? On television, they talked about some kind of extension cable that the Russians threw along the bottom of the sea. Ukrainian experts in one voice claim that this can not be! Hitler could not build anything there. And he is Hitler ... oh go. He built some roads in Germany.
I understand that it is time to write something about our "boy-woman". Sort of, not stilted. Not about bare feet to write. Or there about landing in the seat of the deputy "in zekovski." Boring And then, Nadia talk start! And immediately to the point! Why? Things should be called by their proper names! If you are a skhodnyak, then you are a skhodnyak, but not a rout. If gop-stop, then gop-stop. Education allows her!
"Start like 90's gangsters: they stole, they admitted it, and then they ate and carried money to the church. Pray for your sins before the people. Start with yourself. Give away too much. And then the people of Titanic will take out and you will save Ukraine. If you do not do this, the people will drown you. Such a projectile will be launched to this Verkhovna Rada that they will lay down everything. "
Our here, those who lives in prisons, agree. That's right, they say, by the concepts said. A clear alignment issued for the brothers. Only here in my head the thought turns. How can you live with it? With porridge in the head and hatred in the soul. And hatred for all. And to the Russians, and the Ukrainians, and the Europeans, and the Americans? She really hates people.
But on the other hand, in the Rada all such. Just do not say so directly. And they do. Remember, I wrote about tariffs? Well, then still repeatedly voiced topic in all media. So, the Ukrainians took the path of the native state. Forgive everyone you owe. On family councils take the decision not to pay. Because ... Next come up with a reason yourself.
And do not pay! Only in April of this year, the public utility debt increased three times (!). Now it remains to see how defaulters will be evicted. The process is already underway in some areas. And then think about the fate of Ukraine in general. The rulings are the same. What in the Rada, that the family council. And then - case law.
I wanted to write about the tents. Those for 40 000 hryvnia apiece. That after the rain turned into rags. But why? You and so, probably, this
news
you know. The only thing I will give my comment about the reasons for such zrada from the side of the tents. And the reason is one! Tents were not painted in the colors of the national flag! Von toilets painted - stand! Fences painted - also worth it! Didn't even anyone notice such obvious things?
And by the winter you need to draw a trident on these tents! Then no frost to soldiers will be terrible. Just want your Lavrov again to quote.
Well, in the EU send a telegram? "Europe! Please send a couple of tents and a heater. Your shield." We have a guarantor then why?
Although, now there is also hope for Europe, as for ... There, too, they are no longer "friendly" with their heads. European "roof" went after the Ukrainian. And most importantly, in the same direction. This is me about a huge army in Poland. Well, how can you read this?
"These are just advanced forces, and they must, together with the armies of the host countries, restrain aggression for a time sufficient for the Alliance to organize defense. From a military point of view, it can almost be said that in case of external aggression, NATO will lose territory and will have to be won back."
And this is not written by anyone. This writes the Minister of Defense of NATO. Matserevich in which hospital was treated? Or often travels to Holland? Have the Poles forgotten about their own statements of another 80 years ago? When the forces of one cavalry regiment hoped to stop
tank
parts of the Wehrmacht? And what happened? They put the color of the Polish army under the caterpillars and that's it. They would take a better example with the British.
In Libya, the British Special Forces as a psychological
weapons
against militants "Islamic State" uses music from Indian cinema. In both! Music is popular among Pakistanis, but ultra-conservative parties, especially those of the Islamist nature, consider it too frivolous and anti-religious and therefore forbid.
Here's how to act special forces! Sit yourself behind the dune and listen to the radio ... And on that side only shots to your own head. This is called a creative approach. When your knees are shaking with fear.
Well, the last thing about our great country. The authorities realized that it was impossible to cope with the May holidays. Wrong people. Celebrate and that's it. And if you can not cancel what? Right.
History
need to study. Not our new, but the aggressor state.
Remember the Slavs spring holiday of the sun? Yeah. When a round sun in every family was baked and presented to neighbors. Yes, with butter, with caviar, with sturgeon ... For both cheeks.
Fought-fought church with this holiday, and came up with a way out. Pancake week. Who can say with what Christian saint is it connected and how? I do not know, although not an expert. Maybe the truth is somehow connected ... For so many years, you can think of anything.
The Bolsheviks came ... They fought, they fought ... They nearly killed themselves, and this carnival, in honor of Yarila, lives! Oh, so ... So called you "Wires of the Russian winter"!
So they are preparing for us today in the Rada new holidays according to the same scenario. What is the difference between Friday evening and Sunday evening? Purely outlook? And the fact that on Friday and drink, you can eat. On a visit to go. To go fishing or to the dacha. And on Sunday? FIG there. I have to go to work tomorrow! Hello brother tv!
In short, 8 March and 2 May we will have working days! But 9 March and the second Sunday of May - the weekend. True, not quite clear about Sunday. But this is a minor detail.
And the holidays will now be called differently! March 9 - Day of Ukrainian culture and self-identity. And the second Sunday of May is Mother's Day. And that's it ... We won! There are no more communist women's days. A woman is an equal citizen of the country and it is not necessary to humiliate her with such days! And there is no victory. Mother is more important!
And most importantly - the scope for the decommunization of all other holidays what! After all, you can appoint the day of the sister, the day of the daughter, the day of the grandmother! And given our "tseevropost", which means respect for gender law - the day of the son, brother, father, grandfather, great-grandfather ... Wow ... Already captures the spirit of the prospects.
Think it's a cockroach today signed? You're right. Exactly. Because everything! In Ukraine, no longer tortured in the SBU! And never tortured! Now we have everything in a European way. Vaughn UN with his report trying to podgadit, but it does not work! Any Ukrainian will tell you - garbage! We know these separatists. Then air conditioners are blown up, and the Ukrainian attack aircraft that accidentally flew at this time is being written off, then they fire at their own houses, and then shout about the shelling by our good-natured army. I'm not even talking about the "offensive" of the APU. Yeah ... Shoot themselves, then run away. And what is left for us? There our people ... lived. Here we go. Just look, maybe, to whom the stews are there to give or red fish for a family celebration.
And the prisoners? Those we are on the unfortunate, emaciated raw cellars and hunger change? They are especially on the road beating their heads and other parts of the body on the bus racks ... Such nasty. Even the arms and legs break themselves. With these electric shocks they beat themselves. Fingers shoot. So that later this UNO zadnik Shimanovich show.
Behind this and forgive! Russians, go to collect the things of children in the camps. Ukrainians - to collect money for vouchers to the camps. Awl on our power, even the Kiev average salary does not pull on the ticket. Two months have to work hard. And for townships, and all the half a year ... But, summer has come! So, three or four months you can not think about the wood. You can relax and imagine how we will be fine in Europe. How wonderful to relax in the Crimea ...
Smile, gentlemen, smile. As Oleg Yankovsky charmingly spoke in the role of Baron Munchhausen. And life will be smiling to you too. How am I in the kitchen this morning! I wish you happiness and kindness of those around you!