"Military Review" previously reported on a humanitarian operation that resulted in a Syrian girl, who was seriously injured as a result of the shelling of Aleppo from the militants, on an IL-76 Russian Defense Ministry aircraft was taken to Russia for treatment. It is about 10-year-old Sidra Zaurur, which is treated by experts of the Russian Children's Clinical Hospital, as well as Vishnevsky and Burdenko hospitals.
Today Cider Zaarur in Moscow was visited by pupils of the women's boarding house of the Russian Ministry of Defense. The girls handed Cidre gifts made with their own hands - soft toys, paintings. To cheer up, they performed a song for the Syrian peer.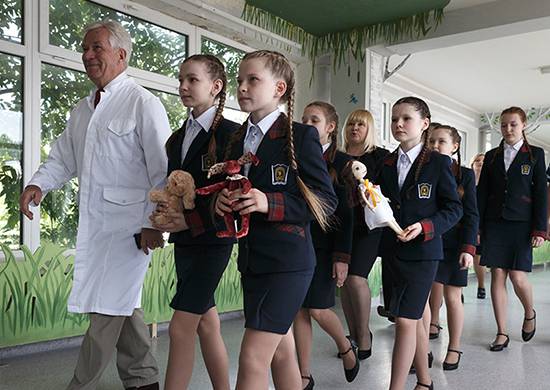 Press office
The Ministry of Defense of the Russian Federation reports that the girl had lost both legs as a result of shelling by terrorists "Dzhebhat al-Nusra". Now the life of a child is out of danger, however 10-year-old Sidra needs constant care and rehabilitation. Psychologists and other medical specialists work with the girl.
From the message of the press service management and information of the Ministry of Defense of the Russian Federation
The Syrian side turned to Russia for help and the request was heard. By decision of the Minister of Defense of the Russian Federation, Army General Sergei Shoigu, the girl was taken to Moscow. Throughout the flight of the military transport Il-76, the health of Sidra Zaurur was monitored by specialists from a team of highly skilled military medical personnel from the Main Military Clinical Hospital named after Burdenko and the Central Military Clinical Hospital. Vishnevsky.
The girls from the boarding house of the Defense Ministry of the Russian Federation promised that they would continue to visit Sidra, and after being discharged they were waiting for her at a party.