If the power of the Ukrainian army was measured in the statements of Ukrainian experts reporting on the progress of military-technical developments, then the APU would have long been the most powerful army of the Universe. So, the information portal
"Apostrophe"
publishes a statement to the chief editor of the magazine
Defense Express
Sergei Zgurts, who spoke in the spirit that in Ukraine in the near future the Tireks tank, created by the so-called scientific and technical division of Azov, will be commissioned. In Kiev, they consider "Tireks" the Ukrainian equivalent of "Almaty".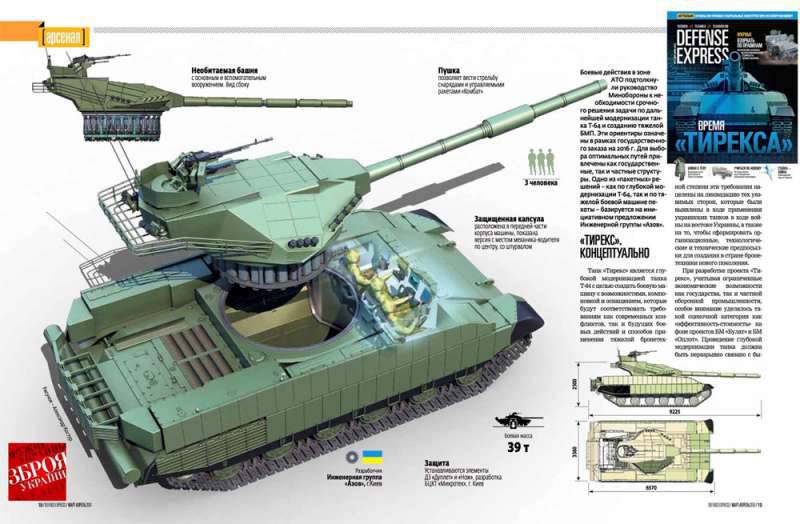 Sergey Zgurets:
He ("analogue of" Almaty ") will appear much faster than the strike drone, which the leadership of the country speaks of. I know the situation - the documentation is almost ready, issues with the Ministry of Defense are being resolved. This will be one of the modernization projects.
tank
T-64 According to my calculations, this work will end before the end of this year, if external factors do not affect it, because there are other projects - simpler, but less effective. I believe that the Tirex option is optimal. It will have an uninhabited tower, qualitatively enhanced protection and a new fire control system comparable to the Oplot tank, whose future is still very difficult. Due to these decisions, we will get a tank comparable to the tanks of our probable enemy. The main problem is that our units can fight at night and be protected. Tank "Bulat" performs this function only partially.
When it came to the obstacles that could prevent the Ukrainian Armed Forces from receiving Tireks before the end of the year, Denis Popovich, the journalist of the Apostroph, "prompted" Zgurts that this may not be "the law on 2 returning billions of dollars from Yanukovich's assets to Ukraine" . Zgurets hurried to agree with this ...
I also talked about how to deal with the cracks in the armor of Dozor-B armored cars that had been revealed earlier. According to Zgurts, "the situation is in question."
Zgurets:
But for me the situation with the "Watch" is important from the point of view of the need to be able to draw conclusions from their mistakes. If we don't learn this using the example of Dozor, we will not be able to produce other equipment. (...) Although we have a general understanding of what to do with armor, if only because we produce a large number of armored personnel carriers.