Today, the head of the Donetsk People's Republic, Alexander Zakharchenko, conducts another line of communication with citizens. If the two previous lines were with the residents of the territories controlled by Kiev - Kharkiv and Odessa regions, now the head of the DPR answers questions from residents of Donbass. At the same time, anyone (regardless of where they live) may ask Alexander Zakharchenko a question on the website
www.country-ask.ru
.
"Military Review" asked the head of the DPR the question of what is his personal perception of the fact that Russia is not yet ready to recognize the sovereignty of the Donetsk People's Republic. Since the Internet conference is in the mode of selecting questions, the answer, as reported on the site, will be published later. The publication of the answer, if the question "IN" will receive the attention of Alexander Zakharchenko, will be held on the portal
Donetsk news agency
.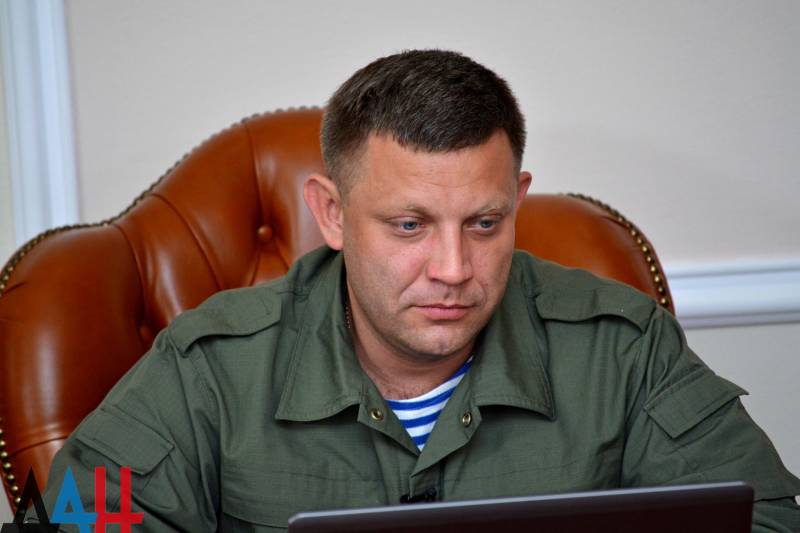 Earlier in the course of a direct Internet line, Alexander Zakharchenko said that he urged not to rush to hold a referendum on the accession of the DPR to the Russian Federation. According to him, such a referendum could serve as a breakdown of the Minsk agreements.
It should be noted that here the head of the DPR actually literally repeated the statement by Russian Foreign Minister Sergey Lavrov, when journalists asked him why the Russian Federation did not recognize the independence of the people's republics of Donbass.
Zakharchenko's full answer to the question about a referendum on the question of the DPR joining the Russian Federation is given by DAN:
This will be the end of the Minsk process and, accordingly, the end of the truce. Like many of our residents, I often say to Ukraine in our hearts: come on, so that we can break into the return for everyone who died before and during the truce. But these are emotions. A sober cold mind says: the Minsk process must be brought to the end, since it will inevitably end in Ukraine's diplomatic defeat, and then we will be able to solve some tasks without war that we can only see through a sight.