American weekly
Navy times
reports that the US is directing the nuclear-powered aircraft carrier Dwight Eisenhower with a group of support ships to the Persian Gulf. The report says that the American ships "will join the operation against the militants of ISIS." US Navy Command Representative Admiral Phil Davidson:
The US Navy strike group led by the Dwight Eisenhower aircraft carrier will replace the Harry Truman aircraft carrier in the area of ​​deployment and will be used to launch attacks based on its board
aviation
according to the positions of the militants of the Islamic State.
A group of US Navy ships left the Norfolk naval base.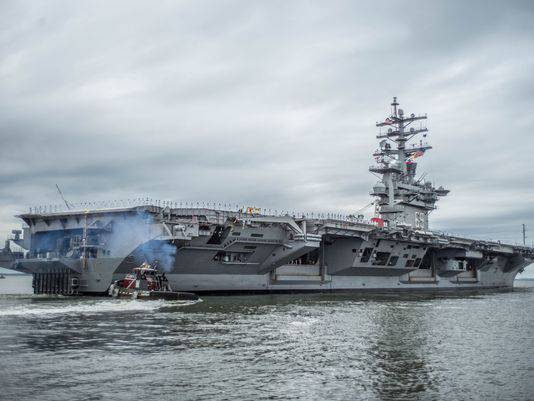 The American aircraft carrier "Harry Truman" is in the Persian Gulf since December last year. If you believe the command of the US Navy, the aircraft based on it made more than 1 thousands of sorties, dropping about 580 tons of air ammunition to ISIL positions.
Aircraft carrier
USS Dwight D. Eisenhower (CVN-69)
- aircraft carrier "Nimitz". It was launched over 40 years ago (October 1975). Displacement - 97 thousand tons, draft - 11,3 m. Crew - 3,2 thousands of people. Travel speed - up to 30 nodes. The aviation group consists of 90 aircraft units, including both aircraft and helicopters.