It is impossible not to draw attention to the event that took place today at the IX International Rail Business Forum, held in Sochi. We are talking about signing an agreement that can significantly increase the volume of freight traffic and develop a segment of passenger traffic under the North-South program from Russia to Iran and further to India. The agreement was signed by representatives of three states participating in the implementation of an ambitious project: the aforementioned Russia and Iran, as well as Azerbaijan.
Information Service
APA
reports that the signatures of the document, the purpose of which is to integrate the railway networks of Russia, Azerbaijan and Iran, have been put by: President of Russian Railways Oleg Belozerov, Chairman of Azerbaijan Railways CJSC Javid Gurbanov, as well as Director General of Iran Railways Mohsun Purseid Agaya.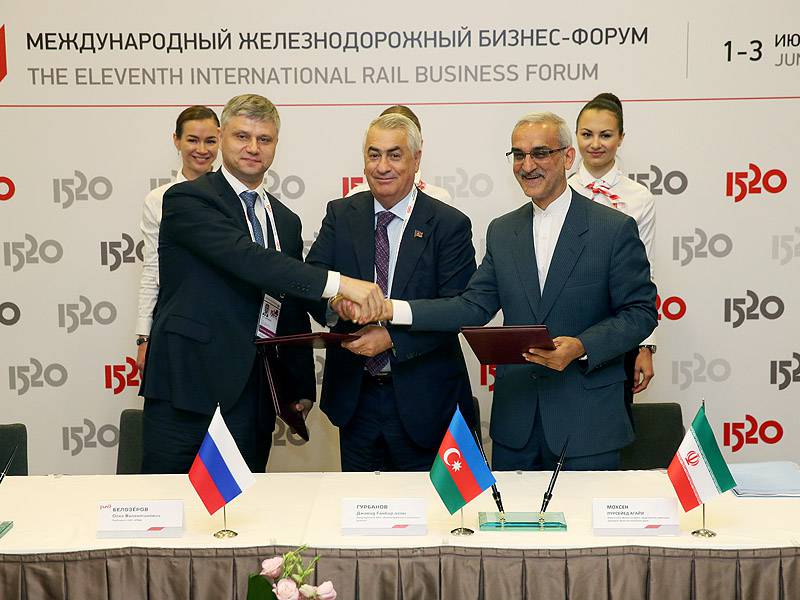 The plans - the expansion of partnership in the field of transcontinental freight. It was decided to establish a coordinating committee for the North-South program, which will work to accelerate the development of logistics and route infrastructure.
Press office
Railways
:
The agreement reflects provisions on railway tariffs for attracting cargo traffic and further developing the routes of the international North-South transport corridor, including the organization of an experienced container train Bandar-Abbas-Moscow.
It is noteworthy that Finland intends to join the Russian-Azerbaijani-Iranian agreement. The head of the Finnish state railway concern, Mikaeel Aro, took part in the meeting and discussed the possibility of extending the North-South route to Finnish territory.