In the administrative center of the Republic of Crimea began to install the monument to "polite people." It is reported that the monument will be officially opened on June 11 - one day before the Day of Russia. This is reported by deputies of the State Council of Crimea.
RIA News
cites the statement of Valery Aksyonov, Deputy of the State Council of the Republic of Crimea:
The opening of the monument will take place on 11 numbers at 12 hours of the day. Cost - within 5 million rubles. We collected these funds from January. Not a penny of budget money, everything on donations: entrepreneurs, leaders of the Crimea - Vladimir Konstantinov, Sergey Aksyonov, Oleg Belaventsev. Personally, I donated 50 thousand rubles.
It is emphasized that the monument will be installed without the use of a pedestal. This was done so that everyone could take a picture with the bronze "Polite Man".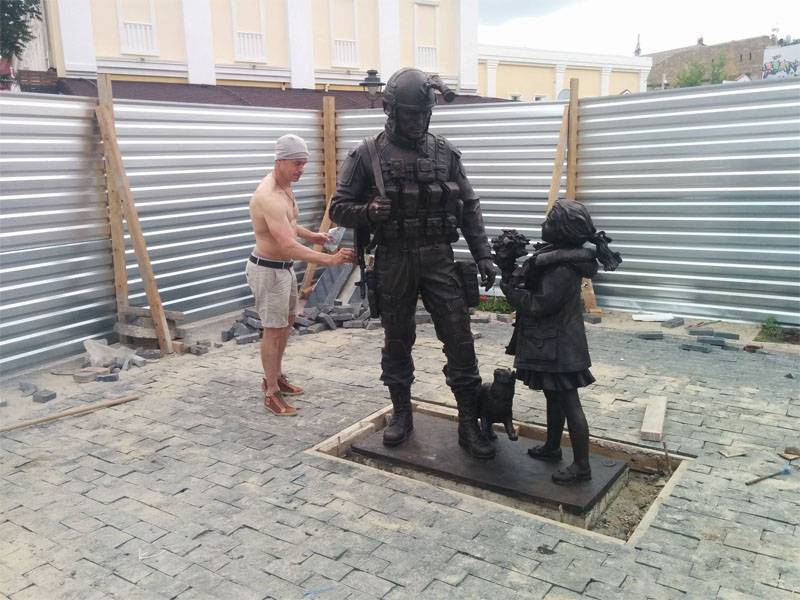 From the publication of the deputy of the State Council of Crimea Leonid Babashov
on facebook
:
In the Crimea, established a monument to polite people.
He came to work today, looked out the window and was pleasantly surprised. In the morning, in the Republic Square, with the help of a crane, they installed a bronze monument to the Polite People. The sculpture weighs a little more than a ton, it was cast in pieces. The man who came to install it, Ivan, told me that the sculpture was molded in the image of a real fighter of the Russian army. Our Crimean commando came to them in the Moscow workshop, under two meters tall, in full ammunition, but in a cast from the monument, his face hid a balaclava. The face of a polite person after taking measurements was taken by one of the workshop employees. The fighter approached the photographer, politely took a camera, and just as politely, with the words - "Please do not shine my face", erased this single card. Perhaps it will take time, and we will find out who this person was from whom they molded one of the symbols of the Crimean Spring ...

Let me remind you that the monument was erected on the initiative of the father of the Head of Crimea, Valery Aksenov, on donations.
THE OFFICIAL OPENING IS NECESSARY FOR 11 JUNE IN 12 HOURS OF THE DAY!